FSL notes: Nido's unexpected success
Mets catching prospect, known for defense, leads league in hitting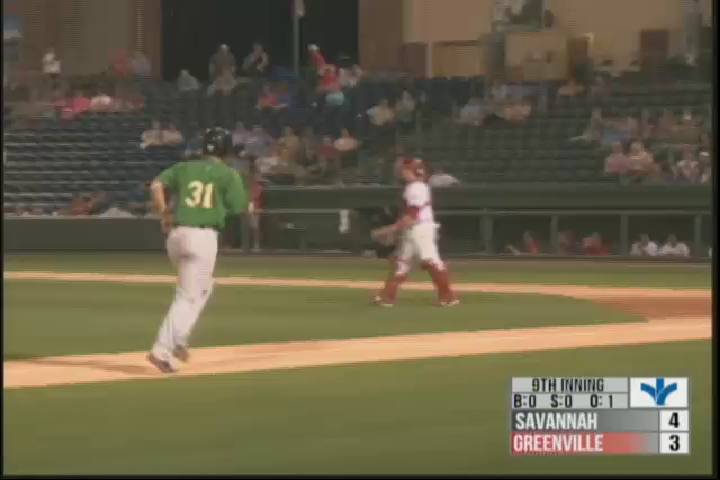 By Guy Curtright / Special to MiLB.com | July 20, 2016 10:00 AM
When Ivan Rodriguez retired after the 2011 season, Mets catching prospect Tomas Nido turned his attention solely to another catcher from his homeland of Puerto Rico. Nido idolized Yadier Molina.
In fact, he still does.
"He takes so much pride in his defense," Nido said. "I try to be the same way. I want to be as much like him as I can be."
Nido has shown this season with St. Lucie, though, that he has potential at the plate in addition to behind it. Even a hitter like Rodriguez would be proud of Nido's offensive numbers this year in the pitching-dominated Florida State League. Nido led the Class A Advanced circuit with a .319 batting average and had 22 extra-base hits and 32 RBIs through his first 63 games. The right-handed hitter had struck out just 31 times in 238 at-bats while posting an .839 OPS.
"It's a good feeling to be hitting like this," the 22-year-old said. "Defense had always been my strength before."
Nido is receiving well and throwing out just over 40 percent of would-be base stealers. But his defense is now being overshadowed by his offense. He had two hits in each of his first four games this season and has never really cooled off. The Mets backstop has been really hot in July, batting .455 with two homers and eight RBIs in his first 11 games this month.
Nido passed teammate Wuilmer Becerra in the batting race when he went 3-for-5 on July 15 in St. Lucie's 8-1 victory over Daytona.
"I never expected this," Nido said. "I didn't even know until they told me. Now you can call it a friendly rivalry."
Nido, who's walked only 13 times through Monday, is aggressive early in the count. He's also learned to put the ball in play with two strikes.
"I shorten up my swing and try to hit the ball up the middle or the other way," he said.
It has paid off, just like a couple of other decisions Nido has made in his life. After playing travel ball out of Florida for a number of summers, Nido came to the United States full time from Puerto Rico as a junior in high school to attend Orangewood Christian in Maitland.
"It was better for my education and for my baseball," he said. "Better competition and better exposure."
Nido's play for Orangewood Christian earned him a baseball scholarship to Florida State, but he passed when the Mets took him in the eighth round of the 2012 Draft and offered a $250,000 signing bonus.
"I wanted to go play baseball and get started on my career," he said.
Playing in the Florida State League brought Nido back together with New York Yankees prospect Vicente Conde, whose family had been his host during his first year at Orangewood Christian. St. Lucie played at Tampa in June and began a home series with the Yankees on July 17. Conde didn't make the trip, though.
"He was going to stay with me, but he got called up to Trenton just before they came," Nido said. "Good for him, bad timing for me."
The way Nido is playing, a reunion in the Double-A Eastern League before the end of the year is a possibility.
An All-Star in the Class A South Atlantic League last year, Nido had a higher profile in the Florida State League All-Star Game this season. He was recognized almost entirely for his defense a year ago. Now he's a two-way prospect with more upside.
In brief
Firecracker hot: Lakeland outfielder Mike Gerber had five homers and 17 RBIs during a 12-game hitting streak that began with a grand slam on July 4. Detroit's No. 4 prospect was hitting .464 (20-for-44) during the streak and took over the FSL lead in RBIs with 60. Gerber, 24, was tied for second in the league with 14 homers and was third with 22 doubles. The 15th-round pick in the 2014 Draft out of Creighton University still topped the FSL with 106 strikeouts, but his batting average had risen from .204 on May 22 to .281 after he extended his streak by going 2-for-5 with a two-run homer July 18 at Fort Myers.
Power surge: Derek Campbell's bat also got a jolt on the Fourth of July -- the Clearwater utilityman started a streak of six homers in six games that brought more playing time. The 20th-round pick by Philadelphia in the 2014 Draft out of the University of California had two-homer games at St. Lucie on July 9 and July 11 as part of the power display. Campbell, 25, had just two homers previously. The right-handed hitter had a .313 batting average with a .406 on-base percentage and .600 slugging mark through 39 games while playing three infield spots and two in the outfield.
Almost perfect: St. Lucie left-hander P.J. Conlon had a perfect game going through 5 2/3 innings against Daytona on July 15 before No. 9 hitter Jonathan Reynoso broke it up with a single. Ronald Bueno followed with an RBI double and Conlon, 22, was pulled after getting the final out of the sixth inning. The 8-1 victory gave the native of Northern Ireland a 3-0 record since being promoted from the Class A South Atlantic League and lowered his ERA to 2.18 in five starts. The 13th-round pick by the Mets in 2015 out of the University of San Diego was 8-1 with a 1.84 ERA in 12 starts for Savannah.
Finally slowed: Palm Beach second baseman Darren Seferina went on the disabled list July 16 after stealing 13 bases in the first 19 games of the second half to take over the Florida State League lead with 32 thefts. He had been caught just six times and only once since the first half. Seferina, 22, is a native of Curacao and was a fifth-round choice by St. Louis in the 2014 Draft out of Miami Dade Community College. The left-handed batter was hitting .247 with a .311 on-base percentage through 70 games.
Guy Curtright is a contributor to MiLB.com. This story was not subject to the approval of the National Association of Professional Baseball Leagues or its clubs.
View More