FSL notes: Walker continues to wallop
Miracle slugger undaunted by Florida circuit's challenging conditions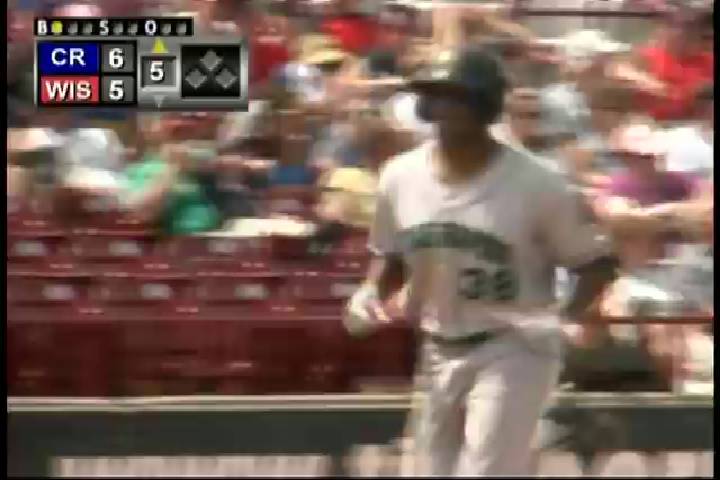 By Guy Curtright / Special to MiLB.com | June 4, 2014 10:00 AM ET
The Florida State League can be a graveyard for sluggers, the weather and distant fences often taking a heavy toll.
Adam Brett Walker, though, is defying the power-suppressing reputation of the Class A Advanced circuit.
"If I hit it right, I think it will go out no matter," the Minnesota Twins' No. 13 prospect said. "I try not to let the wind or the ballparks get to me."
Walker certainly didn't in mid-May, when the 6-foot-4 Fort Myers right fielder smashed two grand slams over a four-game span.
"It was crazy," the 22-year-old Wisconsin native said. "It's still kind of hard to believe."
The right-handed hitter went deep to the opposite field against tough left-hander Jed Bradley in the first inning at Brevard County on May 14, then pulled a shot to left off Daytona right-hander Zack Godley in the seventh at Hammond Stadium on May 18.
"I have to give my teammates credit for being on base," he said. "I think I came up with the bases loaded six times that week."
Walker quickly emptied them twice.
"It definitely helped my numbers," he said.
The grand slams, though, were just part of a three-week binge in which Walker hit seven homers and drove in 22 runs.
The long-ball breakout was capped by a two-homer game at Clearwater on May 30, the second a towering blast to left field into Frenchy's Tiki Pavilion that gave him the league lead with 12.
Walker was third in the FSL with 41 RBIs through 54 games and had helped Fort Myers stay in a battle with St. Lucie for first place in the South Division.
The third-round pick in the 2012 Draft out of Jacksonville University has always put up impressive power numbers since signing with the Twins.
Walker recorded 14 homers and 45 RBIs in 58 games for Elizabethton of the Rookie Appalachian League and then had a Class A Midwest League-best 27 homers and 109 RBIs last season for Cedar Rapids while being named the Topps Player of the Year.
But making consistent contact has been an issue, and the move up to the Florida State League certainly hadn't diminished that. Walker, who was hitting .239, had 63 strikeouts in his first 209 at-bats for the Miracle.
"Strikeouts happen, but I've been feeling good at the plate," he said. "I'm just trying to be more consistent."
Walker comes by his athletic ability naturally. His father was a pro football player who now coaches in college and his mother is a former national track champion. Walker himself was a rangy high school quarterback in Milwaukee, but he knew which sport he wanted to pursue from an early age.
"My first love was always baseball," he said.
Walker fled the cold of Wisconsin to play in college at Jacksonville, and two teammates there -- pitcher Matt Tomshaw and outfielder John Murphy -- have spent most of this season with him on the Miracle.
Whether in college or the Minors, batting practice can be showtime with Walker.
"In the last round, I let it fly a little bit to see how far I can hit it," he said.
And that's a long way, not matter what ballpark Walker is hitting in.
In brief
Back in action: Eddie Rosario, Minnesota's No. 7 prospect, was activated by Fort Myers on May 29 after serving a 50-game suspension for a second failed test for a drug of abuse and was playing center field rather than second base. He hit .329 for the Miracle in 52 games last season before being promoted to Double-A, where he batted .284 in 70 games for New Britain. Rosario, 22, got off to a slow start with Fort Myers this time, hitting .167 through his first five games.
Coming and going: Dunedin lost the Florida State League's top closer when right-hander Arik Sikula, who had 15 saves, was promoted to Double-A New Hampshire by Toronto. But to take his place the Blue Jays received left-hander Matt Boyd, who was leading the league with a 4-0 record and 0.29 ERA when promoted to the Fisher Cats at the end of April. Boyd started against Jupiter on June 1 and struck out nine over 5 2/3 innings, allowing four hits and a run in the no-decision. He was 0-2 with an 8.31 ERA in six starts with New Hampshire.
Nearly unhittable: Lakeland right-hander Jake Thompson allowed just one hit over five scoreless innings May 30 at Jupiter while winning his third straight decision and improving to 5-1 with a 1.64 ERA. Detroit's No. 3 prospect had 52 strikeouts to 19 walks in 55 innings and opponents were batting .200 against him. Thompson, 20, was a second-round pick in the 2012 Draft by the Tigers out of Rockwall, Texas, after being named a High School All-American as a senior.
Guy Curtright is a contributor to MiLB.com. This story was not subject to the approval of the National Association of Professional Baseball Leagues or its clubs.
View More