Gallo's 30th homer proves to be clutch
Rangers' No. 2 prospect breaks tie game with eighth-inning solo blast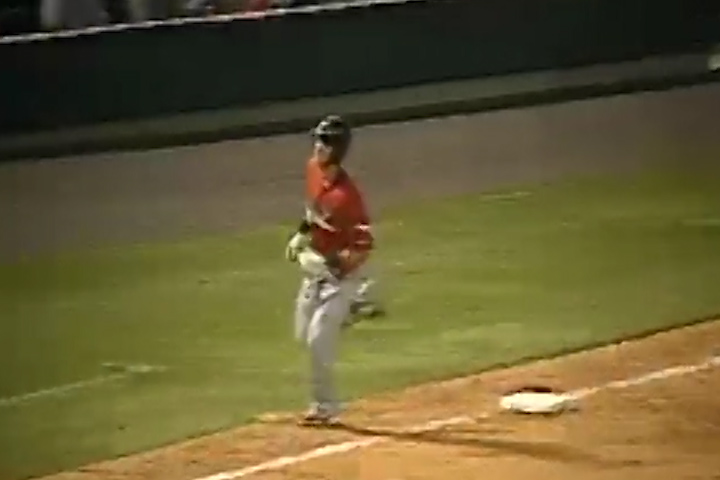 By Robert Emrich / MiLB.com | July 4, 2014 1:19 AM ET
At this point, the only thing that might keep Joey Gallo from hitting 50 homers is a trip to Arlington.
The Rangers' No. 2 prospect launched his 30th homer of the season as Double-A Frisco blanked Arkansas, 2-0, on Thursday at Dickey-Stephens Park.
Gallo, who finished 1-for-5 and was robbed of another hit by Travelers second baseman Alex Yarbrough in the fifth inning, broke the scoreless tie with his solo blast in the eighth inning. The home run easily cleared the wall in right-center field, according to hitting coach Jason Hart.
"It was a no-doubter," Hart said. "It was a monster homer. It put us up in a 0-0 ballgame. It was probably one of the bigger ones we've seen here. Some of the ones he hit at [Class A Advanced] Myrtle Beach are still talked about. He's got power like I've never seen before."
Last season, the 20-year-old third baseman didn't launch his 30th home run until Aug. 14 while playing for Class A Hickory. After leading the Minor Leagues with 40 last year, 50 certainly seems within reach. While Hart couldn't project how many Gallo would finish with, he stands in awe of his charge's power prowess.
"You can't really predict it," Hart said. "When he hits the ball, every time, the ball makes a different sound, it makes a loud sound. Every time he gets into the box, you get butterflies because he might do something you've never seen before. He hits the ball so hard that a nice easy swing will still leave the yard.
"He's been here with us for maybe three weeks and he's got nine. He's gonna hit more than I've ever seen."
Gallo opened the year with Myrtle Beach, blasting 21 homers in 58 games for the Pelicans. Since being promoted to the Texas League on June 9, the Nevada native has added nine in 21 games. Meanwhile, speculation runs rampant that it's only a matter of time until Gallo debuts for the Rangers this season. Hart praised Gallo's mentality and ability to take it all in stride.
"He doesn't get too high or too low," the former Major Leaguer said. "That's the one thing that's been amazing. He's very even-keeled. He understands that wherever he's at, he's gotta be the best ballplayer he can be. You can only control playing for the RoughRiders, and when it's your time, it's your time."
Despite batting .316 with 30 homers and 72 RBIs overall, there's still more for Gallo to work on while he waits for his call, including cutting down on his strikeouts. MLB.com's No. 74 prospect overall has fanned 103 times in 268 at-bats a year after whiffing 172 times in 2013.
"We're still working on his two-strike approach, but he's becoming a hitter as opposed to a swinger," Hart said. "He's hit some balls hard and made some hard outs. He's had a lot of really good at-bats with two strikes. I've been really impressed, obviously with his power, but also with his overall approach and the way he hits."
Drew Robinson lofted a solo homer in the ninth and Odubel Herrera went 2-for-3 for the RoughRiders.
Edwar Cabrera improved to 4-6 after fanning seven and giving up three hits over eight innings. Randy Henry allowed one hit in the ninth to earn his first save for Frisco.
Kramer Sneed struck out a season-high eight and allowed three hits over five innings, but did not figure into the decision for the Travelers. David Carpenter fell to 2-1 after surrendering a run on four hits over 1 1/3 innings.
Robert Emrich is a contributor to MiLB.com. Follow him on Twitter @RobertEmrich. This story was not subject to the approval of the National Association of Professional Baseball Leagues or its clubs.
View More