Gausman strong in return from pneumonia
Orioles' No. 2 prospect strikes out six, pitches 4 2/3 shutout innings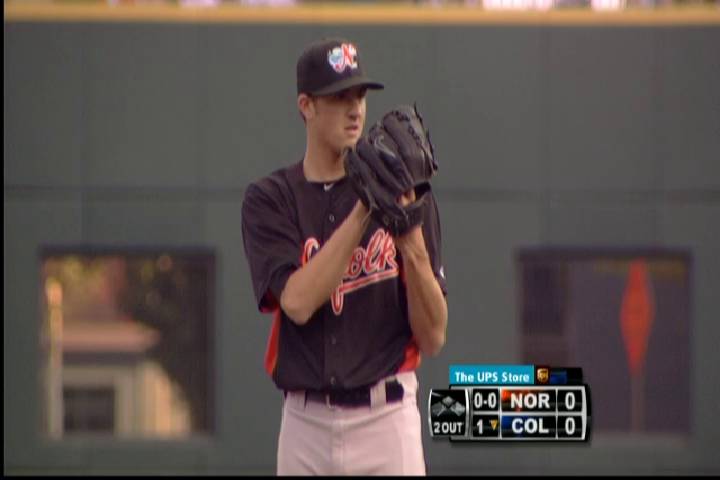 By Robert Emrich / MiLB.com | May 11, 2014 12:35 AM ET
Step one: Get back on the mound. Step two: Go deeper into the game. Kevin Gausman put a check next to the first item and, by doing so, may be able to put a check next to the second one very soon.
The Orioles' No. 2 prospect struck out six and allowed two hits over 4 2/3 scoreless innings on Saturday but was long gone by the time Norfolk posted a 3-2, 12-inning victory at Indianapolis, 3-2.
Making his first start since April 26, Gausman surrendered a two-out triple to Pirates top prospect Gregory Polanco in the third inning and a single to Chris Dickerson with two outs in the fifth. Dickerson was the final batter he faced as the 23-year-old right-hander exited after 77 pitches.
"I felt good," Gausman said. "Early on, I was kind of rushing to the plate a little bit in my delivery. I was living a little too down in the zone, I had two walks in the first inning. Ended up getting out of it fine. After that, I felt great."
Gausman, who walked three while equaling his season high in strikeouts, was on the disabled list after bout of pneumonia. It was originally thought he suffered a left intercostal muscle strain, but an MRI revealed he had a lung infection.
"I've been on the DL with pneumonia for, I think I've had 13 days off almost. It was just good to get back out there," MLB.com's No. 29 overall prospect said. "I've been waiting to get back out there. It's tough when you're on a team and you're around baseball every day, but you're not playing. It was the first time I was on the DL. It was a little weird for me. But it was awesome to get out there tonight."
Given that an intercostal muscle strain can entail a lengthy stay on the DL, there was considerable relief when the actual diagnosis was pneumonia.
"It was funny," the LSU product said. "I was really happy when they told me, 'You have pneumonia.' The doctor was like, 'You're one of the few people who I've ever heard be happy to have pneumonia.' It was just so great compared to what we originally thought it was.
"Right when it happened and everybody thought it was an intercostal strain, I did my research and I found out I might be out for a month, a month-plus; for it to only be something like this and for me to be pitching tonight, it was a huge relief for me, and I think for everybody, too. Thank God, it wasn't anything too serious."
While Gausman is winless in six starts this season, he sports a 2.08 ERA and the International League is batting .242 against him. One of the reasons he's 0-1 has been a strict pitch limit of 75, which has allowed him to work five innings just once. That could change soon.
"I've been on a 75-pitch limit this season, something the Orioles are doing to monitor my innings," Gausman said. "I believe this might be my last one. I might be going to 90 the next one, but those decisions are out of my hands. I've always been one of those guys who throws a lot of innings, who goes deep into games, so only being able to throw 75 pitches has been frustrating, but I understand it's part of the process."
Francisco Peguero did the bulk of the heavy lifting on offense, plating all three runs for the Tides. His third single of the game came in the 12th and plated Jemile Weeks, who drew four walks, stole two bases and scored twice out of the leadoff spot.
Dickerson had two hits and drove in a run, while Polanco reached base twice and scored a run for the Indians, who fell out of first place in the Western Division for the first time since April 13, 2013.
Robert Emrich is a contributor to MiLB.com. Follow him on Twitter @RobertEmrich. This story was not subject to the approval of the National Association of Professional Baseball Leagues or its clubs.
View More