Generals' Peterson goes out swinging
Mariners prospect wraps up season with two homers, five RBIs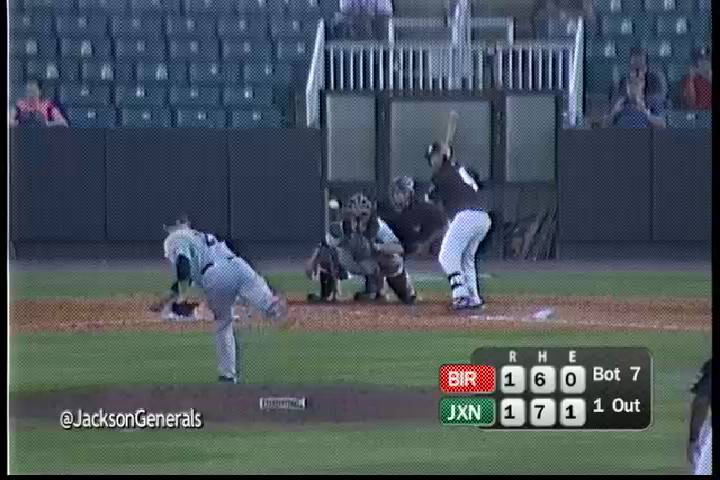 By John Parker / MiLB.com | September 1, 2014 5:08 PM ET
D.J. Peterson and the Jackson Generals may not have wanted their season to end quite so soon, but they definitely went out on a high note.
The Mariners' No. 3 prospect went 4-for-6 with his 30th and 31st home runs of the season as the Generals rallied from a 5-1 deficit to rout host Montgomery, 13-6, on Monday afternoon. Peterson, a 22-year-old third baseman, drove in five of Jackson's runs.
"I'm not going to lie to you -- I definitely knew I was at 29 home runs," Peterson said. "I really wanted to get to 30.
"Last game of the season with both teams out of [the playoffs], I was trying to relax and have fun, and it was good to finish strong."
The 12th overall pick in the 2013 Draft, Peterson began the season with Class A Advanced High Desert in the California League, where he hit a blazing .326/.381/.615 with 18 homers and 73 RBIs in 65 games. He hasn't fared quite as well in the Southern League -- apart from the tougher Double-A pitching, Peterson was leaving perhaps the most hitter-friendly environment in baseball behind -- but raised his average 11 points to .261 with four hits today.
"The biggest difference for me was just the consistency of the pitching at this level. The pitchers here are better at locating and don't fall into familiar pitch sequences like they do at lower levels," he said.
Peterson's 31 home runs overall are tied for seventh-most in the Minor Leagues, while his 111 RBIs rank second. In Jackson's final three games -- all wins -- he went 7-for-16 with three homers and seven RBIs.
"I feel like I've really learned a lot this year, and I have some things I want to focus on during the offseason and going into next year," he said.
Peterson is slated to play in the Arizona Fall League starting in October, but his plans for the next week feature "nothing at all besides hanging out with my family."
The Generals' finale didn't get off to a promising start, however, with the Biscuits tagging Jackson starter Victor Sanchez for four runs in the second inning and another in the third, giving Montgomery a 5-1 lead. Sanchez departed after five innings, having allowed five runs on 10 hits and two walks while fanning three.
Jackson got one run back in the sixth, then broke things open in the seventh. After Tyler Smith singled and Daniel Paolini doubled, Peterson cranked a three-run shot to left for No. 30. The Generals added four more runs in the eighth and a 12th and 13th run on Peterson's second homer in the ninth.
The Generals bashed a season-high 20 hits all together -- their previous high was 17 -- and matched their highest score with 13 runs. Paolini was also 4-for-6, and designated hitter Jordy Lara doubled three times and scored four runs.
Jackson reliever Moises Hernandez also ended the season on a personal high note, tossing a pair of scoreless innings to earn his first victory, improving to 1-8.
Montgomery was led by catcher Justin O'Conner, who went 3-for-4 with a two-run homer, his second of the season. The Biscuits collected 13 hits en route to dropping their third straight game.
Mateo fell to 12-11 with the loss after allowing seven runs -- six earned -- on 14 hits over 6 1/3 innings.
John Parker is an editor for MiLB.com. This story was not subject to the approval of the National Association of Professional Baseball Leagues or its clubs.
View More