Generals' Sanchez toys with Barons
Mariners' No. 6 prospect racks up career-high nine strikeouts in win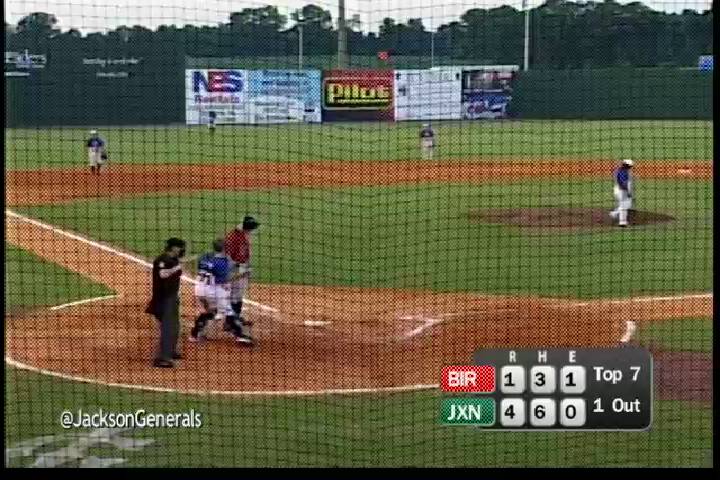 By Mark Emery / MiLB.com | July 13, 2014 2:40 AM ET
When a pitcher is changing speeds like Victor Sanchez did on Saturday night, there isn't much hitters can do to keep him from living rent-free right upstairs.
Armed with a particularly devastating changeup, the Mariners' sixth-ranked prospect struck out a career-high nine batters in Double-A Jackson's 7-1 victory over visiting Birmingham. He gave up three hits, including solo homer by Dan Black, and issued one walk to win his second start in a row.
"It was fun to watch," Generals manager Jim Horner said. "It's a pretty decent hitting team that they have and he had them kind of swimming in their heads. When they started to look for the changeup, he went to the fastball."
Sanchez (5-4) fanned two hitters in the first inning, one in the second, one in the third, two in the fourth, two in the fifth and one in the seventh. He threw 67 of 101 pitches for strikes while inducing 10 groundouts and three flyouts.
The 19-year-old right-hander retired his first nine batters before Jared Mitchell led off the fourth with a single to center field. Mitchell moved to second on a wild pitch, but Sanchez made sure he advanced no farther.
In the sixth, Martin Medina led off with a single to right field but was erased when Jaime Pedroza grounded into a double play. Mitchell walked before Trayce Thompson grounded out to first base.
"He was throwing his fastball to both sides of the plate and he had a plus changeup," Horner said. "I mean, his changeup was really, really good tonight. Once he got into the fifth and six, all of a sudden his slider was there. Very creative throwing his pitches for strikes. He was able to throw his off-speed when he was down in the count.
"He normally has a pretty good changeup. And tonight, I mean, it was really good. He had good arm speed on it, he was throwing it for strikes when he needed to throw it for strikes and he was throwing it for balls when he needed to throw it for balls. It was very good tonight, very good."
Sanchez's lone blemish came in the seventh, when Black belted a shot over the right-field fence.
"He just left a changeup up, and it was an older guy who came down from Triple-A," Horner noted. "He had gotten him with a changeup the two previous at-bats, so he was probably looking for it. I think if it was down, he probably gets him, but he just left it up a little bit."
In 14 starts, Sanchez has assembled a 3.79 ERA while recording 60 strikeouts against 19 walks over 73 2/3 innings. Opponents are batting .257 against him, and he owns a 1.24 WHIP.
"He's doing what he's supposed to be doing, let's just put it that way," Horner said. "He's always had the fastball command and the changeup. His breaking ball is coming. Tonight, he had a little bit more velo. So it's something to build on. It's definitely something to build on and keep after it."
Richard Vargas pitched a perfect ninth inning to close out the Barons.
Birmingham starter Chris Beck (4-8) -- the White Sox No. 8 prospect -- gave up four runs on six hits and a walk, striking out one over six innings.
Mark Emery is a contributor to MiLB.com. Follow him on Twitter @Mark_Emery. This story was not subject to the approval of the National Association of Professional Baseball Leagues or its clubs.
View More