Giants Prospect Primer: Crick will rise
Hard-throwing Texan has stuff, needs command for No. 1 role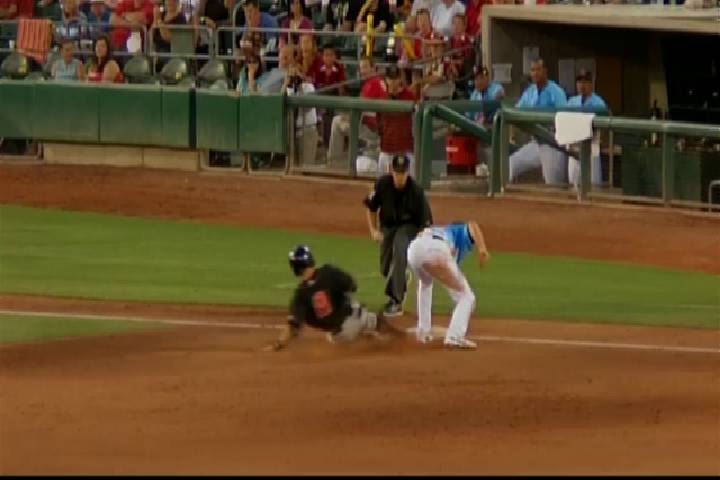 By John Parker / MiLB.com | March 26, 2014 10:00 AM ET
Some players are on the verge of stardom, others are entering a crucial phase of their development and still others are getting their first tastes of full-season ball. With the 2014 season approaching, MiLB.com takes a look at the most intriguing prospects from each MLB organization.
Though an oblique strain limited him to just 68 2/3 innings over 14 starts last season, Crick dominated the hitter-friendly Class A Advanced California League. The 21-year-old Texan has a mid-to-upper-90s fastball and a slider with plus potential, but still has control issues to overcome. He fanned 95, but also walked 39 batters. Nevertheless, his fielding independent pitching (FIP) ranked third among MLB.com's Top 100 prospects in 2013 (just behind fellow Giants hurler Edwin Escobar).
This year the key for Crick, who will likely begin the season with Double-A Richmond, will be staying healthy and building up his arm strength in preparation for Major League demands. Though the 2011 first-round pick (49th overall) has thrown just 187 innings over three years as a pro, the Giants hope to have him pitch between 160 and 180 frames this season.
Crick spent the first few weeks of Spring Training in Major League camp, where he said he "learned more in the two or three weeks I've been here than I have in my whole Minor League career." The right-hander was seen having intense conversations with Giants pitching stalwarts Tim Lincecum and Matt Cain as well as getting other perspectives from catcher Buster Posey and outfielder Hunter Pence.
"The big thing for him this season is to build up his innings and simply get experience facing advanced hitters after having the oblique problem last year," said Giants vice president and assistant general manager Bobby Evans.
Crick's concentration this spring has been on fastball command and improving his feel for the changeup, to the point where he now considers the latter his second-best pitch. He'll need both to deal with more experienced hitters at higher levels, but his sheer stuff points to a future as a top-flight Major League starter.
Command is not a problem for Flores, who turned 22 in November. After spending the previous three campaigns in the Giants' short-season ranks, Flores had a breakthrough season with Class A Augusta in 2013. In 2012, Flores fanned 34 and walked 11 over 42 1/3 innings for Salem-Keizer; in 2013 he struck out 137 while walking just 17 in 141 2/3 innings. In 11 second-half starts for the GreenJackets, the Dominican-born hurler struck out 79 and walked four over 72 2/3 frames. He was added to the Giants' 40-man roster in November.
At 6-foot-2, Flores is the same height as Crick, but 45 pounds lighter. Though he reportedly experienced an uptick in velocity last summer, Flores' fastball sits in the high 80s to low 90s. He also throws a curve and a solid changeup, but it's his command that sets him apart. A slightly faster fastball would make him even more dangerous.
Flores is a fly-ball pitcher -- he allowed a team-high 11 homers for Augusta in 2013 -- which could hurt him in the homer-wacky California League should he be assigned to Class A Advanced San Jose. Considering his advanced command, however, he seems likely to spend time with Richmond, even if he doesn't begin the year there.
"We'll have to decide where he goes to start the year -- whether it's San Jose or Double-A," said Evans. "He has excellent command, and while he doesn't blow guys away, he's been very effective pitching to contact and going deep into games. He had limited exposure to big league camp, but we're very pleased with his progress, which is why he went on the 40-man roster last fall."
A first-round pick (24th overall) out of Cal State Fullerton in 2010, Brown soared up prospect lists after a monumental season for San Jose in 2011, in which he hit .336/.407/.519 with 14 homers and 53 stolen bases. He began the 2012 campaign as the Giants' top prospect, but Brown's offensive numbers have fallen dramatically the last two seasons.
Brown wouldn't be the first prospect to struggle with the jump to Double-A or fail to replicate Cal League offensive statistics, but after an average 2012 season with Richmond, Brown hit just .231/.286/.375 with Triple-A Fresno last year, fanned 135 times and was successful in only 17 of 28 stolen-base attempts. In addition to the disappointing offensive performance, according to the San Francisco Chronicle, a Giants evaluator reported that Brown "doesn't always play hard."
Now 25, Brown still has the speed and arm to play outfield in the Majors, but his offense has a long way to go. He got off to a solid start in Cactus League play with a .409 on-base percentage through 11 games but will need to prove himself in the Pacific Coast League this summer.
"The primary target for him is getting on base so he can use his speed," said Evans. "He can't have balls in the air and can't give away outs -- he needs to hit line drives. He's still got the tools, has good bat speed and has been receptive to making adjustments. Obviously we want to stay healthy at the big league level, but Brown definitely has callup potential if we have injuries."
More to keep an eye on: Mac Williamson led the Giants organization with 25 homers for San Jose last year, but also ranked fifth with 132 strikeouts. The right fielder's power is unquestioned; if he can maintain a decent on-base percentage in Double-A, he'll be a slugger to watch. ... A 6-foot-7 right-hander, Joan Gregorio has yet to pitch more than 77 innings in a single season. The Giants will look for him to stay healthy and leverage his height in the Cal League. ... The 20th overall pick out of Mississippi State in 2012, RHP Chris Stratton put up solid numbers with Augusta last year but showed merely average stuff. Now 23 years old, 2014 will be an important season for his development. ... Edwin Escobar was fantastic in his second full season, holding Eastern League hitters to a .219 average in his first taste of Double-A. The lefty turns 22 in April, features three good pitches if not overwhelming velocity, and could be an important contributor for the Giants as soon as next year.
John Parker is an editor for MiLB.com. This story was not subject to the approval of the National Association of Professional Baseball Leagues or its clubs.
View More