Giants Prospect Primer: Even year is here
Fox to make much-anticipated debut as Black, Arroyo continue climbs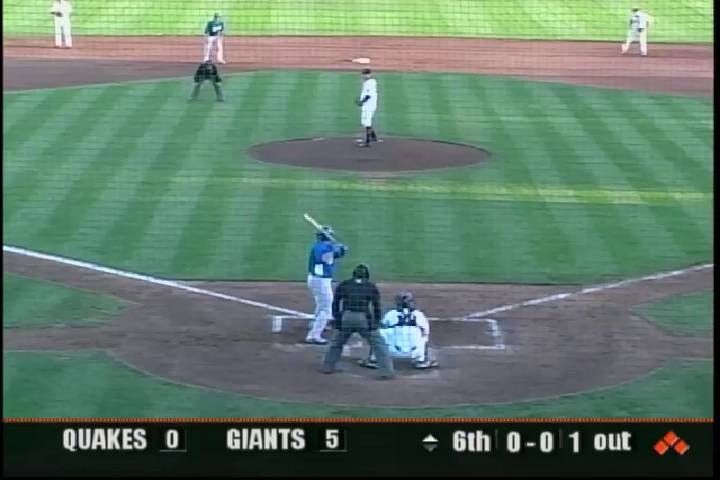 By Tyler Maun / MiLB.com | March 28, 2016 10:30 AM
Some players are on the verge of stardom, others are entering a crucial phase of their development and still others are getting their first tastes of full-season ball. With the 2016 season approaching, MiLB.com takes a look at the most intriguing prospects from each MLB organization.
Loudest tool: Ray Black, RHP
When Black toed the rubber for the Scottsdale Scorpions of the Arizona Fall League last year, everyone in the ballpark took notice. Word was out. Opposing players and even Black's own teammates climbed to the top steps of dugouts to get a look at one of the liveliest arms in baseball.
Black's easy triple-digit heat almost seems the stuff of urban legend due to the injury history that's limited him to just 60 1/3 innings since he was drafted in 2011. But last season's 2-1 record, 2.88 ERA and 51 strikeouts in 25 frames with Class A Advanced San Jose made for a breakout year, especially considering the Giants now feel they have Black on the healthy track.

"What we've been trying to do to get him through his arm problems basically is refining his mechanics," San Francisco director of player development Shane Turner said in his Scottsdale office earlier this month. "When we got him, his mechanics were a little violent, which has led to those arm injuries. From the middle of last year in the Cal League to what you saw in the Fall League to where he is now, his mechanics are a lot smoother. It's not a max-effort deal now, so he's taken a lot of stress off his shoulder. The next step is to let him become a pitcher."
Black has not pitched on consecutive days in his professional career as the Giants have taken a cautious approach with the righty. This year will be different. The Pitt product, who has touched 103 mph with his fastball, has overcome 2013 Tommy John surgery, knee injuries and labrum surgery. Now he looks ready for an increased workload.
"That's the next step with him and see how he responds," said Turner, who compared Black's track to that of lefty Josh Osich, who seized a big league bullpen spot last year. "He's never really done that. You're going to have to have a bad outing and bounce back now and pitch tomorrow, where you [once] pitched every three days for the most part in your career."
Black has continued to refine a slider and changeup to complement his heater. Both will be important with a heavier schedule, as will improved command. Black walked a batter per inning last year with San Jose.
"I think because he's going to pitch more regularly, he's going to feel different on different days," Turner said. "Pitching more regularly, he might not throw 100 every single day. He might drop down to 95, 96 where the secondary pitch is going to become [more important]. Or maybe he doesn't have command of his fastball that day. He's not really pitched enough to allow him to develop those secondary pitches, so now that'll be able to happen because he'll be able to pitch more on a regular basis."
Breakout prospect: Lucius Fox, SS
To some degree, the Giants must view Fox as a Christmas present that came with a "Don't Open 'Til Next Year" tag. San Francisco inked the toolsy switch-hitting Bahamian shortstop to a $6-million bonus in July, the largest ever given a non-Cuban international free agent, but Fox didn't play in a Minor League game after signing. This spring is giving San Francisco one of its first real glimpses of the 18-year-old in game action.

"With a kid of his age, any kid that age, obviously the biggest adjustment is playing every day," Turner said. "Playing every day in the Minor Leagues is a little different than playing club ball or travel ball or that kind of stuff. … In doing that, you start to develop that consistency, but with his tools, we're not going to get in his way and hold him back. His improvement will dictate how fast he's going to move in this organization."
Fox is lightning-quick with a speed tool graded as a 70 on MLB Pipeline's 20-to-80 scouting scale. His acclimation to pro ball may be speedy too. Though he didn't play, Fox was a tacit member of the Giants' Rookie-level Arizona League club last summer, working with the team in every aspect aside from being on its active roster.
"He was part of their workouts every day, came to the park every day, watched every game," Turner said. "We did some things physically from a strength aspect just to get him acclimated to the game and start trying to prepare him physically so he'd be able to play really March through September."
Fox follows a pattern evident in San Francisco's system from top to bottom -- he's a shortstop with the ability and acumen to play elsewhere. Some scouts predict that's what will happen with him.
"He's a shortstop today, but if you look at our Major League club, there are a lot of shortstops on that field," Turner said. "He has the physical attributes to play all over the field."
Shining star: Christian Arroyo, SS
Another shortstop with the ability to make an impact at other positions, Arroyo is on the fast track to the Bay Area. The Giants' top prospect started 2015 as a 19-year-old in the Class A Advanced California League and stuck there the whole season, batting .304/.344/.549 in 90 games.
What stands out about the 2013 25th-overall pick is his ability to hit at an advanced level. Pipeline pegs his hit tool as a 60, and he continued to display his offensive prowess in the Arizona Fall League, where he batted .308/.360/.487 en route to a league title with Scottsdale.
"Part of his success or allowing him to have success early in a league where he was one of the youngest players is mechanically, he came with a really sound swing, really simple from A to B," Turner said.
"He has the ability to make a lot of contact, but just because you're able to put a lot of balls in play doesn't mean those are always pitches you want to swing at. A young, confident hitter as he is thinks he can hit anything. Part of the process is finding out you can't.
"He's learning to command the strike zone. Where I really want the ball is here. I can take that strike because that's a groundout. I'm going to try to make him repeat that pitch three times. Maybe he makes a mistake, and now I've got my base hit."
Arroyo played steady defense in the Cal League, but has been tried at third base at Major League camp this spring and he hit .500/.588/.786 in 14 at-bats. He's ticketed for Double-A Richmond in April.
At the crossroads: Kyle Crick, RHP
The Giants haven't given up on Kyle Crick, and Crick hasn't caved to his frustration after a couple of tough years. San Francisco's top prospect as recently as 2013, Crick has struggled with control issues, but has still managed to post good peripheral numbers around them. Last year in the bullpen for the Flying Squirrels, the 2011 supplemental first-rounder issued 66 walks but struck out 73 in 63 innings, registered a 3.29 ERA and limited opponents to a .208 average.
"This would be real easy -- player development -- if you knew, 'OK, this is the timetable,'" Turner said of the 23-year-old righty. "It's different for everybody. I think sometimes you've got to control your own frustration to say, 'Hey, wait a second. Just because you wanted him there in four years, it's OK if he gets there in seven.'"
Crick told MiLB.com's Josh Jackson that outs, not walks, were his concern earlier this month in Spring Training, and his belief in himself is backed up by the Giants' faith in him. San Francisco added the Texan to its 40-man roster in November.
"He's still obviously very much in our plans," Turner said. "He's in a good place. He came to Spring Training very positive and working hard. It's a day-by-day thing. I think, in the end, he's going to be fine.
"There are so many paths to getting there that as long as he holds on to the belief that he can be a big leaguer, I think he will be."
Major League-ready: Mac Williamson, OF
Like Crick, Williamson was added to the 40-man roster this offseason after making his big league debut last September. A highly touted high-school pitcher, Williamson turned into a feared hitter at Wake Forest and flashed his power promise with a 25-homer campaign with San Jose in 2013.
After missing all but 23 games the following year due to Tommy John surgery, Williamson rocketed through Double-A and Triple-A to reach the big leagues last season. Combined between Richmond and Sacramento, the outfielder batted .275/.368/.433 with 13 homers and 73 RBIs before earning the call to San Francisco.
"Missing 2014, getting as many at-bats as possible whether it's in Spring Training or in the season is the key to continuing to get batter," he said on the Minor League Baseball podcast earlier this month. "I made some changes to my swing this offseason that have really helped me to be more consistent thus far."
More to keep an eye on: Right-handed Vanderbilt product Tyler Beede dominated Class A Advanced before struggling over 13 starts in Double-A, where he'll likely return to start 2016. … Last year's first-round pick Chris Shaw blasted 12 homers in just 46 games with Class A Short Season Salem-Keizer. He could leapfrog Class A Augusta to land at San Jose. … Southpaw Adalberto Mejia missed time last year due to a suspension and shoulder tendinitis but rebounded to toss 31 innings in the Arizona Fall League and could open 2016 at Triple-A.
Tyler Maun is a contributor to MiLB.com. Follow him on Twitter @TylerMaun. This story was not subject to the approval of the National Association of Professional Baseball Leagues or its clubs.
View More