Glasnow strikes out 11 in two-hit gem
Top Pittsburgh prospect goes six innings, beats Jupiter for ninth win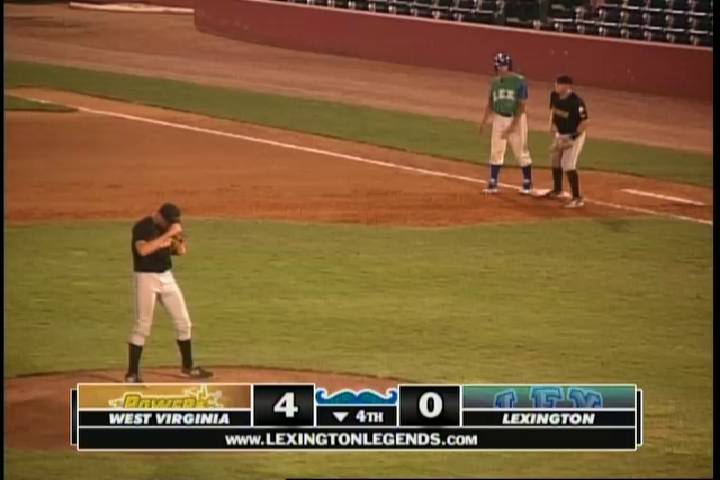 By Danny Wild / MiLB.com | August 7, 2014 11:24 PM ET
Tyler Glasnow has been among the most unhittable pitchers in the Florida State League this summer, but sometimes the bright lights and expectations can loom large.
"Coming into the game, in the first inning, I kind of had to get the nerves out," said Glasnow, who walked the first batter he faced Thursday. "I hadn't felt that way in a while."
But for the Pirates phenom, first-inning butterflies can actually be a good thing. Glasnow ended up turning in another dominant start, striking out 11 while holding Jupiter to just two hits over six innings in Bradenton's 5-0 win in the first game of a Florida State League doubleheader.
The top Pirates prospect took a no-hitter into the fifth inning before Jupiter's Viosergy Rosa led off with a single to right field. Glasnow (9-5) worked around a one-out walk and then struck out two more around Ryan Goetz's two-out single in the sixth to finish up his day.
"After settling down after the first, our offense went off," he said. "I was sitting in the dugout and I had to get back to that attack mind-set, just go out and compete and not think about mechanics. It ended up working out."
Glasnow, who has won four of his last five starts, threw 56 of his 90 pitches for strikes. Still, he said overcoming the early jitters only made him get locked in later in the game.
"Walking the four guys two games in a row before this, that's not terrible, but it wasn't nerves. It was an excitement I would say," he said. "I haven't been nervous in a long time, it was kind of nice having that feeling again. As it went on, it got easier and easier. Just calm those nerves and it ended up being alright."
The Bradenton righty issued the pass to Justin Bohn in the first. He struck out Goetz and Matt Juengel before catcher Jin-De Jhang picked off Bohn with a snap throw to first to end the inning. Glasnow fanned Avery Romero and Chad Wallach in the second, struck out the side in the third and whiffed Goetz again in the fourth to keep his no-hit bid alive.
"[I was aware of it] a little bit, but not thinking about it, but I realized it could have happened," he said of a no-hitter in a seven-inning game. "Even if it was in the sixth or seventh, I wouldn't change the way I was throwing. When he got that hit, I thought, 'Oh well, that's unfortunate, let's keep it at one.' But it was too big a deal."
Pittsburgh's Class A Advanced affiliate staked their starter to a 4-0 lead in the first when Max Moroff hit an RBI double, Eric Wood followed with a two-run single to right and Justin Howard capped the frame with a RBI single to right. Howard added another RBI single in the third that deflected off Jupiter starter Scott Lyman.
Glasnow has been a nightmare for Florida State League batters this season -- he's allowed two earned runs or fewer in nine of his last 10 starts and lowered his ERA to 1.53 with the win. He has struck out 76 batters in his last 56 1/3 innings while allowing just one homer and 23 walks in that span.
"My fastball was good, location down in the zone. Curve was good, it was good for a strikeout pitch tonight, called or a called strike one," the 20-year-old said. "As it went on, it was better coming out of my hand and I was just settling in. The curveball-fastball combo did it today."
Jhondaniel Medina yielded a hit and a walk in the seventh, but sealed the combined three-hitter to lower his ERA to 0.87 in his 30th appearance.
Glasnow, who is currently ranked as MLB.com's No. 19 prospect, is considered the No. 7 right-hander in the Minors. The towering 6-foot-7 starter led all Bucs Minor Leaguers with 164 strikeouts in 111 1/3 innings at Class A West Virginia last year, but was nagged by an back injury to start his third season. He got back on track in May, striking out 31 in 25 innings, before posting three wins and a 0.70 ERA in 25 2/3 frames over five starts in June. He sported a 1.82 ERA last month, striking out 40 in 29 2/3 innings and has yet to allow a run in two August outings.
Although he'd like to pitch at Double-A Altoona by the end of this season, Glasnow is also excited about helping Bradenton into the postseason. Either way, it's been a breakout season for him.
"I've thought about the promotion, but our team is in playoff contention, so either way," he said. "I would like to see what it's like in Double-A by the end of the season, but it's not my call to make."
Glasnow's 11 strikeouts were one shy of his season high, which he set May 28 over 5 2/3 innings against Tampa. He fanned 11 on July 22 against Dunedin and 10 on July 11, again against Tampa. The right-hander set a career high last year with 13 against Class A Charleston on Aug. 22, his fifth double-digit strikeout effort of the 2013 season.
Confidence, he said, has never been a problem, especially with his high strikeout outings.
"I think I struggled a bit last year, but I'm a pretty confident guy. I think the only thing in the beginning was the nerves and uneasy feeling, but I'm getting good at letting it go," he said. "Each start has its own set of challenges. Once I get in the zone and feel too comfortable, things could go wrong. I've learned that quickly last year, just going out and having the same mind-set is the most important thing."
The success has propelled him to atop the Pirates prospect rankings, territory held in recently seasons by Gerrit Cole and Jameson Taillon.
"I try not really pay attention to that stuff, but it does feels good to know," he said. "We have extremely talented prospects in our system, so it's a great honor."
Danny Wild is an editor for MiLB.com. Follow his MLBlog column, Minoring in Twitter. This story was not subject to the approval of the National Association of Professional Baseball Leagues or its clubs.
View More