Glendale notes: Astros' Laureano thriving
Former 16th-round pick shows breakout season was no fluke in AFL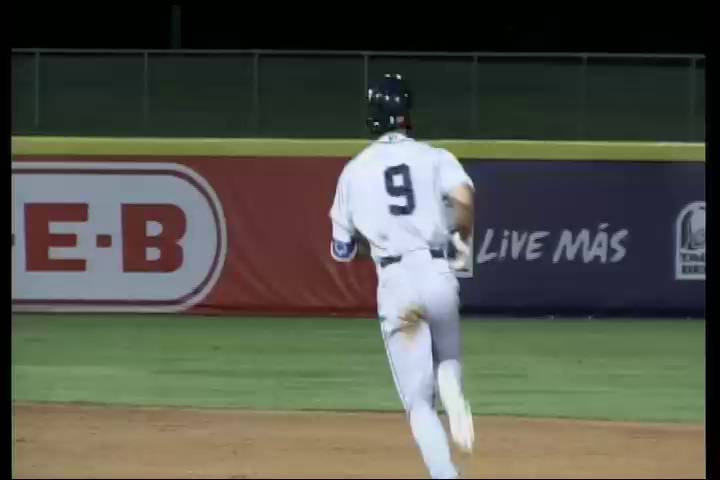 By John Parker / MiLB.com | October 25, 2016 10:00 AM ET
Being a 16th-round pick isn't easy.
In the 2010 Draft, just three of the 30 16th-rounders reached the Majors to date, and only one -- Indians closer Cody Allen -- has made much of an impact.
Glendale outfielder Ramon Laureano is making his case to be the next 16th-round gem. Selected by the Astros out of Northeastern Oklahoma A&M in 2014, the Dominican Republic native struggled with Rookie-level Greeneville in the Appalachian League that summer and was merely average in 76 games with Class A Quad Cities in 2015.
This year was different. Laureano, who turned 22 in July, began the season in the California League with Class A Advanced Lancaster, where he hit .317/.426/.519 in 80 games and was ultimately named to the circuit's end-of-season All-Star team.
"I worked on my plate discipline in the offseason," he said. "I was just trying to not chase pitches, to see the ball up. But then in the middle of the season, I wasn't driving the ball because I was just focusing on being disciplined at the plate. I met with my coach Darryl Robinson and we worked on driving the ball. I got off to a pretty good start after that, driving the ball more, being more aggressive and just trusting my eyes, trusting my instincts."
It's not unusual for prospects to experience an offensive surge in the Cal League -- particularly with the JetHawks -- but Laureano was even better after a late July promotion to Double-A Corpus Christi. Posting a .323/.432/.548 line with the Hooks, Laureano finished the season with an overall .428 on-base percentage -- tops among all qualifying full-season Minor Leaguers.
The biggest difference in Laureano's approach at the plate has been his patience. He drew 70 walks in 116 games this season after walking just 21 times over 76 games in 2015. That willingness to wait for pitches he can drive has translated into not only his on-base prowess but also a surprising amount of pop from the 5-foot-11, 180-pound speedster. Only 10 Minor Leaguers stole more than his 43 bases during the regular season, and only one of those players -- MLB.com's top prospect Yoan Moncada -- matched his 15 home runs.
Laureano's hot 2016 has continued with Glendale, where he fell a homer shy of the cycle in his first game. Playing with and against some of the top prospects in the game, he's 10-for-29 (.345) with four doubles, two triples and a perfect 4-for-4 in stolen-base attempts after eight games. That performance earned him the league's nod as the season's first Player of the Week.
"I have to just be more consistent and just keep working on things, not chasing pitches out of the zone, seeing pitches up," he said. "It's a good learning experience because you see more pitchers throwing 95+ [mph] which is what you see in the big leagues every day. It's a good experience. I'm trying to take advantage of this last week that I have here because I'm leaving Sunday."
During the regular season, Laureano played all three outfield positions in Lancaster and Corpus Christi. In the AFL, he's predominantly manned right with a couple games in center. Scouts reckon he has the speed to play center, and his bat may profile better there -- despite his surge this season, his power may fall shy of that of an ideal corner outfielder.
"I just play anywhere they put me to play," he said. "At the end of the day, you've just got to do one thing, just catch the ball and make routine plays, just make the game simple. Don't complicate yourself that much."
The former 16th-round pick has also finally broken onto MLB.com's list of top Astros prospects, sitting at No. 29 in a strong Houston system. His performance in the AFL so far suggests he should rise even more when the rankings are next updated.
"I'm taking some time off," Laureano said. "After I'm done here, a couple weeks later, I'm going to the gym just to work out, do my offseason program."
In brief
Staff taxed: The AFL is known to be a hitter-friendly league, and opposing offenses have taken advantage of their opportunities against Glendale. The Desert Dogs have surrendered the most runs (66), earned runs (57) and homers (10) in the league through their first 11 games. Starter Austin Voth (Nationals) ranks second with 13 strikeouts, but has surrendered 13 runs -- all earned -- for a 12.10 ERA over 9 2/3 innings.
Ward rebounds: Third baseman Drew Ward, a third-round pick by the Nationals in 2013, struggled in his introduction to Double-A ball this summer, batting just .219/.310/.309 in 53 games with Harrisburg. The 21-year-old has rediscovered his stroke in Glendale and leads the club with a .417 average (10-for-24). Ward has hits in each of his seven games with the Dogs, including a 3-for-5 performance Saturday.
Dodgers off to slow start: A high-powered contingent of Dodgers -- outfielders Cody Bellinger and Alex Verdugo and second baseman Willie Calhoun are Los Angeles' top three position prospects and all three rank in MLB.com's Top 100 -- has yet to make much of a statement in the AFL. Bellinger and Calhoun are hitting .250 with one homer apiece and the 20-year-old Verdugo is just 4-for-23 (.174). Of course, these are small samples and Verdugo seems to have been particularly unlucky -- he's only fanned twice in 25 plate appearances but sports an unusually low .190 average on balls in play.
John Parker is an editor for MiLB.com. Tyler Maun of MiLB.com also contributed to this report. This story was not subject to the approval of the National Association of Professional Baseball Leagues or its clubs.
View More