Glenn backs Lugo, Gnats knot series
South Atlantic League Finals even at 1-1 heading to Savannah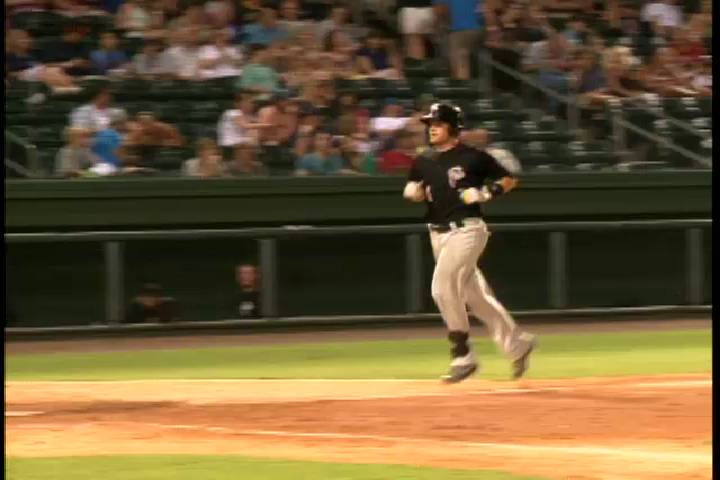 By Danny Wild / MiLB.com | September 10, 2013 7:45 PM
A scary moment on Tuesday night put Seth Lugo's pivotal start in doubt. He took a comebacker off his wrist in the third inning, but when catcher Jeff Glenn walked out to the mound, he knew what to expect.
"He's a bulldog, he likes to fight as long as he can," Glenn said. "We needed him to stay out there, and he did."
Glenn made sure his starter's gutsy effort wasn't wasted, going 3-for-4 with a career-high three RBIs as Savannah beat Hagerstown, 6-2, to even the South Atlantic League Championship Series at 1-1.
"He pitched a great game," Glenn said of Lugo, who pitched six shutout innings. "Me and him and Frank [Viola], our pitching coach, we talk every day about a game plan. He made some big pitches early. We knew some guys are free swingers and he battled after he got hit in the wrist -- he wanted to keep pitching and he had a great game. He kept the ball down in the zone."
Glenn, the Mets' ninth-round pick in 2009, delivered a two-run double in the second, singled leading off the fourth and added an RBI double in the fifth as Savannah built a 5-0 lead and bounced back from a Game 1 loss in the best-of-5 series.
Lugo (1-0), a 2011 34th-round pick, held the Suns to five hits and a walk while striking out seven. Julian Hilario, Paul Sewald and Beck Wheeler each worked an inning to send the series to Savannah.
"We needed to get on the board early and I felt good," Glenn said. "I took good BP today, tried to battle, put the ball in play and it worked out good. It was good to get on the board early and score some runs."
Glenn followed up his first double with another to center field off Justin Thomas, scoring Cole Frenzel after Mets No. 9 prospect Dilson Herrera -- acquired from the Pirates in the Marlon Byrd trade -- scored the Gnats' fourth run.
"We had guys on first and third, I'm trying to look for a ball up in the zone, maybe hit a sac fly," Glenn said. "I got one and was able to put it in the gap and score him."
Hagerstown got on the board in the eighth on Bryan Lippincott's two-run triple off Sewald, but Glenn praised the relievers for keeping the game under control.
"Our bullpen has been great all year. We have a good 'pen supporting out starters," Glenn said. "They scored two runs late, but Seward is a good pitcher, he'll bounce back."
The series shifts to Grayson Stadium, where Glenn believes the Sand Gnats have an advantage.
"You never want to go down in the first game, but we battled today and Lugo threw a heck of a game. We put some [runs] on the board early and gave our pitcher the best chance to win," he said. "We faced two really good pitchers [in Hagerstown], but I think we've got a good chance of putting guys on base and driving them in [at home]."
Glenn is finishing up a frustrating season in which he batted .196 with three homers, 30 RBIs and a .303 on-base percentage. Tuesday's effort was only the second time in his four-year career he's driven in three runs. But his work behind the plate and with Savannah's pitchers is what concerns him most. The Sand Gnats allowed the fewest runs in the league and ranked second with a 3.15 ERA. They also boasted the best WHIP (1.17) and issued the fewest walks (267).
"It wasn't the numbers I wanted, but I kept battling. I had three hits tonight but working with this pitching staff is the main goal," he said. "As a catcher, it's more about the defensive part, trying to work on the staff and getting through innings consistently. Our pitchers have had a tremendous year."
Gabriel Ynoa (15-4, 2.72) will face Hagerstown's Kylin Turnbull (6-5, 3.58) in Game 3 on Thursday.
Danny Wild is an editor for MiLB.com. This story was not subject to the approval of the National Association of Professional Baseball Leagues or its clubs.
View More