Grasshoppers' Lopez has historic game
Marlins prospect goes 6-for-6, one night after collecting six RBIs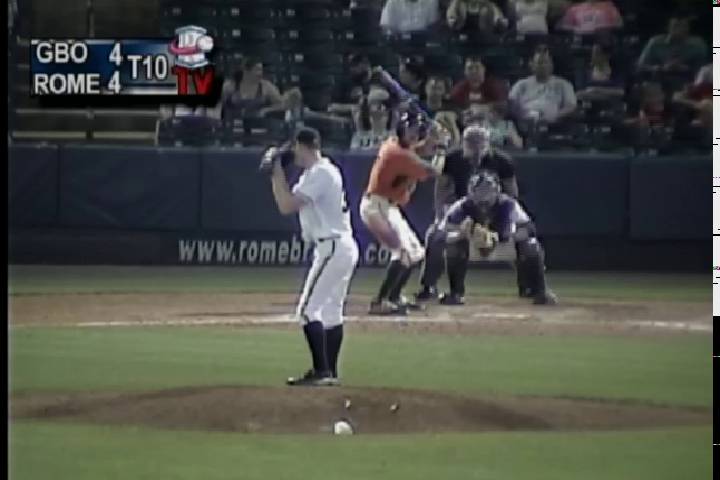 By Robert Emrich / MiLB.com | May 25, 2014 1:53 AM ET
Carlos Lopez had a great game on Friday night. He followed that up with an almost historic one on Saturday.
The Marlins prospect went 6-for-6 with three RBIs and two runs scored as Class A Greensboro outlasted Rome, 7-4, in 12 innings at State Mutual Stadium.
Lopez singled in each of his first four at-bats before smacking a two-run double in the eighth inning that gave the Grasshoppers a 4-3 lead. Rome tied it in the bottom half, but the 24-year-old outfielder collected his sixth hit with a single in the 10th.
"I was just seeing the ball really well," Lopez said. "I was sticking with my approach and not doing too much. I was hitting the ball where I wanted. That also helps out."
The only thing standing between Lopez and South Atlantic League history was Braves manager Jon Schuerholz, who chose to intentionally walk him with a runner on third and one out in the 12th.
"I was hoping they were going to pitch to me, but I didn't think they would, just because of the situation," the California native said. "I looked in their dugout and the other coach told me, 'No chance,' and put up four fingers."
Lopez became the first player to go 6-for-6 in a South Atlantic League game since Michael Bianucci did it on April 17, 2009 for Hickory. The Cal State-Fullerton University fell one hit shy of the league record, set by Sumter's Alex Smith on Aug. 7, 1986.
Lopez's flirtation with history came one night after he drove in a career-high six runs.
"Obviously, you feel like you're on cloud nine," said Lopez, noting he never had more than five hits in a game. "Really happy to go to the ballpark. It feels great."
Lopez has been on a tear, posting multi-hit games in six straight contests. During that stretch, he's 17-for-24 with 11 RBIs to raise his batting average to .318. He credited work with hitting coach Frank Moore for the hot streak.
"I've just been working," the 2013 10th-round Draft pick said. "I came out pretty good in the beginning of the year and then I started struggling. I've been working with our hitting coach and hitting coordinators and just trying to tinker with little things and getting the right mind-set to be more consistent."
Establishing career highs in back-to-back games could make it easier to get out of synch and start chasing similar big numbers. Lopez has no intentions of doing that.
"Obviously, you can't do this throughout a whole season," he said. "It's just trying to go out there and understand one at-bat at a time and control what I can control. I don't plan on going out there tomorrow and getting six hits or getting six RBIs. I'm just going to try and hit the ball hard and see what happens."
Austin Dean, the Marlins' 20th-ranked prospect, drove in two runs, while Javier Lopez doubled twice and scored a run out of the leadoff spot for the Grasshoppers.
C.J. Robinson (3-1) gave up one hit over two innings of scoreless relief to get the win. Sean Donatello pitched around a hit in the 12th en route to his fifth save.
Brady Feigl (1-1) was tagged with the loss after yielding three runs on six hits over 2 1/3 innings.
Robert Emrich is a contributor to MiLB.com. Follow him on Twitter @RobertEmrich. This story was not subject to the approval of the National Association of Professional Baseball Leagues or its clubs.
View More