Greene hurls first shutout for Fisher Cats
Blue Jays No. 2 prospect gives up four hits in fifth Double-A start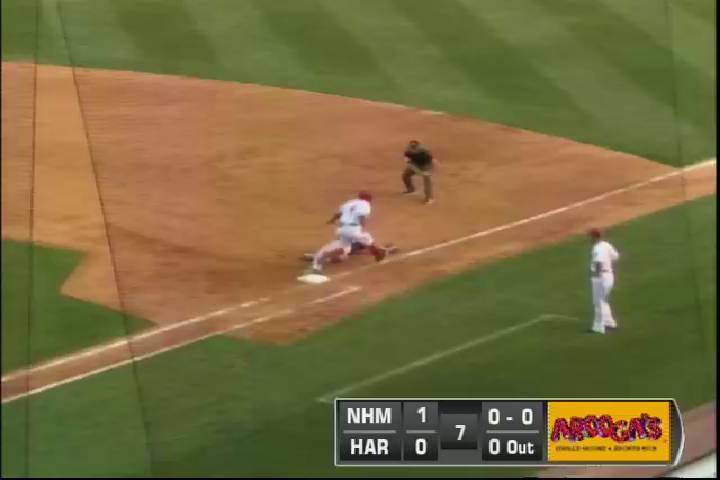 By Michael Leboff / MiLB.com | July 26, 2016 11:10 PM
After enduring a rough start to his second go-round with Double-A New Hampshire, Conner Greene looked inside for answers. He seems to have found them.
The Blue Jays' No. 2 prospect threw a four-hitter for his first career complete game Tuesday as the Fisher Cats beat Harrisburg, 1-0, in the first game of a doubleheader.
"I got back to evaluating what kind of pitcher I am and asking, 'What am I good at?' I'm not trying to change my game for a different team," said Greene, who struck out seven. "I am going to do what I do best, which is fastballs low in the zone with a downward plane, then throwing a good changeup off that and a good curveball off of that. If I can execute that, the result will be good and, lately, it has been. So, hopefully, I can keep it going."
The game got off to an odd start for Greene (3-2), as Nationals No. 16 prospect Rafael Bautista was thrown out trying to stretch a single into a double by right fielder Derrick Loveless. After striking out Andrew Stevenson, the 21-year-old right-hander knocked down a comebacker from Wilmer Difo to end the first inning.
"I almost caught it, it hit me in the glove," he said. "It was just a pure reaction and, luckily, it didn't hit me because I'm skinny and it probably would have killed me. It definitely locks you in a little bit and you say, 'OK, they're on the fastball, so just keep it down because instead of the next one being hit at you, they'll hit it over the fence."
After giving up a leadoff single in the fifth, Greene began to find his rhythm and retired eight in a row before giving up a single and a walk with two outs in the seventh. With a first-ever shutout in his sights, the California native buckled down and got Kevin Keyes to pop out to short to finish off the Senators.
"I got a little bit away from myself," he said. "I was getting a little pumped up and overthrowing a little bit going for my first career complete game. I was thinking, 'All right, I really want to do this, let's get a CG out of this.' So I got away from what was working all game, which was making effective low pitches."
Greene started the season with Class A Advanced Dunedin, where he posted a 2.90 ERA and 1.44 WHIP in 15 starts. He was promoted to Double-A on June 30 and sports a 3.81 ERA and 1.38 WHIP through five Eastern League starts.
"Being a hard-throwing pitcher, I've learned that everybody here can turn on however hard you're throwing that day," Greene said. "It's about pitching and making quality pitches and choosing your pitch selection wisely. Everybody here is a big league hitter, so just being aware that even a so-called slap hitter can do some damage on you. I'm still attacking, but being aware that any guy can get you."
Greene did not pitch with a lead until the sixth, when Roemon Fields slugged a solo homer.
Michael Brady (2-5) also went the distance for Harrisburg, yielding a run on eight hits while striking out one.
The Senators salvaged a split of the twinbill with a 1-0 win as Stephen Perez hit a walk-off homer.
Michael Leboff is a contributor to MiLB.com. This story was not subject to the approval of the National Association of Professional Baseball Leagues or its clubs.
View More