Haase's slam gives Akron early Finals lead
Indians prospect puts RubberDucks ahead with bases-clearing blast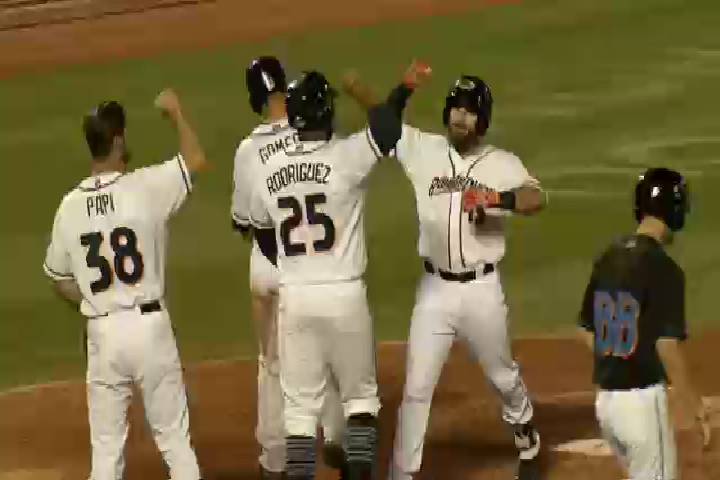 By Kelsie Heneghan / MiLB.com | September 13, 2016 11:00 PM
Coming off a series-winning walk-off knock Sunday, Eric Haase found a way to keep the momentum going for another key hit.
The Cleveland catching prospect slugged a go-ahead grand slam to boost Double-A Akron to a 6-3 win against Trenton in Game 1 of the best-of-5 Eastern League Championship Series on Tuesday at Canal Park. He also knocked a double and walked.
"I feel pretty good. My teammates are giving me opportunity to drive in those runs, so anytime I've up there, I'm feeling confident. They're doing their job," the 23-year-old said. "And if it's not me, it's the guy behind me. We're all just putting up pretty good at-bats, so we're rolling right now."
Atfer drawing a base on balls in the second inning, Haase came up in the fifth with the bases loaded, one out and his team down by one. Two pitches later, the designated hitter ripped a grand slam to left field -- his first in pro ball -- off Travis Hissong. He also slapped a double to center in the eighth.
"I faced him earlier in the season, so I was looking for something out, over the plate and he just made a mistake and I was lucky enough to barrel it up," the Michigan native said of the long ball. "It's definitely a good feeling, just having my teammates on base with one out and two really big at-bats to extend the inning to give me a chance."
Prior to Haase's blast, the Thunder and the RubberDucks traded runs through the first four innings, starting with a two-run shot by Trenton's Mike Ford in the first.
"We've been down a lot this year and a lot of moving parts and whatnot, but the team's always grinding it out and finding a way to come through and win," Haase said. "So [we're] definitely not a team that just lays down. We've won a lot of ballgames late and our bullpen's been really solid too."
The RubberDucks' six runs backed up a quality start by Michael Peoples (1-1). The right-hander allowed three runs on seven hits and two walks with eight strikeouts in seven innings. After David Speer induced a strikeout and allowed two baserunners in the eighth, Cole Sulser nailed down the final five outs for the save.
"It's been pretty much the same story all year with Peoples. He goes out, he competes and mixes his pitches really well. And when he's pitching well, there's a lot of contact and a lot of weak contact," said Haase, who caught 46 games this year. "Every time he gives up a couple runs, it's really no big deal. When we're swinging the bats good, it's hard to beat our team."
The series stays in Akron for Game 2. First pitch is set for 6:35 p.m. ET on Wednesday.
Kelsie Heneghan is a contributor to MiLB.com. Follow her on Twitter @Kelsie_Heneghan. This story was not subject to the approval of the National Association of Professional Baseball Leagues or its clubs.
View More