Hammerheads' Silviano collects seven RBIs
Marlins prospect powers career night with slam, three-run blast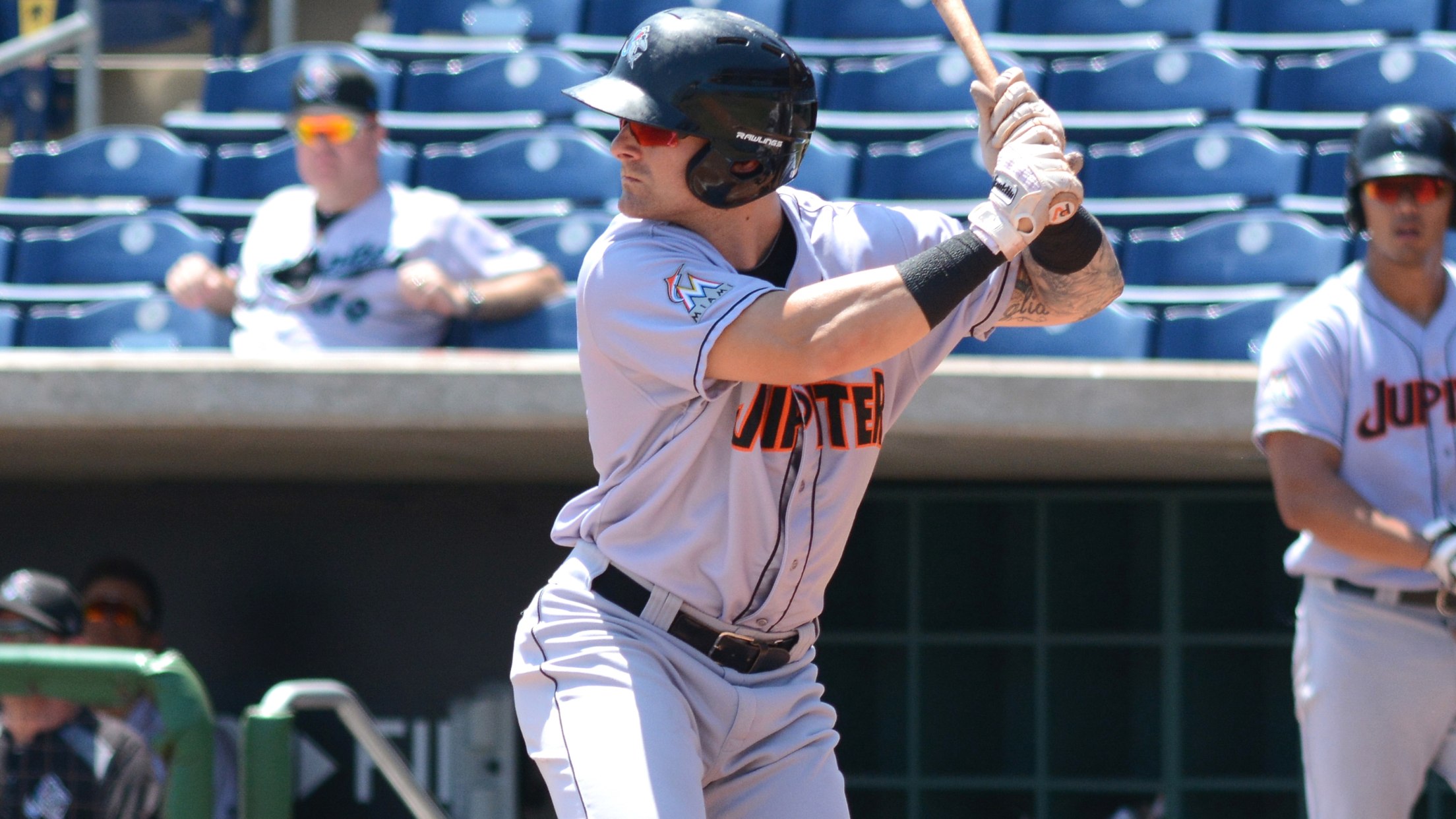 Both of John Silviano's hits with the bases loaded this season have gone for grand slams. (Buck Davidson/MiLB.com)
An afternoon in the cages with a new teammate, rehabbing big leaguer Justin Bour, united Class A Advanced Jupiter outfielder John Silviano with the slab of maple he'd use to put together the best offensive performance of his five-year career.The Marlins prospect bashed a grand slam and a three-run shot
An afternoon in the cages with a new teammate, rehabbing big leaguer Justin Bour, united Class A Advanced Jupiter outfielder John Silviano with the slab of maple he'd use to put together the best offensive performance of his five-year career.
The Marlins prospect bashed a grand slam and a three-run shot to record a career-high seven RBIs and power the Hammerheads to a 14-1 romp over St. Lucie on Wednesday at First Data Field. Silviano also walked and set another personal best with three runs scored.
"I just felt good tonight. I felt like I was relaxed and just trying to see that ball and not do too much and good things happened," the 22-year-old said.
Gameday box score
Silviano is hitting .323 with 22 RBIs with runners in scoring position and has two hits -- both homers -- in four at-bats with the bases loaded. The first came on June 3 against Tampa, where he established his previous career high with four RBIs.
"With guys in scoring position, depending on how many outs and whatever job you're trying to do, my approach stays the same" the Florida native said. "In a sense, sometimes I just try to act like it's a regular at-bat. But it definitely helps me. I feel like it makes me a little bit more selective of what pitch I'm trying to drive."
Silviano entered Wednesday's contest in a 2-for-21 funk that spanned six games and ended it with a .219/.308/.438 slash line and 25 RBIs.
"Past few games, I've kind of been getting away from my approach, not seeing the ball real well," Silviano said. "So tonight I just wanted to focus on really just staying relaxed and just seeing the ball."
Bour played the first game of his rehab assignment after suffering a sprained ankle on June 3 and is scheduled to rejoin the Marlins on Friday in Atlanta. Silviano hit behind him in the lineup and slugged both of his long balls with the Mizuno bat the Miami first baseman gifted him before the game.
"After the second one, he was joking around that he was going to try and take it back from me," said Silviano, the Blue Jays' 13th-round pick in the 2012 Draft. "He's in the cages and stuff with us, watching the games like a normal guy in the clubhouse. He's a very cool guy."
Silviano came up in the first inning with one out and two men on against St. Lucie starter Joe Shaw after Bour delivered an RBI single. He got hold of a hanging slider on a 2-2 count and pulled a liner over the fence in right field for his fifth homer of the season.
The Hammerheads got two more runs in the first on a double by Dexter Kjerstad and a single by J.J. Gould. Shaw started the second with eight consecutive pitches out of the strike zone, putting Junior Arrojo and Bour aboard before Marlins No. 18 prospect Roy Morales singled to load the bases.
"I went up there not trying to think about anything too much, not about what type of pitch he was trying to throw to me," Silviano said. "I was just really focused on seeing it and staying relaxed."
He took a rip at the first pitch he saw, a fastball up in the zone, and sent it out of the park in right-center.
"Sometimes after I hit a home run, I'll actually kind of dial myself down as far as being aggressive because I don't want to try and do too much," Silviano said. "But sometimes they try to get that strike one over."
Silviano walked in his third plate appearance and struck out in the fifth and seventh innings but reached on a wild pitch and scored on Kjerstad's single in the seventh. He flied to left with one out in the ninth.
Bour was replaced by Dustin Geiger in the fifth after going 2-for-2 with a walk, two RBIs and two runs scored. Silviano continued to use the bat Bour gave him and is making sure not to let anything happen to his new prized possession.
"We have to keep that one good for a while," he joked.
Marlins No. 7 prospect Stone Garrett singled twice, while Kjerstad went 3-for-6 with two RBIs and two runs scored.
Gerard Gilberto is a contributor to MiLB.com. Follow and interact with him on Twitter, @GerardGilberto4.