Hawkins Dash-ing toward Chicago
Top White Sox prospect dishes on football, backflip decisions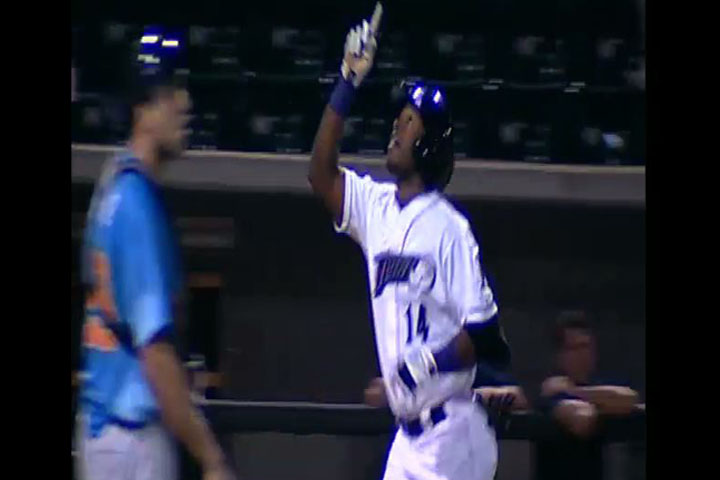 By Sam Dykstra / Special to MLB.com | March 25, 2013 6:11 AM ET
Courtney Hawkins may be the pride of the 2012 Draft to date.
After being selected 13th overall by the White Sox in June, the then-18-year-old outfielder was sent to Rookie-level Bristol, a usual stop for players coming off the end of their high-school seasons. But from there, he moved onto Class A Kannapolis and Class A Advanced Winston-Salem, putting up more solid numbers at each destination. In the end, he finished with a .284/.324/.480 slash line with eight home runs, three triples, 12 doubles and 33 RBIs in 59 total regular-season games.
The right-handed slugger continued to contribute in the Carolina League playoffs for the Dash, homering twice and driving in five for a team that fell two games short of a championship.
Entering the 2013 season as MLB.com's No. 68 prospect -- tops in the White Sox organization -- Hawkins hopes his quick ascension through the Chicago organization wasn't isolated to 2012. MiLB.com caught up with him to discuss that first season as well as his choice of football over baseball and a certain maneuver he pulled on Draft Day.
MiLB.com: Describe last season, your first pro year. You moved around between three levels, which isn't normal for a guy who was drafted the same year.
Hawkins: I enjoyed it, man. What I actually really liked was being able to experience more and more as I went along. As I moved up, I settled down a little and got more comfortable, so that was nice.
MiLB.com: How were you able to get more comfortable?
Hawkins: I don't know, I guess I'm one of those guys where the better the competition gets, the more I rise to the occasion. That's the way I've always been, and that's the way I always try to be.
MiLB.com: Were you able to develop any relationships with some of the guys in the White Sox system during all those stops?
Hawkins: Yeah, from Winston it was guys like Marcus Semien, Keenyn Walker [that] I became good friends with. But overall, Jared Mitchell, I've spent a lot of time with him in the offseason, and he's put a lot of knowledge in my head. The big one was to take it day by day. If you try to rush things, it'll take longer to get where you want. So just play ball, play your game and let the rest happen.
MiLB.com: Now you're in your Spring Training. What's been different about that experience for you?
Hawkins: It's definitely different. It's a grind. You get up every day at 5:30 or 6 in the morning, and you're at the field until 4 or 5. We got out early today, which doesn't happen that often. I expected to be out here playing every day, but even this caught me a little off-guard. But you know you'll be out here working on everything in the morning and then playing a game at 1.
MiLB.com: Have you felt any pressure as a first-round pick since you were taken last June?
Hawkins: When I first came in, I definitely felt like there was. I knew I had to produce right away as a guy taken that high. But that's something else Jared helped me out with. You need to not worry about that stuff, and like I said, play your game and focus on that. It's in the back of my mind, of course, but I'm not too stressed about it. It's still in the back of my mind, though, and always probably will be.
MiLB.com: Heading into that Draft, some people were saying you could have been as good a football player as you are a baseball player. Do you agree with that?
Hawkins: It's stuff you definitely think about, stuff you could have done differently. Especially on Fridays and Saturdays, it comes up when they're playing those games and you think about what could have been. But still, if I had to pick it all over again, I'm definitely going to take hitting a baseball every day instead of hitting everybody else.
MiLB.com: Your brother, Tim, played football at Texas State though. Did he influence your decision at all?
Hawkins: Oh definitely. He's the one who told me to stop playing football because of all the injuries and all that comes with it. He's graduating this year, and he said when he's done, I need to forget about football and focus only on baseball.
MiLB.com: That's a decision most people from Texas wouldn't make, right?
Hawkins: Oh yeah, Texas is absolutely a big state for football. But the funny thing is the city I grew up in, Corpus Christi, is a huge baseball city. There are plenty of baseball fans there, so it's not as big a deal as you'd think.
MiLB.com: With that background in mind, how much did you know about the White Sox organization coming in?
Hawkins: I didn't know too much about it, to be honest. I obviously knew guys like Frank Thomas and Chris Sale, who's there now. I knew Jared Mitchell too because I visited LSU when he was there a few years ago. But other than that, I didn't really know much.
MiLB.com: So what have you learned or what's surprised you about the organization?
Hawkins: I've learned stuff every day, that's for sure. I'm enjoying it. One of the things is everybody says you're never going to talk to the executives or the front-office guys when you get here. But they've been talking to me every once in a while, out in the outfield or in the clubhouse or something. They just tell me to keep playing my game and that they want to keep the smile on my face at all times. So I make sure it stays on there as much as possible.
MiLB.com: Going back to Draft Day, you became known for a backflip you did after being selected. Take us through that moment.
Hawkins: I can't really remember the lady's name who interviewed me for the MLB Network, but before we went on camera, she asked if I'd do a backflip on TV. At first, I was like, "Uhhh." And then finally, I was like, "All right, fine." So next thing I know, she's telling me to do it on live TV. It wasn't anything I planned on doing for sure. I just want to clear that up.
MiLB.com: So do you have a history with the backflip then?
Hawkins: It started when we were doing a pep rally for school, just kind of messing around on the basketball court, and someone taught me how to do a backflip right there. So then I started doing it in the hallways, in the lunch rooms on the baseball field. If we won a game or something, I'd do a backflip to celebrate. It's just kind of something that stuck with me through my high school years.
MiLB.com: So have you done any since?
Hawkins: No, no, that's something I had to leave behind. I haven't done that in a while. Really, the organization told me no more on that stuff. Once they said that, that was enough for me. In high school, it's just a game, as opposed to here where it's a job.
Sam Dykstra is a contributor to MLB.com. This story was not subject to the approval of the National Association of Professional Baseball Leagues or its clubs.
View More