Healthy Soler powers Smokies with blasts
Cubs' No. 6 prospect goes yard twice, drives in career-high five runs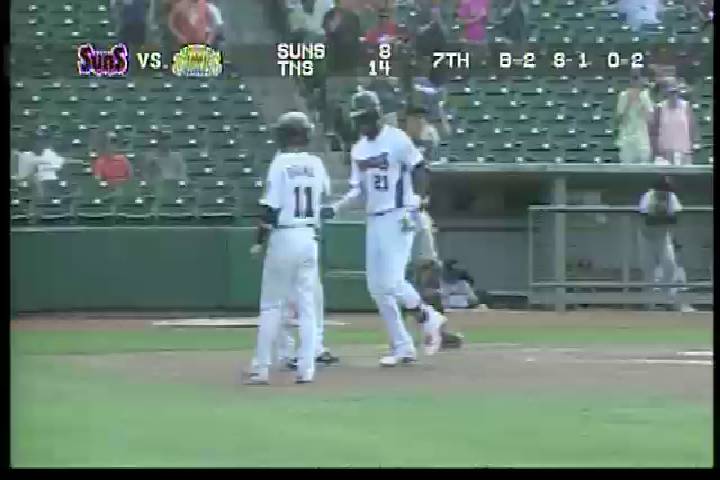 By Robert Emrich / MiLB.com | July 13, 2014 8:52 PM ET
Jorge Soler has been so impressive this season that had it not been for injuries, he might not have even been in the Smokies lineup Sunday.
Instead, the Cubs' No. 6 prospect homered twice and plated a career-high five runs as Double-A Tennessee defeated Jacksonville, 14-8.
Soler, who finished 3-for-5, slugged a two-run homer as part of the Smokies' seven-run fifth inning. The 22-year-old outfielder capped the scoring for the day with a three-run blast in the seventh for the first two-homer game of his career.
"Tell you the truth, he got ahead and [Greg Nappo] got a fastball up and away. He stayed on the ball and didn't try to pull it and hit it where it was pitched," manager Buddy Bailey said of Soler's second long ball. "When you're as big and as strong as he is, you don't have to worry about pulling the ball to get it over the fence. That's one of the luxuries of being a big guy and being able to hit the ball to all fields.
"The first one [off baseball's No. 63 prospect Justin Nicolino] was as impressive to me. The fact that they had been throwing him changeups in the first couple of at-bats and then they thought they would sneak a fastball and he got the head out and hit a two-run homer. To not see a guy's fastball and to be able to react and do what he did is as impressive to me."
Since coming back from a hamstring injury that held him out for nearly two months, Soler has gone yard five times and driven in 10 runs in seven Southern League games. Bailey called what he's done since returning "big for his career."
"Like I told someone this year, he's 600 [at-bats] behind most guys in the progression. To get here this late in the year, when pitchers have been here and have everything in their repertoire working, it's not like April," Bailey said. "You've got pitchers who are trying to get to Triple-A or who are close to going to Triple-A. He comes here this late in the season and it's not like he's overmatched, he's actually going the other way, he's overmatched the pitchers. That's very, very impressive."
Injuries have limited the Cuban slugger to 14 games with the Smokies this year but has made up for lost time, batting .426 with five homers, nine doubles and 17 RBIs. Soler has averaged an extra-base hit a game, an impressive feat despite the small sample size.
"He's a man amongst boys on given days," Bailey said. "Considering the time he missed last year in Daytona and missed this year, what he's done in 14 games this year is really impressive."
Bailey, who managed Futures Games participants Javier Baez last year and Kris Bryant earlier this season, believes Soler would be right up there with them had his rash of injuries not held him back.
"It's one of those things, it's a little bit of a traffic jam, which injuries create. You're still going to get home, but it's just going to take a little more time," he said. "The same numbers at the same pace, if he'd been healthy with what he's done, in the past I'm sure Buddy Bailey wouldn't be on this phone call talking about Soler, you'd be talking to Marty Pevey, the Triple-A manager, or even possibly Rick Renteria."
Bailey, who has been with the Cubs organization since 2006, thinks all MLB.com's No. 41 prospect needs to do is remain healthy.
"We need him to stay healthy so that he does get the playing time," he said. "That's the No. 1 priority. As we go deeper, people are going to try and pitch him different ways. He hasn't been here, he's the new kid on the block, they don't know him to pitch to him. As they get more data and more video, they're going to come up with a plan. Then we're going to find out if he can continue to do what he does and take pitches in certain counts. That's going to be the real test.
"I think he's fine. He's not a wild, free swinger, he's disciplined. He's got a quick bat and he's so strong, he one-armed a ball out of here the other night. That's the one thing. He doesn't not have to hit a ball perfect to hit it out of the ballpark like some of the big-time home run hitters, which is a big advantage."
Stephen Bruno was 3-for-5 with three RBIs and Elliot Soto reached base three times while scoring three runs for the Smokies.
Zach Cates improved to 2-1 after allowing one hit over two scoreless innings out of the bullpen.
Joe Benson slugged a three-run homer in the loss for the Suns.
Nicolino, the Marlins' No. 3 prospect, fell to 8-3 after allowing seven runs -- one earned -- on six hits over 4 2/3 innings for Jacksonville.
Robert Emrich is a contributor to MiLB.com. Follow him on Twitter @RobertEmrich. This story was not subject to the approval of the National Association of Professional Baseball Leagues or its clubs.
View More