Heaney's change does Jacksonville good
Marlins' top prospect fans eight over six shutout innings for first win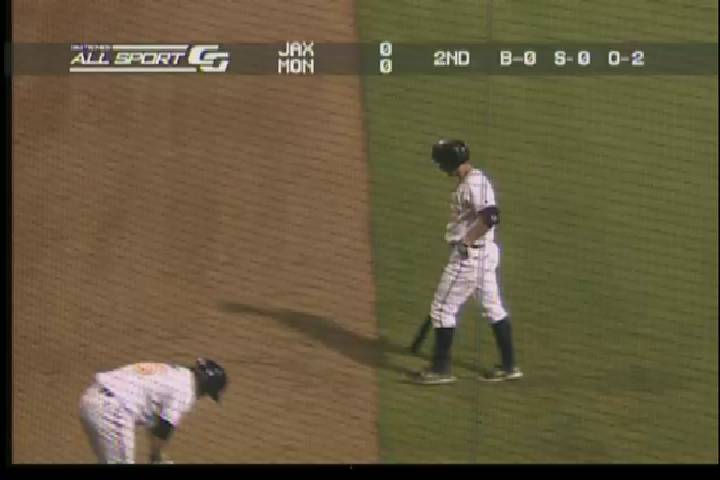 By Robert Emrich / MiLB.com | April 11, 2014 1:08 AM ET
Andrew Heaney made a change and the change did him good.
The Marlins' No. 1 prospect scattered four hits while fanning a season-high eight over six shutout innings for his first win of the season as Double-A Jacksonville defeated Birmingham, 8-1, on Thursday.
Heaney got on a roll early, retiring 11 straight batters before Micah Johnson reached on a fielding error by second baseman Danny Black to open the sixth inning. The 22-year-old left-hander threw 56 of his 80 pitches for strikes.
"[I] just started throwing some changeups by the third or fourth inning. They kept swinging through it and they weren't really proving they could hit it," Heaney said. "J.T. [Realmuto] kept putting it down and I kept throwing it. We got in a rhythm and we cruised from there.
"I definitely threw it a lot more than I threw my slider, which is pretty abnormal for me. Just in that sense, it shows how much it was working."
Heaney didn't factor into the decision in his first start of the year, allowing three runs on 10 hits over 5 1/3 innings against Huntsville on April 4. Thursday's game was a different story, and part of the reason was the Oklahoma native's complete control of his arsenal.
"Usually I pitch off my fastball and I can kind of get some swing-and-misses and some bad contact," Heaney said. "My first start they were just on top of my fastball. Same thing the first couple of innings tonight, they hit some balls square and it seemed that they were looking for fastballs. I started throwing some changeups to keep them off balance and it really started working.
"My slider was not very good my first start, it was a lot better tonight. Same with the changeup. First night, I was battling for the most part. Tonight I felt like I had everything working and that I could mix it up. When you have something that's working, there's no need to mess with it."
MLB.com's No. 29 prospect missed nearly the first two months of the 2013 season because of a lat strain suffered in the offseason and didn't make his first start until May 20. Heaney is happy to be around from the outset of the season this time around.
"I love being part of a team and feeling the camaraderie," he said."I mean everyone knew me and I was fine, I fit right in. To say you were there from Day 1, that's something to be proud of with that and to accomplish what you did with your team and not just jump on a ship."
Realmuto contributed with the bat as well as behind the plate, slugging a two-run homer for the Suns. Joe Benson plated a pair of runs before leaving with a tight groin, according to manager Andy Barkett.
James Nygren gave up two hits over two scoreless innings of relief and Tyler Higgins allowed a run on one hit in the ninth.
Myles Jaye (0-1) was tagged with the loss after allowing six runs -- five earned -- on five hits over five innings for the Barons.
Robert Emrich is a contributor to MiLB.com. Follow him on Twitter @RobertEmrich. This story was not subject to the approval of the National Association of Professional Baseball Leagues or its clubs.
View More