Hens' McCann goes long on four-hit day
Backstop bops second homer of season, ties career high for hits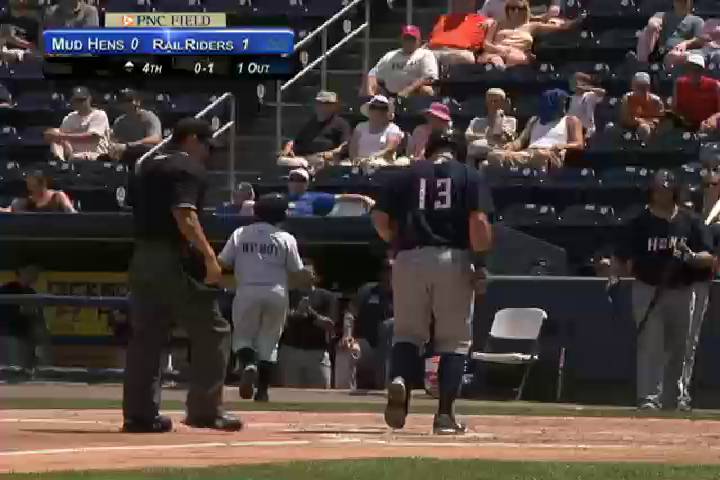 By Jake Seiner / MiLB.com | June 8, 2014 8:28 PM ET
On June 3, Tigers No. 9 prospect Hernan Perez belted his second homer of the season, snapping a longstanding tie with No. 8 prospect James McCann on the Toledo leaderboard. In the days that followed, Perez refused to let McCann hear the end of it.
"He got his second one the other day. Ever since, he's been running his mouth a little bit," McCann said with a laugh.
McCann evened the competition Sunday and bolstered Triple-A Toledo's by going 4-for-5 with a homer and three RBIs in a 5-4 victory at Scranton/Wilkes-Barre.
The four hits tied a career high for McCann, marking the fifth time he's reached the mark and the third time this year. He went 4-for-6 on April 13 at Louisville and was 4-for-4 on May 13 against Syracuse.
McCann homered with one out in the fourth inning. The long ball came off right-hander Zach Nuding, who first floated a slow curve into the zone for a strike, then tried to challenge McCann inside with a fastball. The right-handed hitter turned on the heater, lifting it out to left field to tie the game at 1-1; Toledo added two runs in the inning and never trailed.
The roundtripper was McCann's second of the season and first since April 23 against Indianapolis. The 23-year-old backstop had 12 homers in 290 career games entering Sunday.
"I tend to tell people I'm more of a gap hitter," McCann said. "I run into a ball here and there, but really, I'm just trying to stay to the middle of the field. I just happened to catch the right pitch to pull out to left field."
The blast jump-started McCann's afternoon. He knocked RBI singles in the fifth and sixth to help Toledo pad its lead, then led off the ninth with his 12th double of the season.
McCann is a highly regarded prospect for his defensive work. He entered the year throwing out 39 percent of potential basestealers and has nearly matched that total by nailing 20-of-56 (36 percent) in his first look at Triple-A.
MLB.com's prospect team graded McCann an above-average defender, noting he has "catch-and-throw skills, soft hands and the leadership to run a pitching staff."
There are more questions about whether McCann's bat will be good enough to hold down a starting job in the Majors. The 2011 second-round pick posted a .589 OPS in his first full pro season in 2012, split between Class A Advanced Lakeland and Double-A Erie.
He followed that with a breakout campaign, hitting .27 with a .731 OPS in 119 games with Erie. This year, his first in the International League, McCann is batting .289 with a .748 OPS in 49 games. He was especially good in May, when he hit .306 with a .764 OPS.
"I think it's really just getting settled in and getting into a comfort zone," he said, "not letting a bad day translate into two bad days or three bad days, letting it snowball. I'm just getting confident and into that comfort zone."
The backstop also said he's been hard at work improving his already promising defensive work. Being in Triple-A has afforded him the opportunity to work with a different set of pitchers, including Major League veterans like Sunday's winner Duane Below (4-1).
"Just being around different individuals, taking from their experiences," McCann said. "I try to listen to what they have to offer, compile all that info. That's one thing I try to do, be all ears, and anytime someone has something that can be of value to me, make sure I understand and listen, let that translate into my game."
RailRiders second baseman Zelous Wheeler flirted with the cycle, going 3-for-3 with a double, his sixth homer of the season, three RBIs and two runs scored.
Jake Seiner is a contributor to MiLB.com. Follow him on Twitter at @Jake_Seiner. This story was not subject to the approval of the National Association of Professional Baseball Leagues or its clubs.
View More