Hessman, Dykstra to take hacks in Derby
Six IL, PCL sluggers to set their aims on fences Monday in Durham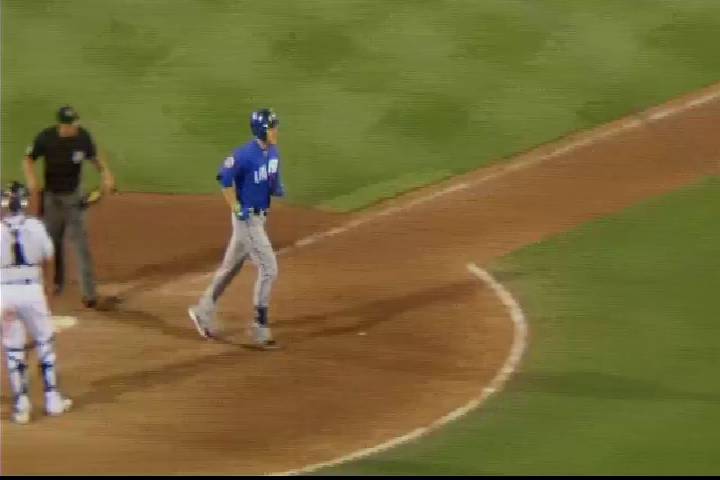 By Sam Dykstra / MiLB.com | July 8, 2014 2:46 PM ET
Mike Hessman has been dubbed the International League home run king, and that title won't change any time soon. But next Monday, two of his fellow IL sluggers and three challengers from the Pacific Coast League will try their best to dethrone him for just one night.
In the words of Omar from The Wire, "Come at the king, you best not miss."
Jesus Aguilar (Columbus) and Dan Johnson (Buffalo) will join Hessman (Toledo) as the IL representatives in next Monday's Triple-A All-Star Home Run Derby at Durham Bulls Athletic Park. Allan Dykstra (Las Vegas), Mike Jacobs (Reno) and Francisco Pena (Omaha) will represent the PCL.
Hessman famously broke the IL record by hitting his 259th home run in the eastern Triple-A circuit last Monday. The Mud Hens slugger also sits seventh all-time with 404 career long balls in the Minor Leagues. He was named the starting third baseman for the IL All-Star team last week, thanks to a .251/.336/.482 line with 15 homers (second in the league) and 32 RBIs in 71 games for Toledo.
Hessman may have history on his side, but his biggest challenge could be from Johnson, who leads the IL with 17 homers and ranks third with an .888 OPS this season. The 34-year-old left-handed slugger could have the Durham crowd behind him, considering he played three seasons with the hometown squad in 2008, 2010 and 2011. He actually won the Triple-A Home Run Derby as a member of the Bulls back in 2010 -- a season in which he hit a career-best 30 homers in only 98 games for the Rays' Triple-A affiliate. Hessman, on the other hand, is competing in his fourth Triple-A Derby but has come up empty in his previous three attempts.
Aguilar is the only ranked prospect participating in the powerful showcase next Monday. The Indians' No. 16 prospect has spent time in both Columbus and Cleveland this season. In Triple-A ball, he's hit 12 home runs in 71 games but failed to go deep in the Majors in an eight-game stretch.
If recent performance is any indication, the PCL's best hope for a second straight Derby champion -- following Matt Davidson's victory in a Reno uniform last season -- may lie with Pena. The 24-year-old has already set a career high with 15 blasts this season and is tied for sixth-most in the PCL in the category this season.
Dykstra, meanwhile, is coming off a breakout campaign in 2013, during which he had a .274/.436/.503 line with 21 homers and 82 RBIs and was named Eastern League MVP and Mets Co-Minor League Player of the Year for his efforts. The left-handed hitter hasn't missed a beat in his first trip to the PCL, putting up a .285/.432/.519 line with 12 homers and 56 RBIs in 77 games for the 51s.
Like the Mets farmhand, Jacobs has also crushed 12 homers this season in the PCL, but that's a comparatively down year for the 33-year-old who went deep 18 times for Reno in both 2012 and 2013. His biggest season in that department came back in 2008 in the Majors when he smacked 32 dingers for the Marlins.
Although such displays of power are not exactly easy to predict, a Johnson-Jacobs final seems like the likeliest possibility, given both history and recent performance, with Johnson taking home the final hardware for the IL.
The event will have some extra intrigue, given its location. The DBAP's Snorting Bull, of Bull Durham fame, should be a major target for the competitive sluggers. If it's hit during the Derby, fans in attendance will win, of course, steaks and other prizes while if it's hit 15 times, one fan will go home with $15,000.
2014 TRIPLE-A HOME RUN DERBY PARTICIPANTS
| INTERNATIONAL LEAGUE | | | | | |
| --- | --- | --- | --- | --- | --- |
| NAME | TEAM | AGE | 2014 HR | BEST SEASON | CAREER HR |
| Jesus Aguilar | Columbus | 24 | 12 | 23 (2011) | 84 |
| Mike Hessman | Toledo | 36 | 15 | 39 (2008) | 418 |
| Dan Johnson | Buffalo | 34 | 17 | 37 (2010) | 294 |
| PACIFIC COAST LEAGUE | | | | | |
| NAME | TEAM | AGE | 2014 HR | BEST SEASON | CAREER HR |
| Allan Dykstra | Las Vegas | 27 | 12 | 21 (2013) | 87 |
| Mike Jacobs | Reno | 33 | 12 | 36 (2005) | 263 |
| Francisco Pena | Omaha | 24 | 15 | 15 (2014) | 55 |
Sam Dykstra is a contributor to MiLB.com. This story was not subject to the approval of the National Association of Professional Baseball Leagues or its clubs.
View More