Hill produces another gem for Chiefs
Nationals right-hander tosses three-hitter, second shutout of season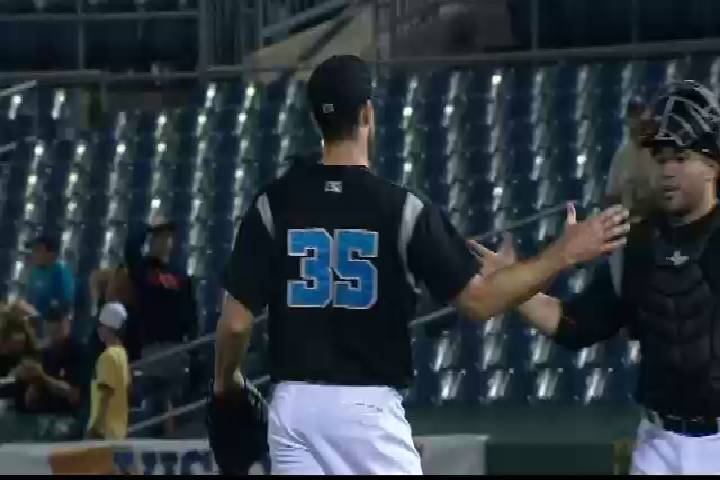 By Robert Emrich / MiLB.com | August 23, 2014 1:29 AM ET
Taylor Hill was about due for another complete game. Unfortunately for Rochester, it came on Friday night.
The Nationals right-hander tossed a three-hitter to move into a tie for the Minor League lead with his fourth complete game as Triple-A Syracuse beat the Red Wings, 7-0, to salvage a split of its doubleheader.
Hill (11-6) struck out two batters and walked one, facing two over the minimum. He threw 56 of 86 pitches for strikes and improved to 2-0 with a 2.16 ERA in four starts against Rochester this season.
"I just really wanted to get back out and get back to what I was doing at the beginning and middle part of the year -- throwing strikes and getting quick outs and getting quick contact," he said. "Fortunately, it was able to work out well. I can't say enough about how well our defense played and how Sandy [Leon] caught behind the plate. He was on the mark all night with his pitch-calling."
The Chiefs turned three double plays behind Hill, none prettier than the one started by second baseman Will Rhymes, who made a behind-the-back flip to shortstop Emmanuel Burriss in the seventh and final inning.
"I've seen stuff like that on SportsCenter, but I've never been part of it actually pitching," the 25-year-old right-hander said. "It was pretty special, it was awesome. I was pumped. I was getting mad because neither one of them would look at me. I wanted to tell them great job, but they just kept walking back to their position like nothing happened. It was really cool."
Friday's effort gave Hill a share of the Minor League lead in complete games with Mets prospect Robert Gsellman. He's also tied for the top spot in the International League with two shutouts, ranks second with a 1.12 WHIP, third with a 2.81 ERA and fourth in wins.
"It's gone well," Hill said of his first full season at Triple-A. "I can't really ask for any more. I've been very fortunate. Our defense and our catchers have played great when I've pitched. I struggled for a little while after the All-Star break and I hadn't struggled really before that.
"That's part of the game. It's kind of make-or-break time. You want to pitch well all the time, but that's not going to happen. You're going to have your ups and your downs. Fortunately, our catchers and our pitching coach were able to help me out and get locked back in and get my confidence back."
Hill made his Major League debut earlier this season and compiled a 4.15 ERA in two relief appearances.
"Hopefully, pitch more like I did tonight," Hill said about what it will take to rejoin Washington. "Just stay consistent and keep doing what I've been doing. That's their call. Right now, I play for the Syracuse Chiefs. I think just keep throwing strikes and keep getting early contact. Everything else will play out from there."
Burriss homered and drove in three runs, while Destin Hood slugged a two-run shot for the Chiefs, which has a three-game lead over second-place Pawtucket in the North Division.
Robert Emrich is a contributor to MiLB.com. Follow him on Twitter @RobertEmrich. This story was not subject to the approval of the National Association of Professional Baseball Leagues or its clubs.
View More