Hooks' Devenski takes no-no into seventh
Astros prospect impresses, despite defeat in third Double-A outing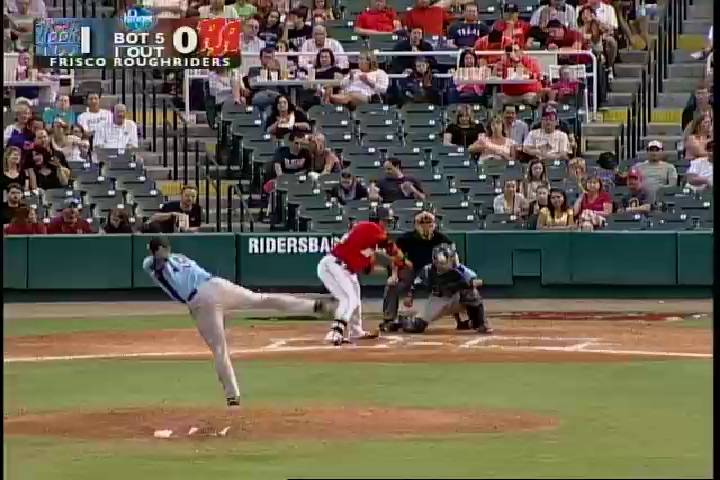 By Josh Jackson / MiLB.com | July 20, 2014 1:37 AM ET
Chris Devenski had the cleanest face in baseball on Saturday night.
"I stick to whatever rituals I have going in the dugout between innings," he said. "Tonight, it was going into the restroom and washing my face off, so I kept doing that. It didn't work out, but I pitched my butt off."
The Astros prospect carried a no-hitter into the seventh inning but ultimately allowed two runs on two hits and two walks to take the loss in his third Double-A start as Corpus Christi fell, 2-1, at Frisco. Devenski (2-1) struck out five and has a 1.72 ERA in three Texas League appearances, including two starts.
"I'm still holding my head up high after that one," he said. "It was my normal attack -- fastball, change, curve -- I was up and down with my fastball and mixing in my changeup, mixing in my curve."
The defeat was deja vu to the Hooks, who saw Mike Hauschild lose a no-hitter and a shutout in the seventh inning on a homer by the RoughRiders' Joey Gallo on June 22. At the time, Devenski was still pitching for Class A Advanced Lancaster in the California League.
"I didn't hear nothing about that, but that's a good team," the 23-year-old right-hander said. "They have a bunch of good hitters there who can really swing it."
Devenski's performance also echoed his own recent past. He fanned 16 in a Class A no-hitter in 2012 and allowed two hits over seven innings for Lancaster on July 2.
"I'm getting there. I'm getting closer to what I did a couple years ago. I'm getting closer and closer now. I feel that something great is going to happen real soon," he said.
Devenski cruised through four innings on Saturday, retiring the first 14 batters before issuing a two-out walk to J.T. Wise in the fifth.
"I just wasn't commanding my fastball that at-bat," he said.
He quickly got back into the groove, setting down another four in a row to get through the sixth.
"Every time I throw a couple balls in a row, I clear my mind to make sure I don't get attached to the last pitch," he said. "I also made a minor adjustment to mechanics after that, so I was coming over more with my delivery."
It was around that point that the notion of pitching another no-hitter entered his mind.
"Anytime you get into the fifth, for me the fifth or the sixth, that's when it's in there kind of dancing around, creeping in there," he said.
Devenski also noticed, though, that he was having a harder time putting the RoughRiders away with his changeup.
"As it got later, they were laying off it. Usually, a lot of guys are swinging and missing at my changeup around the knees or lower," he said. "They did a good job adjusting, but I was still going to throw it. That's one of my best pitches. That's a pitch I live and die with."
That was the pitch that ended his shutout. After Devenski issued a leadoff walk to the Pat Cantwell in the seventh, Odubel Herrera singled.
He got Trever Adams to fly out to left and Gallo to center and hoped to finish the inning.
"I was a little fatigued. I tried to grind it out and get that next out," Devenski said. "I was more focused on getting out of the inning, not the no-hitter being gone. If it's gone, it's gone. I wanted to keep the team in the game and get us out of that inning unhurt."
But the next hitter, Wise, socked a double to left that scored Cantwell and Herrera.
"To Wise, I left my changeup up there. It didn't have any bite on it. It didn't have any life on it," Devenski said.
Mitchell Lambson took over, fanned Jake Skole and tossed a scoreless eighth, but the damage was done.
"We weren't able to put anything on the board after that, but I thought it was a good game," Devenski said.
Fifth-ranked Astros prospect Delino DeShields stole his 40th base of the year, and No. 20 prospect Tony Kemp delivered an RBI double for the Hooks. They also made key defensive plays behind Devenski.
Kyle Lotzkar (2-2) tossed two innings of scoreless relief to get the win.
Josh Jackson is a contributor to MiLB.com. This story was not subject to the approval of the National Association of Professional Baseball Leagues or its clubs.
View More