Hoskins, Cozens blast off again for Fightins
Phillies prospects share Minors homer lead, combine for eight RBIs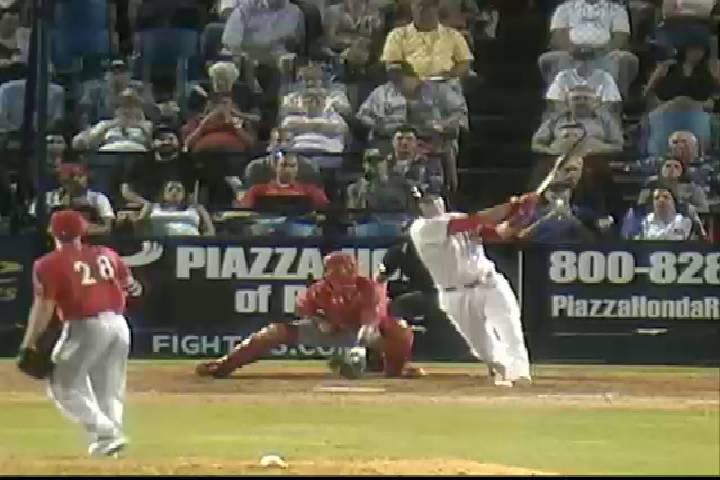 By Josh Jackson / MiLB.com | June 30, 2016 11:51 PM ET
For Rhys Hoskins and Dylan Cozens, one word sums up the first half of the 2016 season.
"We're having fun," Hoskins said. "I can't really think of any other way to say it -- it's fun."
Hoskins and Cozens, Philadelphia's No. 19 and No. 22 prospects respectively, both homered for a second straight night, upping their Minor League-leading long ball tally to 22. Hoskins bashed a grand slam and Cozens added a three-run dinger and four RBIs on Thursday as Double-A Reading rallied past visiting Harrisburg, 13-5.
"We've been [coming back] all year. If you asked every guy in the clubhouse, they'd all tell you we are never out of a game," Hoskins said. "This team can score five or six runs in the blink of an eye, and then we're right back in a game we were getting blown out of, or we're stepping on the other team's throat. That's a good feeling to have, and everybody's enjoying being a part of it."
At 57-23, the Fightin Phils boast the best record in affiliated baseball, and the duo of Hoskins and Cozens is a big part of that success. In addition to leading the Minors in homers, they're the top two in the Eastern League in on-base-plus-slugging (Hoskins at .928, Cozens at .922) and they're tied for second on the circuit with 66 RBIs.
"It's really fun," Hoskins said of playing for Reading this year. "It's like nothing I've ever been a part of before. It's awesome. I've never had this much fun playing baseball. That's a hard thing to say, but we're having so much fun."
Cozens, who's gone yard in three of his last four games, blasted one over the wall in right-center field off Ryan Brinley with one out in the seventh, giving the Fightins a lead, 5-4, for the first time all night.
After that long ball, Hoskins said the pressure was on for him.
"We joke about it," the California native said. "He said the same thing last night -- 'Your turn.'"
They didn't have to wait long. The 23-year-old first baseman slugged a grand slam over the wall in left-center against Robert Benincasa the next inning as Reading put up a seven spot to blow the game open.
Neither Hoskins nor Cozens had hit more than 17 homers in any previous pro season, and Hoskins believes they're feeding off one another.
"Every athlete likes a little friendly competition," he said. "If that makes him and I that much more focused at the plate, or that much more locked in at Game 120, it bodes well for the team."
The 2014 fifth-rounder isn't exactly gazing at his power numbers between games, though.
"It's there, obviously, but I try hard not to think about it," Hoskins said. "As soon as you start thinking about it, you start trying to hit home runs, and that's when things start to spiral. I just keep telling myself, 'Hey, try to put the barrel on ball and see if good things happen.'"
Reading's Ricardo Pinto gave up four runs on nine hits and a walk while striking out six over six innings. Daniel Stumpf (1-0) picked up the win after fanning one in a scoreless seventh.
Brinley (0-2), who relieved Harrisburg starter Boone Whiting in the seventh, surrendered four runs on five hits in two-thirds of an inning.
Josh Jackson is a contributor to MiLB.com. Follow and interact with him on Twitter, @JoshJacksonMiLB. This story was not subject to the approval of the National Association of Professional Baseball Leagues or its clubs.
View More