I-Cubs' Gonzalez hits three homers
No. 5 Chicago prospect Olt smacks first long ball since trade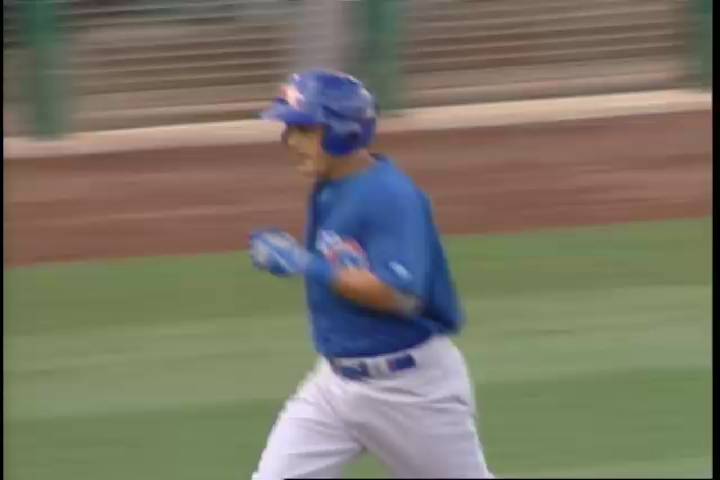 By Danny Wild / MiLB.com | August 6, 2013 3:54 PM ET
A month ago, Edgar Gonzalez was home with his newborn daughter, reflecting on a 14-year career that took him from the Appalachian League to the Majors to Japan and back. At 35, he was done with baseball.
Then the phone rang. It was the Chicago Cubs.
"The Cubs called me and when they called, I was thinking about [playing again,]" he said. "But I just had a daughter, I had been spending a lot of time with her, so it was not an easy decision."
Gonzalez, who played alongside his brother, Adrian Gonzalez, for two seasons in the Majors with San Diego, started having second thoughts. Maybe he wasn't done with this game. Maybe this was a chance he couldn't pass up.
"I love the game and wanted to play more," he said.
Gonzalez made up for lost time when the veteran second baseman homered three times and Mike Olt went yard for the first time with the Cubs as Triple-A Iowa used six long balls to pound Tacoma, 10-3.
Gonzalez, who signed with the Cubs on July 10, homered in the first, fifth and seventh innings off three different Rainiers pitchers and finished 5-for-6 in helping the Cubs improve to 53-65. Olt, Chicago's No. 5 prospect acquired from the Rangers in last month's Matt Garza deal, slugged his first homer in a Cubs uniform in the sixth off Tacoma reliever Jonathan Arias.
"It's been a long career for me, so it's been a while," Gonzalez said of his big showing. "I was out for four months without playing, so I'm just trying to have fun and enjoy the game. To have [this opportunity] now, I try to have fun and for this to happen, I'm just happy."
Gonzalez went yard in the first off Tacoma starter Tom Wilhelmsen, a two-run shot to left field just moments after 34-year-old Darnell McDonald began the game with his fourth home run. The second baseman struck again in the fifth with a solo drive to right off Mariners' No. 7 prospect James Paxton and then smacked a two-out shot to right off Brian Moran in the seventh.
A veteran of well over 1,000 career games, Gonzalez said when he came to bat after hitting two balls out, he wasn't looking for a third. He's learned there's no point in swinging for the fences.
"I'm just trying to get some hits," he said. "I've been playing a long time -- if you try to hit a homer, it doesn't happen. I just wanted to hit a ball deep and it was working today. He gave me the right pitch, it was one of those days everything you do works out. I'm really happy, I was able to put a good swing on it."
Olt cracked his 12th Pacific Coast League homer in the sixth after Dave Sappelt took Arias deep earlier in the inning.
"He's a good guy, he works hard, tries his hardest," Gonzalez said of the 24-year-old first baseman. "He's been busting his butt every day. Everyone likes him, he's a good clubhouse guy."
Iowa, which totaled 16 hits Tuesday, hadn't hit six homers in a game since 2010 -- Round Rock is the only other PCL team to hit six this year. Tacoma was limited to seven hits, three of which came from third baseman Nate Tenbrink, who fell a triple shy of hitting for the cycle.
Gonzalez appeared in 193 Major League games from 2008-'09 with the Padres, hitting .255 with 11 homers and 51 RBIs. Drafted by the Rays in 2000, Gonzalez debuted with Rookie-level Princeton and short-season Hudson Valley that summer and worked his way up to Class A Advanced Bakersfield in 2003 before the Rangers selected him in the Rule 5 Draft that winter. He was taken by the Montreal Expos in the 2004 Rule 5 Draft and made his Triple-A debut in 2005 with the Nationals, spent the 2006 season in the Marlins system, joined Triple-A Memphis with the Cardinals in 2008 and saw time with Triple-A Portland in 2008 before making his big league debut on May 12, 2008.
Gonzalez then spent the 2010 season in the Japan Central League with the Yomiuri Giants before signing with San Francisco and playing at Triple-A Fresno in 2011. He appeared in nine games with the Iowa Cubs in 2012 before being relased last April 29 and returning to Japan.
"Japan is completely different," he said. "It's a different game, a different strike zone. They change the way you approach things. It's a grind, but a good way to help my family economically. You do whatever you can for your family, it's tough playing over there. I know the culture over there, so last season was a lot easier."
Chicago signed him again as a free agent on July 10, 2013, and Tuesday's slugfest marked the veteran's 21st game of the season.
Gonzalez has played in 1,060 Minor League games (and 157 in Japan) as of Tuesday, and the 35-year-old isn't even the oldest player on Iowa's roster -- South Korean reliever Chang-Yong Lim turned 37 in June. He said he talks with his brother a few times a week about the game, but he's not sure what the future holds beyond this season.
"I don't know, I learned long ago that once I make plans, God had another plan, so I just go with what comes to me," he said. "If I get another offer, I might play. Hopefully I can keep on playing longer."
Danny Wild is an editor for MiLB.com. This story was not subject to the approval of the National Association of Professional Baseball Leagues or its clubs.
View More