IL notes: Davidson adjusting with Knights
White Sox top prospect struggling in first season in new organization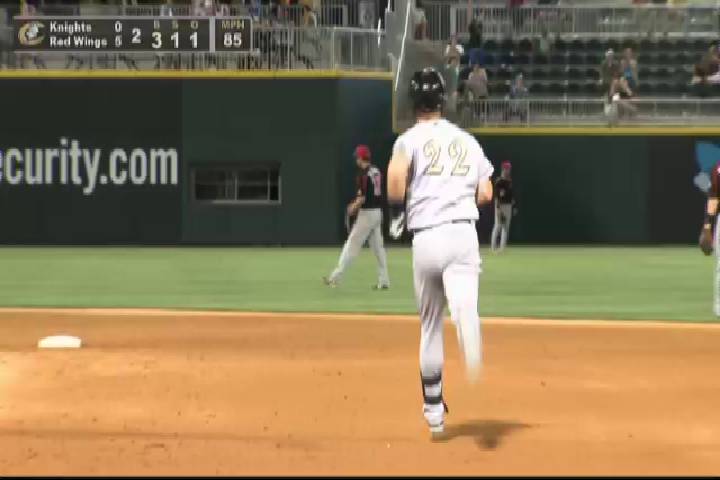 By John Wagner / Special to MiLB.com | June 9, 2014 10:00 AM ET
Last season was a big one for Matt Davidson.
He was named MVP of the All-Star Futures Game, then won the Home Run Derby at the Triple-A All-Star Game. By season's end, he had worked his way to the Majors, playing in 31 games for Arizona.
But that was last year and this is 2014. The 23-year-old third baseman finds himself in a different situation: Traded to the White Sox in December, he's looking to return to the big leagues with a new organization.
Davidson, in his first season in Charlotte, said he doesn't worry about the changes one year has brought.
"Obviously, a new organization has new people and you don't know anybody," he said. "Their outlook on things also is a little different. But it's the same game on the field, and that's what you have to focus on."
Knights manager Joel Skinner agreed, adding, "It's no different than if you're a kid and you go to a new school. Sure, there's the adjustment that's a part of human nature: you're meeting new people and new teammates.
"But from a performance standpoint, it is the same. You put your uniform on and go about your business."
Davidson has struggled at the plate, hitting .184 in 55 games while leading the International League with 77 strikeouts.
"Offensively, he's gotten off to a slow start, and that happens," Skinner said. "But the important thing is to look at his skills, his track record and the things he brings to the table, especially his power."
Davidson also ranks among the IL leaders with nine homers, including three in his last seven games. And power has been a constant in his game: He hit 17 homers for Reno in the Pacific Coast League and three more in 31 games with the D-backs.
It marked the third straight season he reached 20 homers after belting 20 for Visalia in the California League in 2011 and 23 for Mobile in the Southern League the following season.
Davidson said the pressure of switching organizations isn't the cause of his struggles at the plate this season.
"Wanting to get to the big leagues already puts pressure on you," he said. "I want to show them. Obviously, I want to play well. But the more pressure you put on yourself, the tougher this game becomes. They've seen me play and they understand who I am."
Davidson has not let his struggles at the plate affect his defense. He has committed only five errors in 51 games at third base and has had a hand in 10 double plays to rank third in the IL at his position.
And he said his focus in his first season with the White Sox is on nothing more than sharpening his entire game, not just his hitting.
"I'm just trying to become a better, more complete player," Davidson said. "Whether it's baserunning, fielding, being a good teammate, I just want to keep evolving in every aspect of the game."
In brief
King of the Hill: Syracuse righty Taylor Hill leads the IL with a 1.57 ERA and is tied for the top spot with eight wins. He's won his last three starts and four of his last five appearances. The non-victory? He pitched four innings of relief and claimed a save May 19 against Columbus. Hill, who has not allowed more than three runs in any of his 11 starts, has given up 60 hits and nine walks while fanning 51 over 74 2/3 innings.
Berry good: Norfolk outfielder Quintin Berry hit .341 in May and has raised his season's average to .310, which is 10th in the IL. After hitting .259 in April, he stole six bases without getting caught and scored 15 runs last month. Berry, who hit .313 in his first four June games, has 11 steals and 22 runs scored this season.
Polanco's wingman: While Indianapolis outfielder Gregory Polanco has earned all of the headlines, he's not the only Indians outfielder having a good season. Chris Dickerson is fourth in the IL with a .329 batting average and third with a .414 on-base percentage. He hit .279 in April before exploding in May with a .354 average, a pair of homers, 14 RBIs and 19 runs scored in 24 games.
He said it: "At first, I thought [Louisville right fielder Felix Perez] was going to go over and catch it on the warning track or the edge of the grass. The next five feet I ran, I thought it could be off the wall, so I was kind of running good enough for me. After that, I just remember two or three guys sitting on top of the wall reaching up for the ball. My first thought then was thinking, 'This was really happening.'" -- Lehigh Valley RHP Greg Smith to The (Allentown) Morning Call on June 5 after connecting for a pinch-hit home run against Louisville's Carlos Marmol in a game the IronPigs lost, 10-9.
John Wagner is a contributor to MiLB.com. This story was not subject to the approval of the National Association of Professional Baseball Leagues or its clubs.
View More