IL notes: Franco rewarding 'Pigs' patience
Phillies' No. 3 prospect producing after rough start to Triple-A career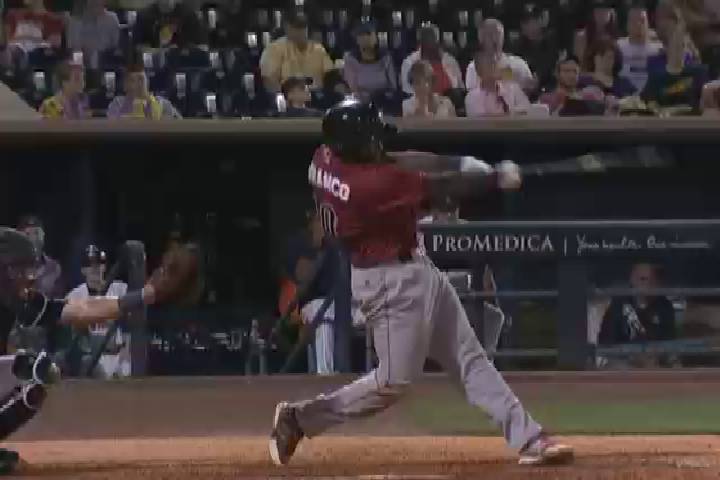 By John Wagner / Special to MiLB.com | August 11, 2014 10:00 AM ET
Toledo reliever Jose Ortega threw the fastball -- at 98 mph -- high in the strike zone. Lehigh Valley's Maikel Franco swung at the pitch.
And he clobbered it, sending it soaring over the left-field scoreboard at Toledo's Fifth Third Field and onto the adjoining street, putting unsuspecting motorists in peril.
"I just wanted to stay slow, see the pitch and hit the ball," Franco said. "I've never hit a ball that high before."
Perhaps not. Then again, there are probably few International League hitters who have hit a ball as high, or as far, as the IronPigs slugger hit that home run Aug. 7.
"You watch him and you can see what he can do and how talented he is," Lehigh Valley manager Dave Brundage said of Franco, one of baseball's top slugging prospects.
But things have not been easy all season for the native of the Dominican Republic, who turns 22 later this month. Franco batted .172 in April and had just one homer in 23 games. After rebounding a little in May, the 6-foot-1, 180-pounder hit .162 with one homer in 27 June contests.
"You want your young guys to endure the downside of baseball, the struggles," Brundage said. "When a young player goes through that, they often are in a position they've never been in and they have to compete and learn.
"That's one thing Maikel has done. In April, May and June, there were some struggles and he learned how to handle them while remaining on an even keel."
That's easy to say, but sometimes not so easy to do, Franco learned.
"Not every game is going to be good," he said. "I had to stay strong, follow my routine and just do my job. I worked in batting practice, kept my head up and worked game to game and day to day."
He rewarded the IronPigs for their patience by batting .343 in July, swatting four homers in 25 games. And Franco has kept on hitting, posting a .324 average in his first eight games in August.
"I feel more comfortable at home plate right now," said Franco, who's played third base primarily but also has seen action at first. "I'm more relaxed and I'm letting the game come to me. When I go to the plate now, I feel good. I just try to see the ball and hit the ball hard."
Franco's recent hot streak has lifted his average to .248 with 10 homers and 59 RBIs in 111 games. He also has three triples and 27 doubles, key components in a .393 slugging percentage.
The recent string of success also has helped show that Franco is getting close to turning his "tools" into "production."
"These days, I see a more productive hitter who learned from the first three months in terms of pitch selection," Brundage said. "The tools have always been there, but there's more to it than just throwing your tools onto the field.
"There's the mental side, understanding that pitchers at this level don't just give in to you. He maintained his work ethic and effort, and that's a credit to him."
In brief
The Chase is on: Indianapolis IF-OF Chase d'Arnaud was batting .207 when July started, but the Indians' super-utility player has caught fire. He hit .297 in 28 games in July and is batting .381 in his first seven games in August to raise his season totals to .250 with a homer, 15 RBIs and 50 runs scored in 99 games. The versatile d'Arnaud has played second base, third base and all three outfield positions for Indianapolis.
Just keep hitting: 2B Rob Refsnyder earned a mid-June promotion to Scranton/Wilkes-Barre by batting .342 in 60 games with Double-A Trenton. And he's kept on hitting since joining the RailRiders with a .301 average, seven homers, 26 RBIs and 37 runs scored in his first 56 games. Refsnyder's also drawn 30 walks and has a .393 on-base percentage.
He said it: "[Wil Myers] has only been hitting for a week and coming off an injury like that, I wasn't sure what kind of bat speed he would have or what kind of swing he would have or whether he would be tentative or not. I've seen good bat speed and aggressive swings with no hesitation." -- Durham hitting coach Dave Myers (no relation) to the Durham Herald-Sun. Wil Myers, who broke his wrist May 31, went 1-for-3 in the first game of his rehab assignment Aug. 10.
He said it, part II: "You just try to be consistent. I continue to work on the same things in the cage. I figured it out pretty quick the last few games. I want to roll into the playoffs hot." -- Syracuse 3B Brandon Laird to the Syracuse Post-Standard. He's 10-for-26 (.385) with a pair of homers, four doubles and nine RBIs in his last six games. For the season, he's batting .313 with 13 homers and 69 RBIs and begins the week ranked fifth in the IL in batting and third in RBIs.
John Wagner is a contributor to MiLB.com. This story was not subject to the approval of the National Association of Professional Baseball Leagues or its clubs.
View More