IL notes: Goodwin doing whatever it takes
Nationals' No. 3 prospect says pressure to perform comes from within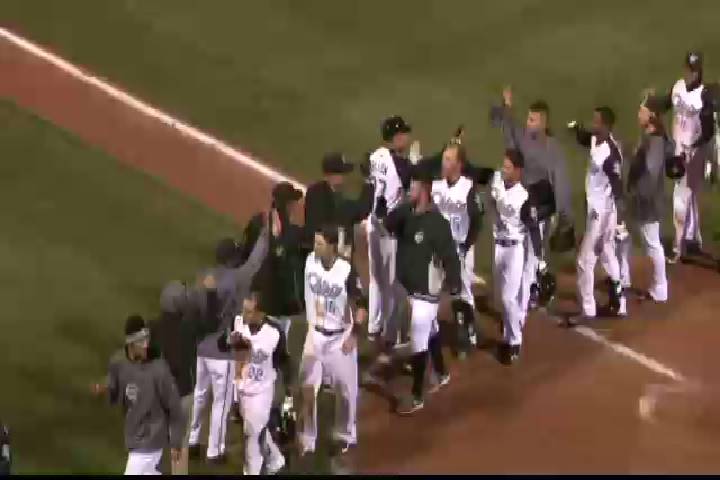 By John Wagner / Special to MiLB.com | May 19, 2014 10:00 AM ET
Brian Goodwin is one of the higher-rated prospects in the Washington farm system.
That may seem like a pressure-packed position, but for Goodwin, the expectations of others are no pressure at all.
"These guys may have expectations for me, but a lot of times my expectations for me are higher," the Syracuse outfielder said. "If there's pressure on me to perform, a lot of times it's from me putting that pressure on myself."
Dealing with expectations is nothing new for Goodwin, the 34th overall pick in the 2011 First-Year Player Draft. The 23-year-old has ripped through the Nationals' Minor League system to reach Triple-A in just his third professional season.
But Chiefs manager Billy Gardner Jr. is quick to point out that Goodwin hasn't been rushed.
"He's a very good athlete who plays a premium position in center field and plays it well," Gardner said. "He's really working hard on making adjustments at the plate and he's got lightning-quick hands and can put a charge into a ball. But he's also done a good job of accepting walks, too.
"He's not over his head here by any means. He can definitely handle this level."
Goodwin hit .236 in his first 43 games with the Chiefs, collecting a homer and 17 RBIs while scoring 17 runs. After a slow start (he hit .224 with nine RBI in 25 games in April), he's picked up the pace in May with a .254 average and eight RBIs in his first 18 contests.
Goodwin also ranks second in the IL with 31 walks, a key component in a strong .375 on-base percentage. He's also working to cut down on his strikeouts after fanning 48 times in 43 games.
Goodwin said he has not had trouble adapting to his first taste of Triple-A baseball.
"It's the same game wherever you go," he said. "You have to throw it, you have to hit it, you have to run and you have to play defense. At each level, there are different experiences, different things you have to learn. But it's the same game all the way to the top."
Asked about his goals, Goodwin does not use numbers as a guidepost.
"I just want to be a good player for my team," he said. "If we need to move a runner over late in a game, I want to be able to get the sac bunt down. If we need somebody on base, I want to have a good [at-bat] and maybe draw a walk.
"It's more about playing the game the right way and helping the team succeed than about numbers."
Along those lines, Goodwin said his role with Syracuse is to do whatever it takes to get the Chiefs a win.
"I'm getting on base, I'm taking what the other team gives me," he said. "If I can stretch a single into a double, maybe stretch a double into a triple, that's good. On defense, I'm trying to catch all the balls in the outfield to help my pitchers. I feel I bring some energy to the team, to keep things loose.
"If there's something else my team needs, I want to do it. I'll do my best to try and provide it."
And no one is putting more pressure on Goodwin to help his team succeed than he is.
"I'm a competitive person and I want to be the best at everything I do," he said. "Whether it's hitting, running or stealing, anything I can do to help the team win, that's what I want to get better at."
In brief
Sophomore slump? Durham 1B Vince Belnome was an IL end-of-season All-Star last year after hitting .300 with eight homers and 67 RBIs. This year, he's scuffled, batting .209 with two homers and 13 RBIs in 37 games. Belnome has shown signs of escaping the early-season struggles that saw him hit .174 in April. Earlier this month, he had a six-game hitting streak and recently put together a three-hit day to raise his May batting average to .271.
Iron man: Norfolk RHP Eddie Gamboa is the early IL leader in innings pitched with 52 2/3. He also tops the league in at-bats against (209) and total batters faced (233). The knuckleballer is tied for second with 49 strikeouts, having fanned at least six batters in five of eight starts.
He said it: "A day game, you never want to play more than nine innings; you just want to win in nine innings. And we got a bus ride. We wanted to get out of here." -- Columbus IF Audy Ciriaco to the Columbus Dispatch on May 13 after doubling home the winning run in the bottom of the ninth of a 5-4 victory over Syracuse in the final game of a homestand.
He said it, Part II: "Some guys in the bullpen are still young, going through Triple-A for the first time. It's going to take some time. There is stuff to learn. A lot of the mistakes we made have nothing to do with not being good enough." -- Lehigh Valley RHP Justin DeFratus to The (Allentown, Pa.) Morning Call. DeFratus and his bullpen mates have rebounded from some early-season struggles to shine lately, allowing only two runs over 12 1/3 innings as the IronPigs won five straight.
John Wagner is a contributor to MiLB.com. This story was not subject to the approval of the National Association of Professional Baseball Leagues or its clubs.
View More