IL notes: Judge 'more than just a big guy'
Surrounded by talent at Triple-A, Yankees prospect feels no pressure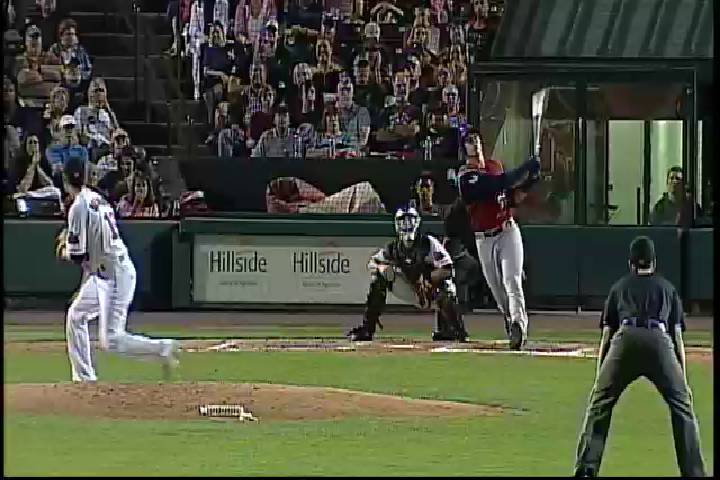 By John Wagner / Special to MiLB.com | August 17, 2015 10:00 AM ET
Marcus Thames was once a highly regarded prospect in the Yankees organization. And while in the Minor Leagues, he was a teammate of Drew Henson, who also dealt with the double whammy of being a top New York prospect.
"I saw what happened to Drew as guys were pulling at him and pulling at him," Thames said.
That's why people have taken notice as Thames, now the hitting coach at Scranton/Wilkes-Barre, has praised the work of highly regarded Yankees prospect Aaron Judge.
"When we came to Toledo, Aaron had struck out four times in one game and three times in the next," Thames said. "But the next day, he came to the [batting] cage ready to work -- and he hit a home run the next day.
"Aaron Judge is a humble guy and a hard worker. His willingness to put in the work is a testament to why he's a special guy and someone I think is going to become a special player."
Pressure? Judge said he does not feel any because of the talent surrounding him in the Yankees organization.
"The coolest thing about it is I've had so many good teammates around me, there's no pressure at all," he said. "I just try to keep the line moving. With guys like Gary [Sanchez], [Greg] Bird, [Rob] Refsnyder, we have a bunch of talented guys who compete hard every day. I just try to do my part."
Despite the talent surrounding him, the 6-foot-7, 257-pound outfielder has found the spotlight. Judge hit .284 with 12 homers and 44 RBIs in 63 games with Double-A Trenton to earn a late-June promotion to Scranton/Wilkes-Barre, not to mention a spot in this year's Futures Game.
"I just want to help whatever team I'm on win as many games as it can," Judge said. "Personally, I want to work on some mechanical things with my hitting, trying to get better each day. I just like to take things day by day. I don't like looking too far down the road, because you never know what will happen."
In his first 40 games with the RailRiders, the 23-year-old batted .248 with six homers and 24 RBIs. It's surprising to note that he drew 20 walks in 172 plate appearances and also stole five bases.
"I've been looking forward to having him because all of the other coaches in our system had nothing but great things to say about him," Thames said. "People notice he's a big guy, but he's more than just a big guy. He's a good athlete and he's a good baseball player.
"When I watched video of him, I noticed he was more than just a power guy; he's a pretty good hitter. In Triple-A, he may get some bumps and bruises as he learns to hit against pitchers at a higher level. But if he continues to do the work he was doing in Double-A, he's going to be all right."
Judge said he and his talented teammates don't speak about becoming the "next wave" of Yankee prospects to impact the Major League club.
"We can dream about it, but we don't talk about it," he said. "We all have the same mind-set: We work hard but focus just on today. What can we do today to try and get better? In five or six years will come the time to look back and say, 'Look how far we've come.'"
Judge almost certainly will be playing after the regular season ends because the RailRiders lead the IL North Division and the Yankees sit atop the AL East. And the California native said he looks forward to the playoffs, no matter what level he's at.
"Everyone wants to play in the playoffs," he said. "Near the end of the year, you get tired and your body starts breaking down a little bit. But when you start talking about playing for a championship, you get a second wind. Even in Triple-A, you want to go out there and play for a championship."
In brief
Streaky: Indianapolis OF Keon Broxton put together a 34-game on-base streak that was the second longest in the IL. Broxton has hit .254 with 39 walks and a .359 on-base percentage in 69 games. He's also stolen 24 bases since a promotion from Double-A Altoona at the end of May.
You can't catch me: Pawtucket OF Quintin Berry leads the IL with 34 stolen bases. But the more impressive stat may be that the 30-year-old has been caught only six times -- and once since July 3. His best performance in that regard came in 2012, when he stole 40 bases and was caught three times, including a flawless 21-for-21 with Detroit. This season, Berry is batting .223 with four homers, 36 RBIs and a team-leading 42 runs scored.
He said it: "I just couldn't figure out a changeup, so I tried a splitter. And it's worked." -- Norfolk RHP Oliver Drake to The Virginian Pilot. And boy has it worked: Drake has used his split-finger fastball to help notch 21 saves, second most in the league. For the season, he's 0-1 with a 0.71 ERA, 57 strikeouts over 38 innings, a .159 opponents' batting average and 0.95 WHIP.
He said it, part II: "I'm not a prospect by any means. There's no plan for me. It's just kind of pitch, and if [Washington] needs someone and you're pitching the best, maybe that's kind of your situation. Obviously, it'd be nice to be a prospect; they have plans for you. But I'm just doing what I can. I was a prospect at one point and I was a little inconsistent and kind of got passed up. And now I'm just trying to hang in there." -- Syracuse LHP Richard Bleier to the Syracuse Post-Standard. He's won his last three starts, allowing five runs over 21 2/3 innings, to improve to 4-1 with a 2.53 ERA in eight games with the Chiefs.
John Wagner is a contributor to MiLB.com. This story was not subject to the approval of the National Association of Professional Baseball Leagues or its clubs.
View More