IL notes: McCann improving at the dish
Tigers prospect already a stalwart behind the plate for Mud Hens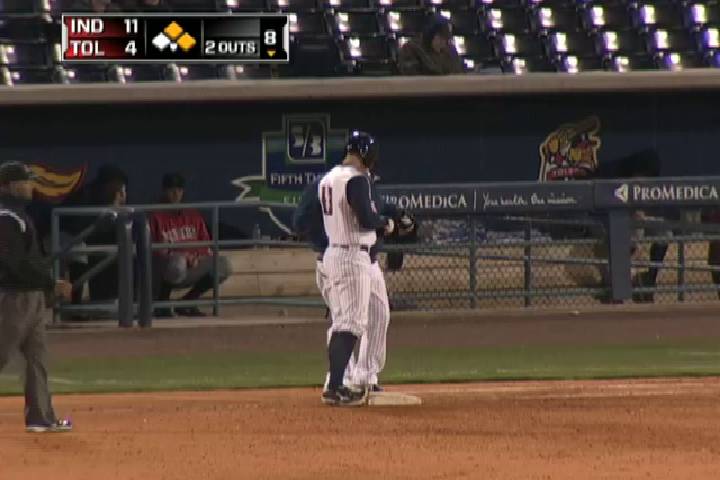 By John Wagner / Special to MiLB.com | May 26, 2014 10:00 AM ET
When James McCann was drafted, he had a reputation as a defensive catcher.
But McCann, who had a breakthrough offensive performance at Double-A Erie last season, has taken steps to prove he wasn't a one-hit wonder. In his first Triple-A season, he's batting .284 with a homer and 18 RBIs in 38 games with Toledo.
"I think the guy has a chance to hit," Mud Hens manager Larry Parish told The (Toledo) Blade. "I see improvement all the time. He's still learning as a hitter. I'm seeing it getting better already. If he can keep adding on it, hopefully by the end of the year we've got a big league catcher."
Scouts agreed that McCann had Major League defensive ability when the Tigers selected him in the second round of the 2011 First-Year Player Draft. But he turned heads with a solid offensive effort for the SeaWolves last season, batting .277 with eight homers and 54 RBI in 119 games to lead Erie to an Eastern League playoff berth.
McCann said the biggest reason for the step forward offensively was confidence.
"I can't let one bad at-bat or two bad at-bats snowball into a series of games," he told MLB.com last season after earning a berth in the All-Star Futures Game. "I have to realize that each at-bat is its own at-bat. It's the conviction, the confidence [that have made the difference]."
This year, he continued to display that improved confidence, using a four-hit day against Louisville on April 13 to build a .271 average, then raising it to .296 in his first 19 games in May.
Meanwhile, he has continued to display the strong defense that has been his trademark, committing one error in 35 games while throwing out an IL-best 17 would-be basestealers. McCann ranks seventh in the league with a 36.2 caught-stealing percentage.
"I pride my game on my defense," he told The Blade. "I can control the way I catch, throw, block, receive. That's something I can do day in and day out, regardless of how I'm swinging the bat.
"The best hitters in baseball only get three hits out of every 10 at-bats, and that's a Hall of Famer. Knowing the ups and downs of the offensive side, there can't be those ups and downs on the defensive side."
McCann also has drawn raves for his pitch-calling ability and his handling of a pitching staff. Much of that is thanks to his habit of writing down the pitch sequence of every batter Mud Hens pitchers face, continuing a habit he began at the University of Arkansas.
The 23-year-old said he refers to those notes during games, and also in later games, when working on the riddle of retiring opposing hitters.
McCann keeps a separate notebook to help with pitchers he has faced, but he doesn't worry about his offensive numbers anymore.
"When you're a defensive catcher, any type of hitting is a bonus," he told the newspaper.
And when you are a strong defensive catcher who is hitting well, as McCann has done this season, you become one of the Tigers' top prospects.
In brief
The leader of the pack: Indianapolis RHP Brandon Cumpton has made six quality starts, allowing three runs or fewer while pitching at least six innings. He's given up only 34 hits and 10 walks in 40 innings while fanning 21, and his 1.35 ERA is tops in the IL.
Gotay goes long: Louisville IF Ruben Gotay has played at Triple-A or higher in nine of the last 10 seasons, and he's never had more than 13 homers in a season at those levels. The 31-year-old seems poised to surpass that total, though, as he has 10 homers in his first 45 games with the Bats. Gotay, who hit a career-best 16 homers for Double-A Springfield last year, is batting .275, ranks second in the IL with 34 RBIs and 34 runs scored and is tied for second in homers.
Gosselin keeps going: Gwinnett IF Philip Gosselin started strongly in April, batting .333 and scoring 14 runs in 19 games. And the versatile 25-year-old has hit even better in May, with a .341 average in 22 games this month. Gosselin ranks third in the IL in batting at .337 and has 10 RBIs and 24 runs scored in 41 games.
He said it: "That's my favorite thing in the game to do is get on in the first inning, steal and score some runs. For me, that's the highlight of my day today." -- Buffalo OF Darin Mastroianni to the Buffalo News. He's batting .271 with 10 stolen bases in his first 27 games but is hitting .308 with a .413 on-base percentage when leading off an inning.
John Wagner is a contributor to MiLB.com. This story was not subject to the approval of the National Association of Professional Baseball Leagues or its clubs.
View More