IL notes: Venditte is no novelty act
Yankees prospect and 'switch-pitcher' working hard to reach Majors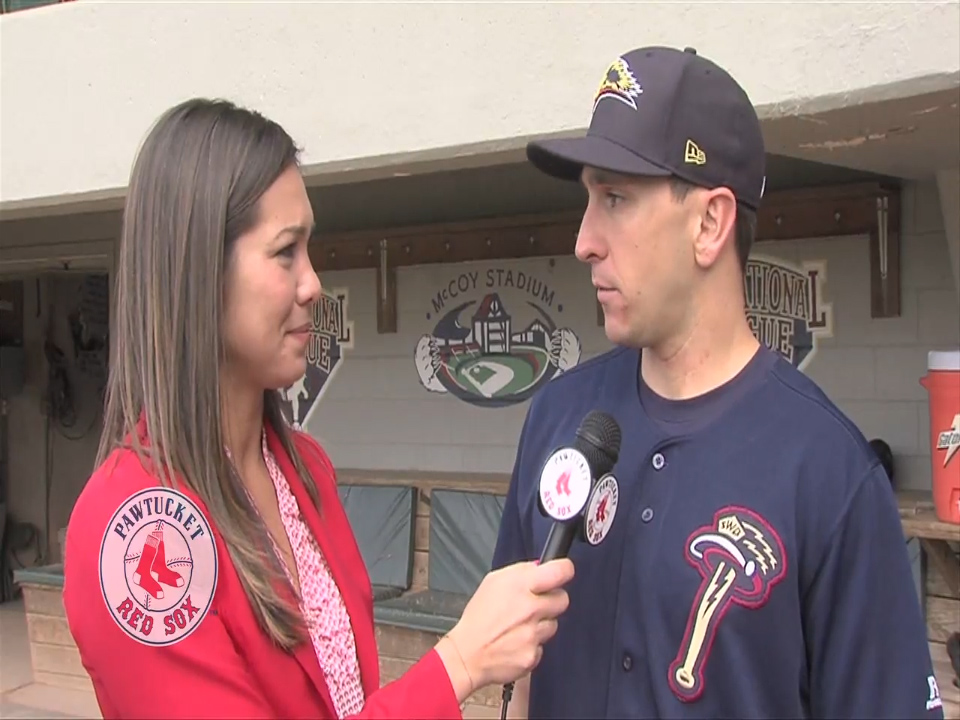 By John Wagner / Special to MiLB.com | June 23, 2014 10:00 AM ET
Want to generate some excitement at a Minor League ballpark? One way to do it is to bring in a top prospect and another is to welcome a Major League player on a rehab assignment.
Scranton/Wilkes-Barre's Pat Venditte has found another way to bring more excitement: he can throw effectively with both arms, making him the only "switch-pitcher" in professional baseball.
It's not a sideshow, though Venditte said he is not bothered by fans who consider his switch-pitching a novelty act.
"I'm sure it could be viewed as a sideshow, and it's my job to show people that it's not," he said. "If I do my job and throw strikes, then I'm doing that."
Venditte said his father starting working with him on throwing with both arms when he was 3 years old.
"I'm a natural right-hander, but he wanted me to be a switch-pitcher," he said. "He thought that since there are switch-hitters, there also could be switch-pitchers."
Venditte began this season with Double-A Trenton and dominated Eastern League hitters, posting a 0.82 ERA in 15 appearances while fanning 30 over 22 innings to earn a promotion to Scranton/Wilkes-Barre in mid-May.
In his first nine outings with the RailRiders, Venditte gave up 21 hits over 17 2/3 innings but also struck out 17. He's 1-2 with a 4.58 ERA.
Venditte, who uses a unique glove that has a thumb on each side so he can wear it on either hand, does not throw hard by Triple-A standards. Right-handed, his fastball tops out at roughly 85 mph, while his left-handed fastball is slightly slower.
"I throw a little harder right-handed and I pitch off my fastball, but I have to utilize my slider," he said. "But with either arm, it's big for me to get ahead and to throw strikes."
His catcher with the RailRiders, Austin Romine, said the team does not view Venditte as a carnival act.
"A lot of people here have played with him before, so they know what to expect. They expect him to grind and to get outs," Romine said. "If a player just got here, they may stare at him the first couple of times he pitches. But then it becomes normal. We don't even see him switch gloves. It's part of his game."
Toledo manager Larry Parrish certainly doesn't view Venditte as a novelty act.
"I would think having a guy like that in the bullpen would be a valuable guy," Parrish said. "When you bring him in, it doesn't matter if the lineup is [right-handed or left-handed]. He can adjust."
Venditte admits that moving to Triple-A and getting one step closer to the Major Leagues has fueled his fire.
"The hitters here are fantastic hitters and they're one step away from the Major Leagues, too," he said. "It takes a lot of work on an everyday basis to get them out."
The fact that Venditte is willing to put in that work impresses his teammates more than his ability to throw strikes with either arm.
"Pat is one of the hardest workers you will ever see on a baseball field," Romine said. "He wants to get to the next level very, very much. People may view him as a joke, but he doesn't -- he's trying to get you out."
In brief
Catching fire: Norfolk C Steve Clevenger went hitless in his first 11 at-bats with the Tides before a 4-for-4 game at Scranton/Wilkes-Barre jump-started his season. He's batted .410 in his first 17 contests in June with eight doubles among 25 hits. In 19 games with Norfolk this season, Clevenger is hitting .368 with 15 RBIs and 10 runs scored.
Red-hot Ranaudo: Pawtucket RHP Anthony Renaudo got off to a rough start this season, posting a 6.14 ERA in his first three outings. Since then, he hasn't allowed more than three runs in a start and has lowered his ERA to 2.58, which ranks fifth in the IL. Opponents are batting .199 against him, the second-lowest mark among league starters, although he ranks second with 39 walks.
Bullish on Mahtook: Durham OF Mike Mahtook ranks fourth in the IL with a .322 batting average and has contributed five homers, 41 RBIs and 30 runs scored. He leads the league with 34 extra-base hits, primarily because he has an IL-best 24 doubles and five triples. Mahtook also has drawn 26 walks and been hit by six pitches to give him a .392 on-base percentage.
He said it: "Being out so long and not getting a lot of Spring Training, it's nice to get off to a good start. I'm just trying to keep everything simple and trying not to think too much." -- Columbus 1B Adam Abraham to the Columbus Dispatch. Abraham, who suffered a broken right forearm in January, had three hits in his first game with the Clippers on June 3 and is batting .289 with two homers and eight RBIs in 13 contests.
John Wagner is a contributor to MiLB.com. This story was not subject to the approval of the National Association of Professional Baseball Leagues or its clubs.
View More