IL Preview: A homecoming for Knights
New downtown ballpark has Charlotte in a new state (of mind)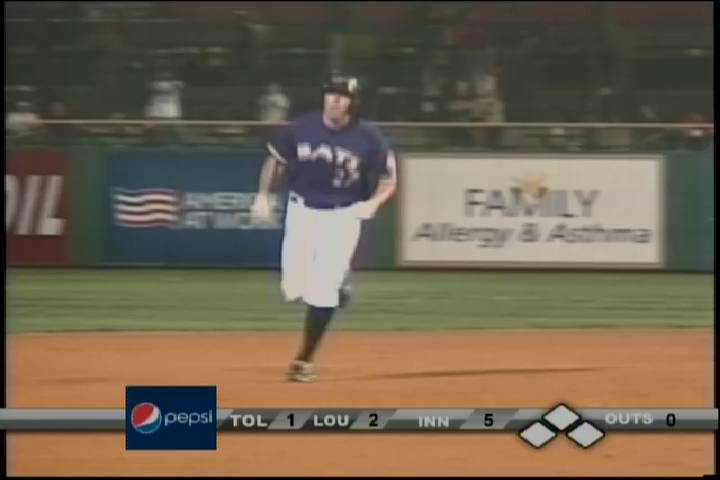 By Benjamin Hill / MiLB.com | March 31, 2014 11:30 AM ET
In 2014, the Charlotte Knights will finally play in North Carolina.
The Knights spent the past 24 seasons at aptly named Knights Stadium, located just across the state line in Fort Mill, S.C. But next Friday marks the team's triumphant return to the City of Charlotte, with the grand opening of BB&T Ballpark. This is one of just two new facilities to open in Minor League Baseball this season -- El Paso's Southwest University Park is the other.
BB&T Ballpark was funded via a partnership between the Knights, the City of Charlotte and Mecklenburg County, with a groundbreaking ceremony taking place in September 2012. Knights executive vice president Dan Rajkowski reports stadium construction was completed in February, and since then, the Knights have been working on the "finishing touches." When it comes to amenities, BB&T Ballpark boasts the bells and whistles fans have come to expect from new ballparks. Highlights include a 360-degree concourse, dugout suites and a 30-by-80-foot videoboard that is the widest in Minor League Baseball.
"The entire ballpark is intimate, in that there are only 21 rows to the top," said Rajkowski. "But I think what's most impressive about it is the setting, the view from home plate to the city skyline. I don't think anyone is going to buy a ticket just to see the skyline, but the view is extremely impressive."
BB&T Ballpark hasn't just put the Knights in a new state. It's put the team in a new state of mind.
"The energy that has been created as a result of moving the team 20 minutes down the road -- it's changed the way our business looks and the way the team looks," said Rajkowski. "It's a rebirth of the franchise."
Hammerin' Hessman
If you don't know who Ollie Carnegie is, now might be a good time for a little background. A child of Italian immigrants, Carnegie was born in Pittsburgh in 1899 and went on to establish himself in Western Pennsylvania as the so-called "sandlot Babe Ruth." He first appeared for the Buffalo Bisons in 1931, slugging 258 home runs over 12 seasons with the club (including four during a 39-game cameo in 1945, at age 46).
Carnegie's 258 home runs established an International League record, one that hadn't received a serious challenge until the emergence of one Mike Hessman. A hulking first baseman who made his pro debut in 1996, Hessman slugged 61 home runs for the Richmond Braves from 2002-'04, a team-record 140 home runs for the Toledo Mud Hens from 2005-'09, 18 for Carnegie's former team the Buffalo Bisons in 2010 and 25 for the Louisville Bats in 2013. This leaves him with 244 International League home runs, just 14 shy of Carnegie.
The Detroit Tigers organization signed Hessman in December, and in 2014, he will return to his old stomping grounds of Toledo with International League immortality within his reach. The 36-year-old is already a Mud Hens icon; in addition to possessing the franchise home run record, he also paces the organization in RBIs (373), doubles (104) and runs (326). Additionally, his 474 hits as a member of the club leave him just 46 shy of Wayne Comer's team record of 520.
Hessman is also on the cusp of becoming just the eighth player in Minor League Baseball history to surpass 400 career home runs. He enters 2014 with 389, 11th on the all-time list, giving him a reasonable chance to overtake the likes of Jack Pierce (395), Bobby Prescott (398), Joe Hauser (399), Merv Connors (400), and Nick Cullop (420).
Here's hoping Hessman sets the IL record on July 10 against Pawtucket, as that evening the Mud Hens are giving away Mike Hessman blockheads as part of a Lego Night promotion.
In brief
Hessman isn't the only Mud Hens icon making a return to Toledo this season, as Larry Parrish is set to begin his third stint as the team's manager. Parrish previously managed the club in 1994 and from 2003-2010, with that second stint encompassing the entirety of Hessman's first tenure with the team. The Mud Hens won league championships in 2005 and 2006 under Parrish's guidance.

An International League preview just wouldn't be complete without a mention of 38-year-old Corky Miller, who has appeared in the league each season since 2001. The majority of his time in the circuit has been spent with Louisville (2001-'04, 2009-present), and he enters the 2014 season on the cusp of some significant franchise records. Twenty-six games, 18 hits and two doubles are all Miller needs to top the all-time Louisville Bats leaderboard in each of those categories.

The Lehigh Valley IronPigs received an onslaught of national attention during the offseason after announcing that they would wear bacon-themed uniforms during all Saturday home games. The uniforms will be seen on the field for the first time April 12, when the IronPigs take on the considerably more conservative-looking Rochester Red Wings. Mark your calendar.
Last things last
Last season's championship: Durham over Pawtucket in four games MiLB.com Coverage »
Last back-to-back champion: Columbus Clippers, 2010-'11
Last no-hitter: Durham's Jake Odorizzi, Frank De Los Santos, Kirby Yates, Jeff Beliveau vs. Pawtucket, May 5, 2013 MiLB.com Coverage »
Last perfect game: Justin Germano, Columbus vs. Syracuse, July 26, 2011 MiLB.com Coverage »
Last 200-strikeout pitcher: Jim Rooker, Toledo, 1968
Last cycle: Avisail Garcia, Toledo vs. Indianapolis, July 7, 2013 MiLB.com Coverage »
Last three-homer game: Conor Jackson, Charlotte vs. Columbus, June 21, 2012 MiLB.com Coverage »
Last 30-homer hitter: Jorge Vazquez, Scranton/Wilkes-Barre, 2011
Benjamin Hill is a reporter for MiLB.com and writes Ben's Biz Blog. Follow Ben on Twitter @bensbiz. This story was not subject to the approval of the National Association of Professional Baseball Leagues or its clubs.
View More