Indianapolis' Cumpton toughs out win
Pittsburgh farmhand allows two hits over eight scoreless innings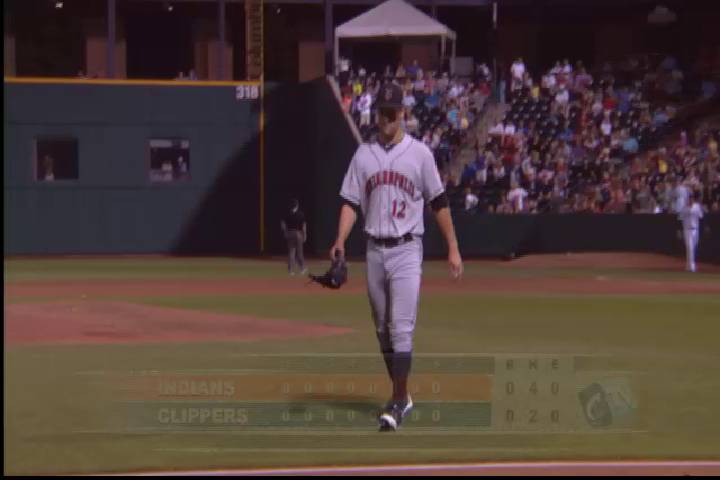 By Robert Emrich / MiLB.com | July 18, 2014 1:26 AM ET
Brandon Cumpton gained something during his time in the big leagues -- toughness.
The Pittsburgh right-hander surrendered two hits over eight innings as Triple-A Indianapolis blanked Columbus, 1-0, on Thursday. Cumpton, who threw 108 pitches, walked four and struck out three.
The 25-year-old right-hander allowed only Jesus Aguilar's single in the first inning and Carlos Moncrief's double in the eighth. The first inning proved particularly challenging as Cumpton loaded the bases with nobody out, but escaped by getting Audy Ciriaco to pop out and inducing a 5-4-3 double play off the bat of Matt Carson.
"He wasn't doing his thing in the beginning," pitching coach Tom Filer said. "Then he settled in. He started mixing his pitches real well. His changeup played, his slider came around. All the things that he struggled with in the first inning sharpened up. He was able to really just keep them in check the rest of the game."
In his previous start, his first after spending over a month in the Majors, Cumpton surrendered four runs -- three earned -- on eight hits over six innings on July 4 against Louisville. According to Filer, the difference was in how Cumpton ended the two outings.
"In his last game, it went pretty much how tonight started," he said. "He just didn't have his command. He was struggling to throw the ball over the plate. Nothing seemed to be working and he seemed to be pulling off a couple of pitches."
Cumpton (5-1) struggled in the bigs with the Pirates, going 3-3 with a 4.98 ERA in 10 starts while allowing opposing hitters to bat .299 against him. Filer thinks the experience has made the Georgia native tougher.
"This guy's got some toughness to him and that's one of the things I love about him," the former Major Leaguer said. "He goes out there and competes very well and battles. I think just being at the Major League level has hardened him a little bit. I think it's made him just that much tougher. "
Overall, the Georgia Tech product is 5-1 with a 1.50 ERA in eight International League starts. Cumpton has limited hitters to a .234 average while recording 27 strikeouts over 54 innings for the Indians.
Josh Wall notched his first save, giving up a hit and fanning two in the ninth.
Dean Anna drove in the go-ahead run in the top half of the ninth, scoring Mel Rojas with a sacrifice fly.
Danny Salazar allowed three hits and fanned five over 5 2/3 innings, but did not figure into the decision for the Clippers. Tyler Sturdevant fell to 1-1 after allowing a run on two hits over two innings.
Robert Emrich is a contributor to MiLB.com. Follow him on Twitter @RobertEmrich. This story was not subject to the approval of the National Association of Professional Baseball Leagues or its clubs.
View More