Indians' Polanco comes through in clutch
Bucs top prospect gets three hits, plates tying run, scores winning run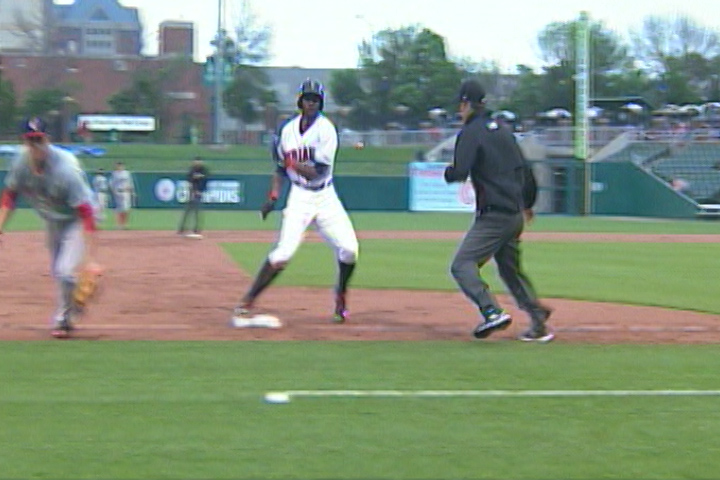 By Robert Emrich / MiLB.com | May 17, 2014 1:17 AM ET
Gregory Polanco is slumping -- he's batting only .349 in May.
The Pirates' top prospect had three more hits, drove in two runs and scored the winning run Friday night as Triple-A Indianapolis walked off with a 6-5 win over Pawtucket.
Polanco, who also walked, collected three singles. His base hit in the fifth scored Chris Dickerson to give the Indians a 3-0 lead in the fifth inning, but Pawtucket rallied and took a 5-4 advantage into the ninth. Polanco lined another single that diving left fielder Daniel Nava could not come up with, plating Dickerson with the tying run.
After an intentional walk loaded the bases and the PawSox forced a runner at the plate, Chris McGuiness singled up the middle to score Polanco with the winning run.
That ninth inning was a microcosm of the 22-year-old outfielder's season. With runners in scoring position, he's batting .490 with 31 RBIs. And with runners in scoring position and two outs, MLB.com's No. 12 overall prospect has seven RBIs in 14 at-bats. He's also batting .308 with four RBIs in the ninth inning.
"He's going to swing if he sees a good pitch, and that's a good thing," Indianapolis hitting coach Mike Pagliarulo said on Tuesday. "He's also hitting with guys on base and the cleanup hitter behind him, so he does see some good pitches."
Polanco has 18 multi-hit games, including nine with at least three hits. He leads the International League in batting (.380), RBIs (37), runs (29), hits (60), extra-base hits (21), triples (5), on-base percentage (.446), slugging (.608) and total bases (96).
Dickerson went 3-for-4 with a long homer, three RBIs and three runs scored, while pinch-hitter Chase d'Arnaud tripled and scored a run.
Indians starter Jeff Locke was perfect into the fifth and ended up allowing one hit over seven scoreless innings. The 26-year-old left-hander walked three batters and struck out five while lowering his ERA to 3.82.
Josh Kinney (1-1) was credited with the win, despite allowing two runs on three hits over 1 1/3 innings.
Pawtucket's Drake Britton (0-1) surrendered three runs on five hits while recording two outs in the ninth.
Snyder hit a solo homer and Nava added a two-run blast for the Red Sox.
Robert Emrich is a contributor to MiLB.com. Follow him on Twitter @RobertEmrich. This story was not subject to the approval of the National Association of Professional Baseball Leagues or its clubs.
View More