IronBirds' Tarpley soars to new heights
Orioles' No. 15 prospect strikes out 10 over eight scoreless innings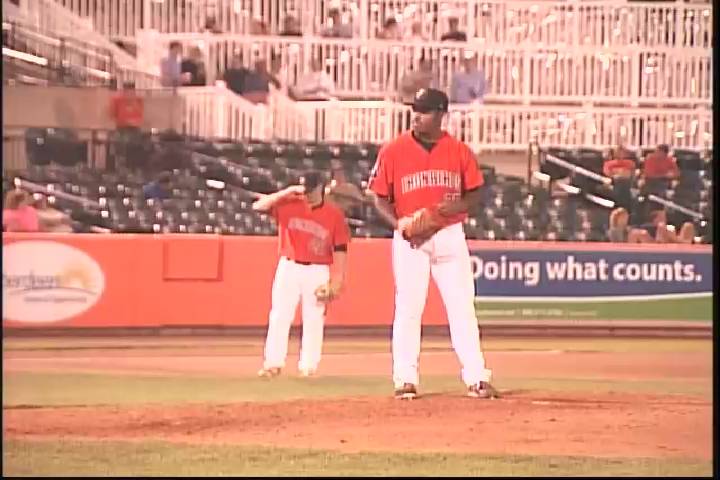 By Mark Emery / MiLB.com | August 31, 2014 1:03 AM ET
Stephen Tarpley's final outing of the season was the best of his career.
The Orioles' No. 15 prospect reached double-digit strikeouts for the first time while going deeper in a start than he ever had before as Short-Season Aberdeen beat Lowell, 3-0, on Saturday night.
"I was a little bit wild at first and really just had to focus on consistency and keeping the ball down and moving in and out," Tarpley said. "My changeup was on today. The fact that I was able to keep them off-balance on that enabled me to use my curveball for an out pitch.
"So it was just kind of the combination of all three -- just keeping them off-balance and just keeping them guessing -- that really just kept me in the game today."
Over eight innings, the 2013 third-round pick scattered six hits while fanning 10 and walking two. He also picked off two baserunners, threw a wild pitch, committed a balk and hit a batter. Facing five batters over the minimum, he induced five groundouts and three flyouts.
Tarpley (3-5) fanned two in each of the second, third, fifth and eighth innings while striking out one apiece in the first and seventh.
"I was ecstatic about it," the 21-year-old left-hander said of his strikeout total. "I really didn't realize it until after the game. I was just trying to get more guys out and get further into the game so I could just eat up some innings for the guys in the 'pen.
"[My curveball] just felt on today, so I wasn't too surprised that I was getting swings and misses. And I was able to put it backdoor and have it as an 0-2 pitch in the dirt. It felt good today and, I don't know, I just felt on."
This season, the Los Angeles native compiled a 3.66 ERA with 60 strikeouts and 24 walks over 66 1/3 innings in 13 games, including 12 starts. Among New York-Penn League starters, he ranks fourth with 7.88 strikeouts per nine innings.
A year ago, Tarpley made seven starts in the Gulf Coast League, going 0-1 with a 2.14 ERA.
His previous career high for innings was seven, which he set on Aug. 10 and equaled on Aug. 23. In the latter outing, he fanned eight, which stood as his personal best for all of one week.
"I think that it was a really good start for me," Tarpley said, "especially it being at the end of the year and being my last start, being the longest start as well and having the highest amount of K's."
Mike Burke worked the ninth for the IronBirds, striking out two en route to his first New York-Penn League save.
Aberdeen struck in the sixth, when Riley Palmer hit a three-run homer off Lowell reliever Chandler Shepherd (4-3) with two outs. The right-hander pitched three frames, allowing three runs on three hits and a walk while striking out four.
Mark Emery is a contributor to MiLB.com. Follow him on Twitter @Mark_Emery. This story was not subject to the approval of the National Association of Professional Baseball Leagues or its clubs.
View More