IronPigs' Rupp hits another home run
Phillies prospect has gone yard in first four games of season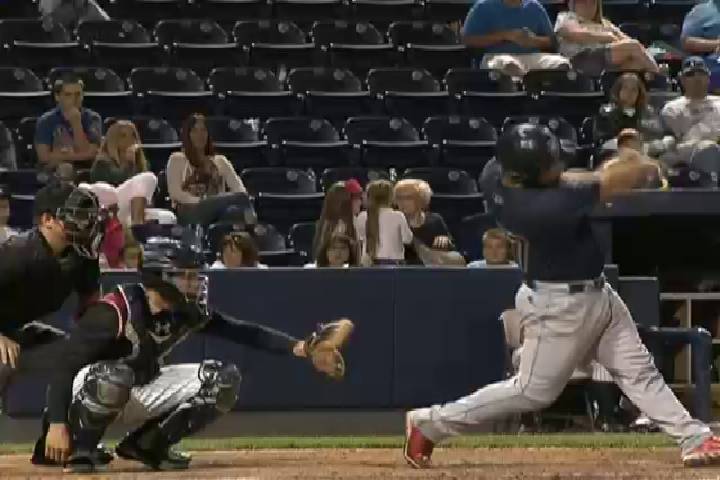 By Robert Emrich / MiLB.com | April 8, 2014 11:18 PM ET
If success early in the year breeds confidence, Cameron Rupp's confidence is a mile high.
The Phillies' No. 20 prospect extended his season-opening home run streak to four games on Tuesday night, but Triple-A Lehigh Valley dropped a 7-2 decision to visiting Buffalo.
After grounding out in the second inning, Rupp hit a 3-2 pitch from Blue Jays No. 10 prospect Sean Nolin over the right-field wall at Coca-Cola Park.
"I had 3-2 count and he gave me a pitch out over the plate and I put the barrel on it and it went out of the ballpark," Rupp said. "It got up in the wind and I knew it had a chance. It was the tougher part of the park to hit it out of in our park."
Rupp went yard in each of the three games he played during the IronPigs' series in Pawtucket before giving the home fans something to cheer about. He's 4-for-10 on the season and tied for second in the International League with seven RBIs.
"I'm being patient and I'm being aggressive when I get a pitch in my zone," the 25-year-old catcher said. "I'm getting in good hitter's counts and I'm taking advantage of it by getting a pitch out over the plate for me to drive.
"I've never had four consecutive hits be homers. Whenever I've hit them, they've always come in bunches. That's always been kind of a thing that I've noticed is that when I get comfortable and confidence in the box the ball tends to fly out of the park."
Confidence is key to Rupp, especially early in the season.
"It's a huge confidence-builder," he said of the streak. "This game is built around confidence. When you're down in the dumps, your confidence gets worse and worse. You continue to have an extra kick in your step and it becomes more fun. That's a huge deal -- it makes it a lot more fun."
Rupp ended last season in Lehigh Valley, where he batted .269 with six homers and 24 RBIs in 53 games. While he isn't likely to maintain this home run pace, he looks like a sure bet to exceed his production from a year ago. The 2010 third-round pick believes his Triple-A experience last year has contributed to his early success.
"It's huge," he said. "You face a lot of the same guys in the same ballparks, you're gonna have an idea on how they are going to pitch. That's a big advantage for a hitter."
Lehigh Valley climbed into a 2-2 tie in the sixth, but Buffalo's Jared Goedert hit a go-ahead two-run single an inning later as part of a 4-for-4 night. Juan Francisco chipped in two hits and scored three times, while Dan Johnson slugged a two-run homer for the Bisons.
Nolin (1-0) earned his first win of the season after allowing two runs -- one earned -- on four hits with seven strikeouts over 5 2/3 innings.
IronPigs reliever Mike Nesseth (0-1) surrendered four runs -- two earned -- on five hits in 1 2/3 frames.
Robert Emrich is a contributor to MiLB.com. Follow him on Twitter @RobertEmrich. This story was not subject to the approval of the National Association of Professional Baseball Leagues or its clubs.
View More