Isotopes' Lee hurls six shutout innings
Dodgers' No. 4 prospect guts out second win, lowers ERA to 1.62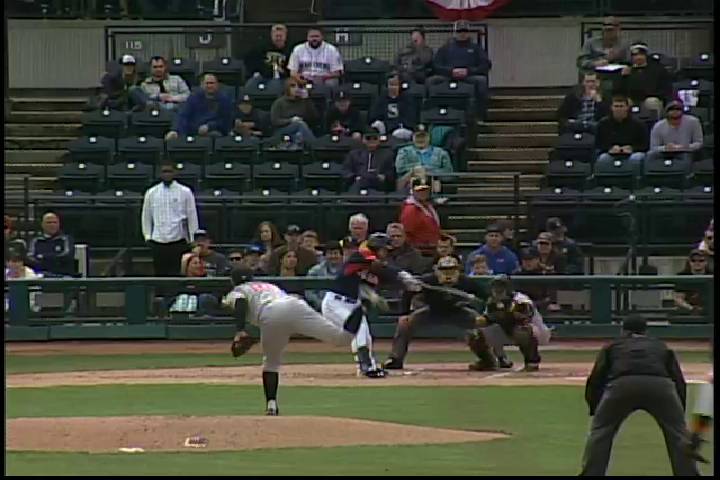 By Josh Jackson / MiLB.com | April 17, 2014 1:17 AM ET
You'd never guess it, but Zach Lee had a rough time at the ballpark on Wednesday night.
"It looks good on paper," he said, "[but] it was really more of a slog of a start than anything. My fastball command wasn't working all game."
Even so, the Dodgers' No. 4 prospect gave up three hits and two walks while striking out three over six scoreless innings as Triple-A Albuquerque topped visiting El Paso, 3-1.
Lee (2-0) remained unbeaten in three Pacific Coast League starts while lowering his ERA to 1.62.
"I'm feeling good each time out, but it was a little more of a battle than the start before," said the 22-year-old right-hander. "I felt better and had better command last outing, but I was really able to battle in this one."
Lee was satisfied that he'd gutted out a strong performance, but he also voiced disappointment.
"A little bit of it is that you're kind of proud of being able to compete even though you don't have your best stuff," he said. "But on the flipside, you always want to go out there and throw better. It's a little bit of a motivator for next time out."
Lee allowed five baserunners, never more than one in an inning. MLB.com's No. 61 overall prospect required 89 pitches, 53 for strikes, to get through a season-high six innings .
"I had to try to mix things up and keep guys off-balance, and I was able to do that by getting a couple off-speed pitches in for strikes, but I wouldn't say I had great command on those, either," he said. "It was really a hodgepodge of pitches. I had to pitch to contact a lot more than I normally would, instead of going after guys early. I wasn't really getting ahead. I was falling behind an awful lot."
Lee surrendered a line-drive single to Kyle Blanks leading off the fourth, then threw a wild pitch. Blanks took third on a fly ball to right field by former Isotope Alex Castellanos, but Lee retired the next two batters.
"I kind of got lucky in that inning. I gave up three hard-hit outs," the Texas native said. "That's kind of how baseball goes sometimes, I guess."
Lee gave up just one more hit, a sixth-inning grounder up the middle off the bat of Jeff Francoeur, and did not walk anyone in his final two innings.
"My fastball command was getting better later in the game, but I wouldn't say it was back to normal," he said. "At that point, I knew what I had. I was feeling a little more comfortable as we got deeper because I was still getting outs and I'd adjusted my game plan."
In the seventh, Lee turned the ball over to Josh Judy, who threw tossed hitless innings. Sam Demel gave up a solo homer to Blanks in the ninth but picked up his third save.
Dodgers middle-infield prospect Alex Guerrero, who homered on Sunday and Monday, went 2-for-3 with a double and a run scored for Albuquerque.
Josh Jackson is a contributor to MiLB.com. This story was not subject to the approval of the National Association of Professional Baseball Leagues or its clubs.
View More