Isotopes' Pederson back in the groove
Dodgers prospect hits first homer since June shoulder injury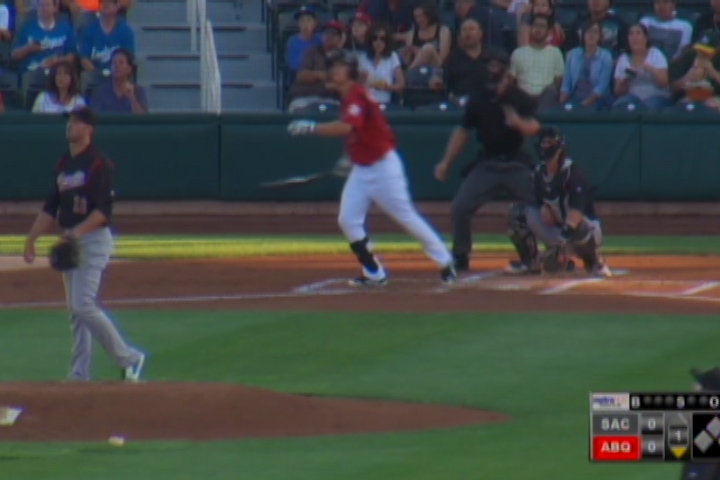 By Josh Jackson / MiLB.com | July 19, 2014 3:41 AM ET
Seven games after returning to action, Joc Pederson has proven he still has his power stroke.
"Starting off with the first inning, I went after some pitches," the second-ranked Dodgers prospect said. "It's comforting knowing I can get back into the game with my full swing and be back 100 percent."
Pederson slugged his first regular-season homer since June 14, singled and drove in three runs on Friday night to help Triple-A Albuquerque posted a 13-11, seesaw win over visiting Sacramento. He also stole a base, scored twice and chipped in an outfield assist.
"It was a good comeback," Pederson said after the Isotopes erased a six-run deficit.
The 22-year-old outfielder was sidelined from June 24 through July 9 with a separated shoulder. The Isotopes were forced to retroactively forfeit their 7-6 win over El Paso that marked Pederson's return from the disabled list, as they failed to make a corresponding roster move.
But MLB.com's No. 28 overall prospect has nine hits in seven games since returning, and he homered for the Pacific Coast League in Wednesday night's Triple-A All-Star Game in Durham, N.C.
"I'm doing my treatments before and after [games] in order to maintain and keep progressing," Pederson said.
He went yard again in his first at-bat Friday following Chone Figgins' five-pitch walk against River Cats starter Matt Buschmann with his 18th homer of the season. Buschmann's first pitch to Pederson ended up on the other side of the center-field fence.
"To be honest, I just had hit in the cage before the game started and I worked on some stuff and went in with a game plan," he said. "The first pitch was there, so I put a good swing on it."
He walked in the second, popped out to second in the fifth and scored after being hit by a pitch by reliever Phil Humber in sixth.
Facing Humber again with two outs and two men on in the seventh, the left-handed hitting Pederson pulled a single through the right side to score Mike Baxter and send Delvis Morales to third.
Albuquerque manager Damon Berryhill put on the steal sign and, as Pederson swiped second, Morales stole home on the throw from River Cats catcher Ryan Ortiz.
It was Pederson's fourth steal in two games and 24th of the season.
"I've seen some good opportunities [to steal during this series]," he said. "I always want to be aggressive, but I have a decent amount of bags this year. And people are starting more with side-stepping or treating me carefully on the bases, but I want to steal whenever I can."
The Palo Alto native also contributed defensively, throwing out Jose Martinez at second base from center field after a third-inning RBI single.
"It was a close play," Pederson said. "I should have caught that ball, but I stuck with it and finished the play, and I'm glad I finished the play."
Baxter finished 4-for-5 with an RBI and two runs scored for the Isotopes, who have won three of their last four games.
One night after homering three times, Sacramento's Shane Peterson -- Pederson's All-Star teammate -- went 4-for-6 with a pair of doubles, four runs scored and two RBIs.
Josh Jackson is a contributor to MiLB.com. This story was not subject to the approval of the National Association of Professional Baseball Leagues or its clubs.
View More