Jankowski picks up where Appel left off
Righty allows one hit in six innings, ties career high with nine K's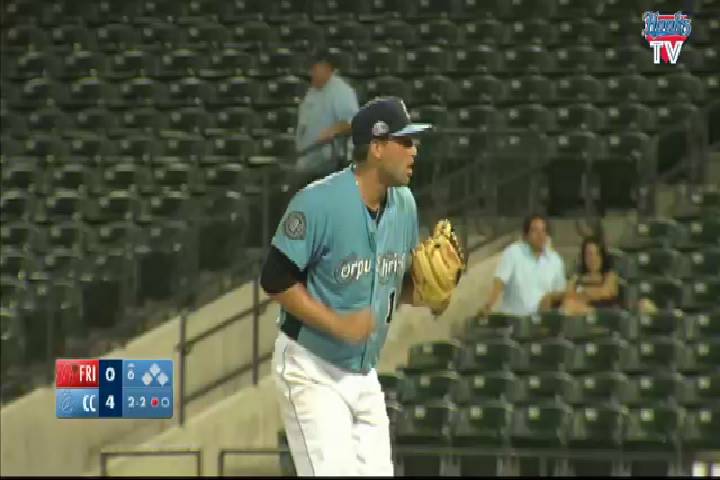 By Ashley Marshall / MiLB.com | August 28, 2014 12:55 AM ET
Astros first-rounder Mark Appel turned the tables on a largely inconsistent season Tuesday night with the finest outing of his young professional career.
Following every pitch the first-rounder threw in every at-bat was Wednesday's starter Jordan Jankowski. He liked what he saw so much, he tried to replicate what his teammate did.
Jankowski allowed one hit and a walk while matching a career high with nine strikeouts over six innings, but Double-A Corpus Christi fell to Frisco, 5-4, in 11 innings at Whataburger Field on Wednesday.
"Mark did great last night," Jankowski said. "He definitely set the tone and I tried to feed on the energy that he left behind out there and tried to follow his game.
"Last night he had a really good tempo and he was locating all three pitches, so my game plan was to locate all of my different types of pitches and throw a lot of strikes like he did. Mark has really good stuff and when he does something like that, you want to try to compete like he did. It was a great performance and I wanted to do the best that I could."
Appel, the top overall pick in last year's Draft, struck out a career-high 10 batters over eight one-hit innings Tuesday.
Few balls were hit hard against Jankowski, who struck out two batters in the third, fifth and sixth frames and one in each of the other three frames. He struck out five of his final seven batters. He previously fanned nine in consecutive starts in Midland on Aug. 21 and Frisco six days later.
"It was a quick game," said the 25-year-old, who threw 57 of 78 pitches for strikes and lowered his ERA to 3.63. "My catcher [Tyler Heineman] called a really good game and we were on the same page from the start. When that happens, it makes it easy for you to pitch. It helps out a lot.
"We mixed it up with four different pitches -- the fastball, curveball, slider and splitter. I can't really pick which one was [the best]. I was using all four pitches to them and my catcher kept them off balance."
Now in his third year in the Minors, Jankowski has had his share of highs and lows in his first trip through the Texas League.
The Pennsylvania native was 4-0 with a 2.23 ERA in 23 Appalachian League appearances in his rookie year with Greeneville, and he was 3-1 with a 3.05 mark across two levels last season. He has spent all of 2014 with the Hooks, splitting time between the bullpen and the rotation.
He has only started more than two games in a row once this year, and he was used in relief for 10 of his first 11 Double-A games. In 14 starts, Jankowski is 5-5 with 68 strikeouts and 14 walks in 65 1/3 innings. As a reliever, he's 1-1 with 47 punchouts and 10 free passes in 16 games.
"Tonight was a pretty good outing," said the 6-foot-2 right-hander, selected in the 34th round of the 2012 Draft. "This month I have had a pretty good month and I'm trying to finish strong. Sometimes when you don't have a good outing, it's because one of your pitches might not be working as well, so the hitter can eliminate one of them.
"Hitting is hard enough, but when you can throw multiple pitches for strikes, it hurts their timing a little bit and makes you more successful."
Frisco first baseman Joey Gallo tied the game in the ninth inning with his 20th Texas League homer, and 41st overall of the season, before the RoughRiders took the lead for good on Gallo's run-scoring groundout two innings later.
Starter Alex Gonzalez allowed four runs -- three earned -- on seven hits and two walks while striking out four batters over five innings, but did not factor into the decision. Ryan Rodebaugh (3-0) worked around a hit over two innings to earn the win.
Ashley Marshall is a contributor to MiLB.com. Follow him on Twitter @AshMarshallMLB. This story was not subject to the approval of the National Association of Professional Baseball Leagues or its clubs.
View More