Jensen, Canha power on in Zephyrs' blowout
Right fielder plates career-high six RBIs, first baseman blasts two too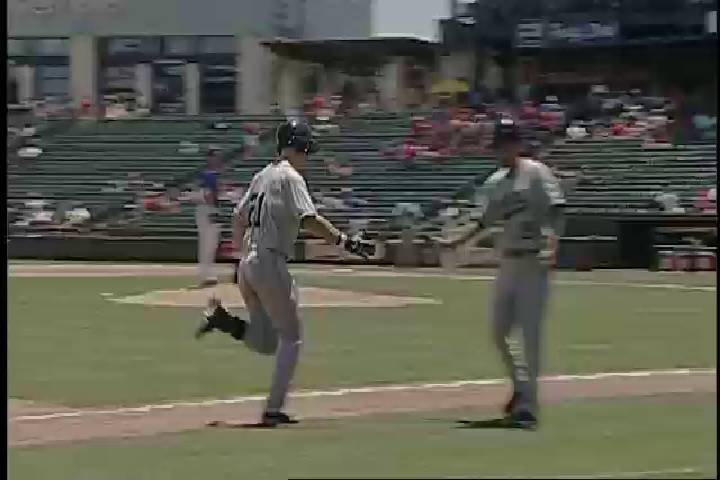 By Danny Wild / MiLB.com | May 5, 2014 7:34 PM ET
Kyle Jensen hasn't forgotten the first month of his season, but he's not looking back.
"As a hitter, you've gotta know you're going to be hot for a time, and sometimes you're going to be cold," said Jensen, who hit .213 with one home run last month. "I didn't have a good April and I wanted to start this month of May off right. I got off to a hot start and want to continue off that."
Jensen is a new man this month -- the outfielder homered twice and finished 5-for-5 with a career-high six RBIs and Mark Canha added a pair of home runs to highlight Triple-A New Orleans' 13-4 rout of Round Rock on Monday afternoon.
Jensen, who has hit at least 24 homers in each of his last three seasons, homered for the third straight game as the Zephyrs totaled 18 hits and scored in all but one inning to earn a split of their four-game series with the Express. The 26-year-old slugged a three-run homer in the seventh frame off reliever Cory Burns and added a two-run drive in the ninth off Dan McCutchen.
"It felt good, we were all out there having fun," said Jensen, who scored four runs and doubled twice. "I think the team got the bats out for this series and we all felt good as a team. Hitting is contagious and everyone is swinging it."
Canha, who had just two homers entering the game, launched a solo shot in the first and another in the fifth, both off Round Rock starter Ryan Feierabend. The 25-year-old first baseman finished 3-for-5 with three RBIs.
"We have a good team right now, we're all cool with each other," Jensen said. "We play hard, and I just want to go out, help the team win and take it from there."
Jensen singled and scored on a fielder's choice in the third, doubled home Canha with two outs in the third and added another double and run in the fifth. New Orleans also got a homer in the fourth from catcher Kyle Skipworth. The No. 6 overall pick in the 2008 Draft's fifth of the season put the Zephyrs ahead, 5-2. Skipworth had a two-homer game of his own April 27.
"It was fun today, Skipworth had an opposite-field home run that hit off the foul pole, Canha went upper deck," Jensen said. "The game before, we lost 15-12, but it was shootout there, too. It's good to bounce back off that and continue with our bats."
Jensen, who raised his average from .219 to .257 with the perfect day, has been hot the past few days -- he homered and drove home three runs May 3 and finished 2-for-5 with another homer May 4.
"It's just going out there, feeling food at the plate, taking good pitches, seeing the ball well," he said. "My swing felt good. When you get a pitch to hit that you're looking for and everything is working, you're going to have a good time."
Jensen's six RBIs are the most he's totaled in a Minor League game since the Marlins selected him in the 12th round of the 2009 Draft. He had a pair of five-RBI efforts for New Orleans last season on June 28 against Round Rock and again July 22 against Iowa, while Monday also marked the outfielder's hottest streak since he went deep in four consecutive games from June 3-7, 2013, with Double-A Jacksonville. His longest consecutive homer streak came from Aug. 21-24, 2012, when he went deep in five straight games for the Suns.
The breakout game also marked Jensen's first two-homer effort since he hit a pair on Aug. 19, 2011 for Jacksonville. He first did it on July 10, 2011 for Class A Advanced Jupiter.
"I was just looking for a pitch to drive. I got the pitch, tried to put an easy swing on it," Jensen said of his homer in the seventh. "In their ballpark, it's a good place to hit, so I just wanted to put the bat on the ball."
The four-time All-Star and Florida State League MVP in 2011 enjoyed a breakout campaign in 2010, when he hit .272 with 18 homers and 86 RBIs. He topped that a year later, batting .299 with 27 home runs and 76 RBIs between two levels, and then added 24 homers and 84 RBIs in 2012. Last year, he clubbed 28 homers last year.
Former Marlin Bryan Petersen, who spent parts of the past four years with New Orleans, hit his sixth homer and Chris Gimenez added his second for Round Rock.
Brian Flynn (3-2) struck out eight and held the Express to three runs on six hits and a walk over six innings for the win while Feierabend (4-2) was charged with seven runs on 11 hits and a walk over five frames for the loss.
The game also included an ejection as Zephyrs manager Andy Haines was tossed in the sixth when he felt Flynn, who threw 108 pitches, was getting squeezed by home plate umpire Stu Scheurwater.
Danny Wild is an editor for MiLB.com. Follow his MLBlog column, Minoring in Twitter. This story was not subject to the approval of the National Association of Professional Baseball Leagues or its clubs.
View More