Johnson fans career-high 14 for San Jose
Giants' No. 29 prospect posts six scoreless innings out of bullpen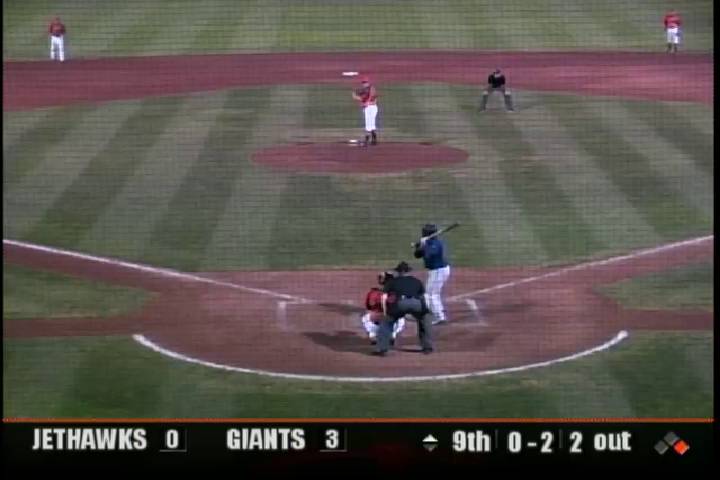 By Tyler Maun / MiLB.com | August 15, 2015 2:35 AM
The Lancaster JetHawks may have been facing a 17-year Major League veteran at the outset on Friday, but by the end of the night, it was Chase Johnson they'd had enough of.
The Giants' No. 29 prospect struck out a career-high 14 over six innings of relief, allowing only three hits and a walk, as Class A Advanced San Jose silenced Lancaster, 3-0, at Municipal Stadium.
It was four-time big league All-Star Tim Hudson on the hill for San Jose to kick off Friday night's win, but Johnson stole the show. Over 2 2/3 innings, Hudson -- rehabbing a strained right shoulder -- allowed one hit and struck out a pair. Jeff Soptic got the final out in the third before Johnson's show began.
"It was kind of weird, definitely, coming in after Hudson in the fourth," the 23-year-old righty said. "My routine was a little messed up, but I was just trying to make it as much like a normal one as possible, just warming up the same way. After I got out there, the fastball was coming out good, command was really good and my off-speed was pretty good, too."
Appearing in relief for only the sixth time in his professional career and the first time since April 16, Johnson wasn't thrown off. After allowing a leadoff single to top Astros prospect Alex Bregman in the fourth, he struck out the side. He fanned the side in order in the fifth and again in the seventh to break double-digit strikeouts for the first time in his career. The 2013 third-round pick followed it up by striking out two more in the eighth.
"It definitely felt a little different," he said. "It's hard to explain. I've had a few games similar in the past but never with that many strikeouts. I feel like everything was going good for me tonight, and it starts with fastball command. I was able to really work the strike zone with my fastball tonight."
Johnson got a chance to work with San Francisco catcher Andrew Susac. Rehabbing a strained right thumb, Susac was behind the plate for all nine innings.
"I was just really mixing up my pitches really good," Johnson said. "Early in the game, I was throwing a lot of fastballs and just working the corners. I started to throw more sliders toward the end of the game to keep them off-balance. I had Susac catching for me. That always helps, too."
Being around a big league battery proved to be a valuable experience as Johnson and his teammates took the opportunity to pick Hudson's brain.
"It's a really cool experience because that guy has been in the game for so long," he said. "He was really up front with us. Everybody was asking questions about everything like his routine, certain things in the Minor Leagues, big league stuff. It was really cool to have him here because there's just a ton of information we can learn from him."
Johnson's 14 strikeouts were the most by a San Jose pitcher since 2009 and fell two shy of the team record held by Keith Foulke, who made 28 appearances for the club in 1995.
In addition to his duties behind the plate, Susac went 2-for-4 and helped his staff with a two-run homer to left-center in the sixth.
Tyler Maun is a contributor to MiLB.com. Follow him on Twitter @TylerMaun. This story was not subject to the approval of the National Association of Professional Baseball Leagues or its clubs.
View More