Johnson's plan extends Sea Dogs' streak
Solo homer in sixth breaks up Red Sox No. 10 prospect's no-hit bid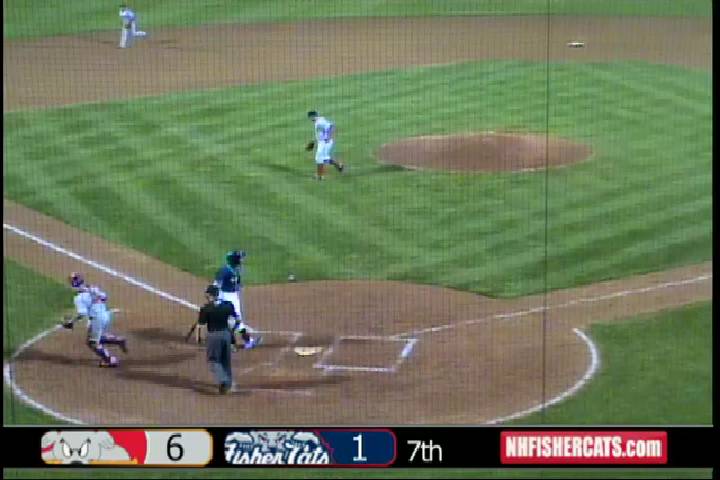 By Kelsie Heneghan / MiLB.com | August 24, 2014 1:56 AM ET
Baseball, Brian Johnson believes, ought to be fun. Saturday night looked like a lot of fun for the big left-hander and his Double-A Portland teammates.
The Red Sox's 10th-ranked prospect held New Hampshire to one hit -- a solo homer -- over seven innings on Saturday in the Sea Dogs' 7-1 victory at Northeast Delta Dental Stadium.
Along with catcher Carson Blair, Johnson (10-2) worked to vary his plan of attack in each situation, although his fastball command was a constant.
"I think throwing different pitches in certain counts and never being locked in with certain pitches," the 23-year-old left-hander said when asked what made him so dominant on Saturday. "The biggest thing I've done is stay in the moment and work pitch to pitch. I think sometimes everyone gets worked up, but if you're playing the game of baseball, it should be fun."
The 2012 first-round pick walked Andy Burns in the first inning and Melky Mesa in the fourth. Burns reached again in the fourth on shortstop Heiker Meneses' error, a play Johnson thought was ruled a hit until an inning later, when he noticed a zero in New Hampshire's hit column.
In fact, a one did not appear in that column until the sixth, when Burns sent a one-out solo shot that stayed just inside the right-field foul pole.
"Carson and I, we both thought fastball there," Johnson said of the 0-1 pitch. "[Burns] put a good swing on it, and all the credit to him."
The University of Florida product retired the next four batters and exited with a 6-1 lead after lowering his ERA to an Eastern League-leading 1.83. Johnson said a lot of his success this season is due to his plan of mixing up his pitches -- something he's worked on with pitching coach Bob Kipper since he was promoted from Class A Advanced Salem on May 2.
"I hadn't worked with [Kipper] much in Spring Training, so we didn't know each other very well, but we clicked immediately. I don't know if it's a lefty thing," he said with a laugh. "But just talking to him and watching your teammates [helps]. I was lucky enough to watch [Red Sox No. 2 prospect] Henry Owens and I've been lucky enough to watch so many great pitchers."
The Sea Dogs got home runs from Stefan Welch, Keury De Le Cruz, Mike Miller and Red Sox No. 14 prospect Sean Coyle and have won eight in a row for the first time since 2008. That hot-hitting offense and a pitching staff anchored by Johnson has lifted Portland to a franchise-record 33 gaves over .500.
"I'm happy to keep the winning streak going with the playoffs around the corner," Johnson said. "It's very exciting. I think this whole year has been exiting with guys who you've seen do well and go up and guys who have come up here. I came up with Salem, and that's the biggest thing we all pride ourselves on, not try to do too much.
"As long as our team is winning, it's all that matters. I'm a big believer in putting the team first."
Kelsie Heneghan is a contributor to MiLB.com. Follow her on Twitter @Kelsie_Heneghan. This story was not subject to the approval of the National Association of Professional Baseball Leagues or its clubs.
View More