Jones carries another no-no bid deep
Giants prospect allows unearned run over career-best 7 1/3 innings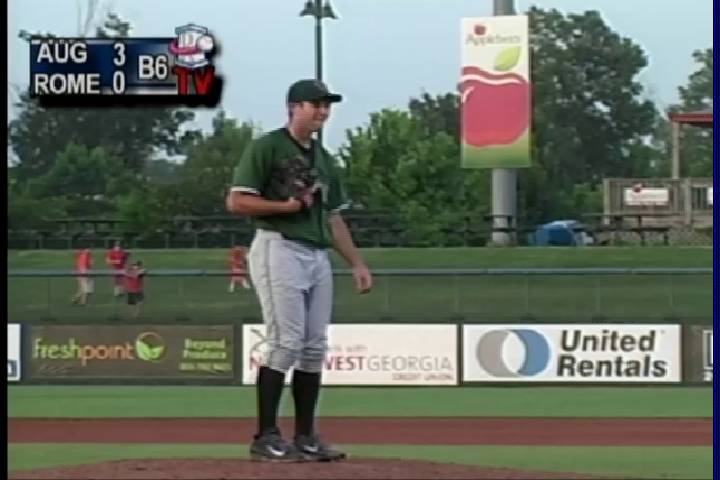 By Ashley Marshall / MiLB.com | July 1, 2014 11:58 PM ET
For the second time in less than two months, Christian Jones took a no-hit bid deep. And even though he again came up short, he was pleased with his performance instead of wondering, "What if?"
Jones carried his latest no-hitter into the seventh and ended up allowing an unearned run on two hits over 7 1/3 innings in Class A Augusta's 3-1 road win over Rome. He walked two batters and struck out three on a 90-degree night at State Mutual Stadium.
"I try not to think about it because you can get caught up in it," said Jones, the Giants' 18th-round pick in last year's Draft. "It's pretty difficult. The only times I get caught up thinking about what could have happened in games where something special could have happened is when I'm questioning the pitch right when I throw it.
"If I'm thinking, 'Let's go with a slider here,' and I end up throwing a fastball, that's when I think that a slider might have gotten him. But tonight I threw the pitch I wanted down and away and he put a good swing on it. I'm not angry about it."
The 23-year-old left-hander faced the minimum through six innings, erasing a leadoff walk to Victor Carantini in the second with a 6-4-3 double play. He lost his shot at history with one out in the seventh when Johan Camargo singled to right field, but he induced an inning-ending twin killing to escape unscathed.
"It was a great piece of hitting," Jones said of Camargo's hit. "It was a 2-2 fastball down and away and it was probably the best pitch of the at-bat that I threw him. He took a swing like he was trying to fight it off or foul it off, and he found the barrel."
The shutout, however, ended an inning later. Carantini doubled to left field and Victor Reyes walked to open the frame before Gerald Chin grounded into a forceout to put runners on the corners. Donald Snelten replaced Jones, who matched the longest outing of his career, but a two-out throwing error by shortstop Rando Moreno brought in a run.
The outing gave the University of Oregon product his first win in three starts and lowered his ERA from 2.34, which ranks third in the South Atlantic League behind teammates Luis Ysla (2.09) and Matt Lujan (2.19).
"I would probably say it was like an eight out of 10," Jones said. "It was an above-average outing. I'm happy that I'm becoming more consistent with my quality outings instead of them being pretty scarce, with a couple good games then a couple bad games then a couple good games.
"I faced Rome last week and they put some pretty good swings on my fastball. I didn't locate my fastball in to righties, so I guess they thought I had a plan to work away. But I located my fastball inside well and it opened up the off-speed pitches away."
It marked the sixth time in 14 starts in which he hasn't allowed a run and the fourth time he's pitched at least five innings and yielded four hits or fewer. In his second start of the season against Savannah on April 14, Jones struck out seven over five hitless innings. On May 11, he carried a no-hitter into the eighth against Hickory.
On Tuesday, right fielder Cristian Paulino went 3-for-7 out of the leadoff spot and left fielder Rafael Rodriguez homered, doubled twice and scored two runs for the GreenJackets.
Rome starter Matt Marksberry (0-5) allowed three runs -- two earned -- on six hits while striking out six over six innings.
Ashley Marshall is a contributor to MiLB.com. Follow him on Twitter @AshMarshallMLB. This story was not subject to the approval of the National Association of Professional Baseball Leagues or its clubs.
View More