Jungmann dominates in Sounds' shutout
Brewers prospect fans eight, gives up two hits over seven innings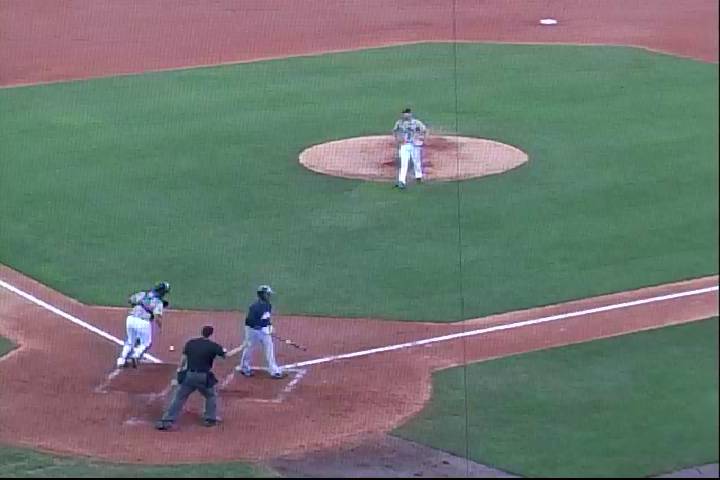 By Josh Jackson / MiLB.com | June 29, 2014 1:24 AM
Taylor Jungmann's outing on Saturday night paved the way for Triple-A Nashville to record its second straight shutout, but the 24-year-old right-hander and his teammates weren't dwelling on that factoid.
"We're in a race for first place in our division. We take it game by game and forget about yesterday," Jungmann said. "Guys try to play with momentum, but we don't think about what we did the day before."
The Brewers' eighth-ranked prospect collected eight strikeouts and allowed two hits and two walks over seven innings in the Sounds' 13-0 rout of visiting New Orleans.
"I was able to get the sinker down in the zone, and that was the best that's felt [this season]," he said. "It was definitely my best start since I've been up here, and it might have been might best start all year."
Jungmann, who was selected out of the University of Texas in the first round of the 2011 Draft, made the jump to Triple-A in late May after putting up a 2.77 ERA in nine Southern League starts.
"I've been trying to get back to where I was last year and in college, so I've made a few adjustments," he said.
"The adjustments were to my mechanics in general. They help the [sinker], but they help the other pitches, too, obviously. When I'm able to throw the [sinker] down and then I come with a tight curveball down, guys have to think about it. That allowed the breaking pitches to be better tonight."
In lowering his Pacific Coast League ERA to 5.14, Jungmann (4-4) worked around a walk in the first, pitched a 1-2-3 second and struck out the side in the third, although those punchouts didn't come easily.
"To be honest, I was still a little erratic with my fastball that inning," he said. "I threw a good breaking ball and got guys to swing at some bad pitches, but I wasn't really locked in all the way."
In the fourth, he gave up a one-out double to Mark Canha and a single to Justin Bour before walking Kyle Jensen on six pitches to load the bases.
"After I had bases loaded, I made six really good pitches in a row," he said. "I think that was a mental thing. I [bore] down and made sure to hit my spots. Sometimes guys get lazy. I think I did get a little lazy early in that inning to put those guys on."
Jungmann struck out Juan Diaz and retired Danny Black on a grounder to second base to get out of the inning.
"I got those two guys out and went into the next inning, and at that point, I was starting to feel like I was in a little bit of a groove," he said.
After hitting Kyle Skipworth to start the fifth, he retired nine in a row.
"I always have confidence in my stuff. I got in a groove and just relaxed and was throwing strikes," the Southern League midseason All-Star said.
Arcenio Leon and Donovan Hand each pitched a hitless frame as Nashville recorded its PCL-best seventh shutout.
Jason Rogers, playing his second game with the Sounds, hit his first Triple-A homer.
Kevin Mattison batted for Jungmann in the seventh and delivered a bases-loaded triple to highlight a six-run inning. Hunter Morris, ranked 10th in the Milwaukee system, tripled, singled, collected three RBIs and scored twice.
Josh Jackson is a contributor to MiLB.com. This story was not subject to the approval of the National Association of Professional Baseball Leagues or its clubs.
View More