Kernels' Mildren thriving on reduced rest
Toiling in five-man rotation, Twins prospect posts more seven zeros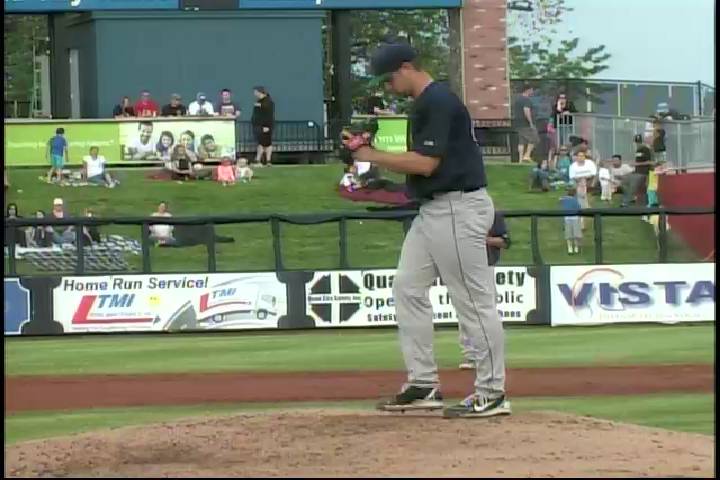 By Kelsie Heneghan / MiLB.com | July 5, 2014 12:21 AM ET
Ethan Mildren statistically had one of the best starts of his career on Sunday. But that's not how he saw it; the Twins prospect saw mistakes that needed to be corrected.
As a result, Mildren allowed one fewer hit over seven innings on Friday night as he pitched Class A Cedar Rapids to a 3-0 blanking of visiting Beloit.
"It was a great day outside, I was able to get ahead with batters and I was able to go deep into the game," the 23-year-old right-hander said. "As always, there's pros and cons and you just have to build off of what went well and learn from what didn't."
Mildren (3-5) allowed three hits and two walks while striking out four.
"I was able to get ahead of the count and throw off-speed pitches," he said. "I walked a couple guys in one inning and I'd like to minimize that. Rather than causing problems for myself by walking a guy, I'd rather get beat while throwing strikes."
The Kernels recently reduced their rotation from six pitchers to five, meaning a decrease in days off between starts. And that's just fine for Mildren, who said it's easier for him to get into a groove.
In his first start on five days' rest, the University of Pittsburgh product spun seven scoreless frames on Sunday against Clinton, allowing four hits while tying a personal best with six strikeouts.
"I'm always building off, taking something from each outing and translating it into the game. And it's been working so far," said Mildren, the Twins' 12th-round pick in last year's Draft. "My last outing was OK. It could've been better, so I'm just trying to build off and improve."
After making 12 relief appearances in the Rookie-level Appalachian League last summer, Mildren began this season with one foot in the bullpen, with plans to share starts with Randy Rosario. If Rosario started a game with four innings, Mildren would follow with four in relief. Then they would switch roles the next time out. When Rosario landed on the disabled list, however, Mildren moved into the rotation full-time.
In the first half of the season, the 6-foot-4 Pennsylvania had a 4.94 ERA in 11 games (10 starts). But he has a 1.42 ERA in three starts since the Midwest League All-Star break.
"[The first half] was nothing great, nothing terrible, but there's definitely areas that I could be improved on," Mildren said. "I kept getting hurt by busy innings. I'm trying to work on minimizing damage with anyone on base."
While Mildren did his best to keep the Snappers off the basepaths, batterymate Michael Quesada did his part to eliminate baserunners. The 24-year-old catcher threw out Luis Baez trying to steal second and picked Tyler Marincov off second.
"That was big for us with runners on. [He] picked me up by picking off the runner," Mildren said. "He called a great game and was great defensively, blocked everything."
Dallas Gallant followed Mildren and pitched a hitless eighth before Todd Van Steensel worked around a hit and a walk in the ninth by recording back-to-back strikeouts for his eighth save.
Third baseman Bryan Haar gave the Kernels an early lead with a two-run homer in the first. Two innings later, Engelb Vielma singled, took third on Chad Christensen's double and scored Cedar Rapids' third run on a wild pitch by Beloit starter Kyle Finnegan.
Kelsie Heneghan is a contributor to MiLB.com. Follow her on Twitter @Kelsie_Heneghan. This story was not subject to the approval of the National Association of Professional Baseball Leagues or its clubs.
View More