Keys Win Matt Minker Community Service Award
Team Recognized for Charitable Giving and Outreach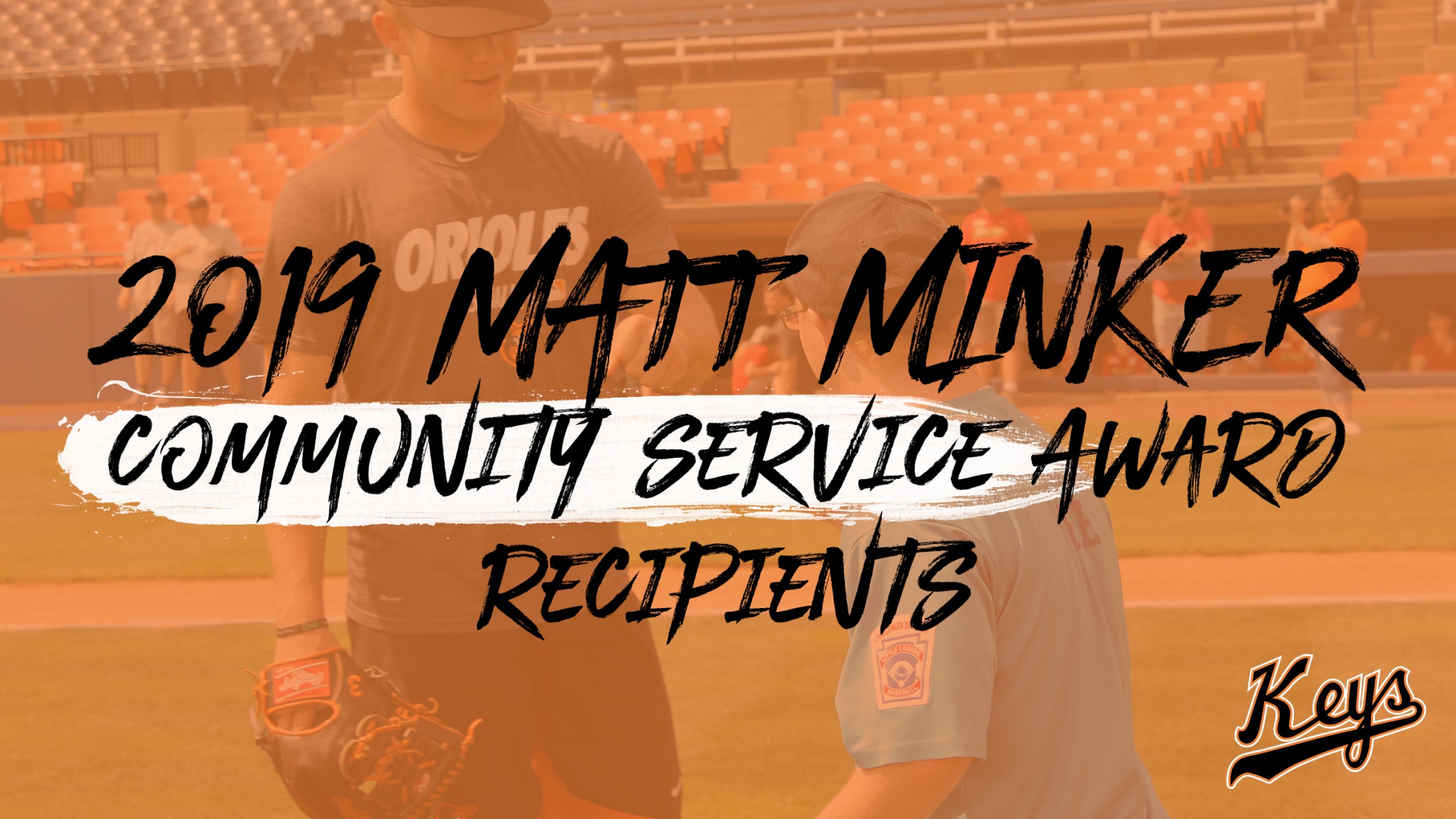 FREDERICK, MD -The Frederick Keys are excited to announce that they have been named the winner of the Carolina League's Matt Minker Community Service Award. This award is given out to the team that best demonstrates an outstanding, on-going commitment to charitable service, support and leadership within its community.It marks
FREDERICK, MD -The Frederick Keys are excited to announce that they have been named the winner of the Carolina League's Matt Minker Community Service Award. This award is given out to the team that best demonstrates an outstanding, on-going commitment to charitable service, support and leadership within its community.
It marks the first time that the Keys have received this award as an organization after the Minker Award became a team honor in 2014. When it was an individual award, Jacob Julius brought home the honor in 2013.
"We are thrilled to be recognized with the Minker award," said Keys Director of Marketing Erin Lawson. "Building long-lasting community partnerships is a hallmark of Frederick Keys baseball. We look forward to expanding our footprint throughout Frederick County and beyond in the years to come through community programs, donations, appearances and other initiatives.
The Keys were recognized for their efforts in 2019 thanks in large part to charitable giving, donations and strong community programs. Over the last year, the Keys have donated more than $10,000 through the team's charitable foundation-Frederick Keys Care. Beneficiaries included the YMCA, Heartly House, Student Homelessness Initiative Partnership (SHIP), Advocates for Homeless Families, Blessings in a Backpack and Sophie and Madigan's Playground. Over the last three years, close to $50,000 has been raised for Keys Care through the team's Charity Golf Classic, Mystery Ball, 50/50 raffles and more.
In 2019, the Keys made donations to over 500 different organizations. These included game tickets, suites, marketing booths, jerseys, hats and autographed memorabilia. Combined, these donations were valued at just over $47,000. The Keys also hosted a Toys for Tots Drive and worked with Orioles Advocates on the Cardboard 2 Leather Program as well as the United Way's Stuff the Bus program. To go with this, non-profit groups raised $14,500 through the Keys Pack the Park program and over $30,000 through the Charity Concession Program.
Strong community programs remained a staple of Keys baseball in 2019, with the Keys distributing 58,000 summer reading bookmarks to libraries in seven counties. Students who completed their library's summer reading program could then come to a Keys game. Young fans were honored for their scholastic achievements through the team's Report Card Program and were challenged to be active for 60 minutes a day leading up to Family Fitness Weekend.
The Keys worked hand-in-hand with non-profit groups during the United Way's annual Day of Action, Make a Difference Thursday and hosted several charity softball games to raise money for the Police Activities League and for the Muscular Dystrophy Association. Specific games also raised awareness for the American Cancer Society, Heartly House and the Frederick Arts Council. These games also involved the team wearing a special hat or jersey which raised money for each organization.
Keys players were active in the community this year, attending over 80 events in the Frederick community and surrounding areas along with Keys mascot Keyote. Keys players participated in a pre-game softball game with Challenger Little League, made sign language videos with students from the Maryland School of the Deaf and served as camp counselors for the team's baseball camp. Individually, Cameron Bishop was named the winner of the Orioles prestigious Elrod Hendricks Minor League Community Service Award.
A link to the entire schedule for the Keys 2020 season is available here. Fireworks dates and a full Keys promotional schedule for 2020 will be announced at a later date. To stay tuned for the latest team news and for ticket information fans can visit frederickkeys.com and follow the team on Twitter (@frederickkeys), Facebook and Instagram (@frederickkeys.com).