Kickham cruises, Syndergaard out early
No. 17 Giants prospect hurls seven two-hit frames in Grizzlies win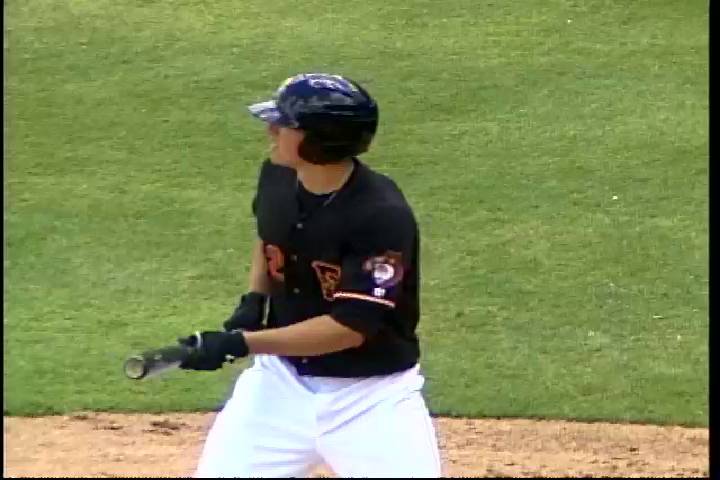 By Josh Jackson / MiLB.com | June 6, 2014 3:39 AM ET
When Mike Kickham is getting opposing batters to hit the ball on the ground, things generally go his way. Such was the case Thursday, when he got 14 of 21 outs on the ground.
"I was able to throw a lot of two-seamers and complement that with the slider," said the Giants' No. 17 prospect, "so I was either throwing something that broke in and under the bat or tailed away and sunk."
Kickham (4-5) delivered seven shutout innings, giving up two hits and a walk while striking out three, in Triple-A Fresno's 9-4 victory at Las Vegas.
"It was about keeping the ball down in zone, really using the sinker to my advantage," the left-hander said. "That's how I was able to get them to hit it on the ground."
The 51s' loss was particularly painful as top Mets prospect Noah Syndergaard exited with an injury after giving up three runs on three hits while recording two outs in the first inning. Covering home plate on a wild pitch, Syndergaard (5-3) fell while trying to tag Mark Minicozzi and landed on his non-throwing shoulder. He made two warmup pitches before walking off the field.
"Noah Syndergaard was removed from the game tonight in Las Vegas after experiencing left shoulder discomfort resulting from a tag play at home plate. The results of precautionary X-rays are pending," the Mets said in a statement.
The 21-year-old righty appeared to be in considerable pain.
"I was focused on something else in the dugout, but I heard the crowd go 'Oooh,' and I looked up, like, 'What happened?' I saw him get up slow," Kickham said. "You never want to see a guy get up gingerly like that. When he was throwing pitches after, you could tell something wasn't right. It sounds like he's going to be fine, though. I really hope he's OK."
Kickham did enjoy working with the 3-0 advantage from the first time he took the hill, although there was a drawback.
"That was huge. That's always great," said the Missouri State product. "The long inning, I didn't really like too much. It took me about half those pitches [in the first inning] to warm up. I thought the ump might give me extra warmup pitches, but he kept me at eight."
He retired the first five batters he faced, and after a one-out single by Kirk Nieuwenhuis in the second, set down five more in a row.
"I felt good after a bit," Kickham said. "The next thing I knew, I was pitching in the fourth inning."
In that frame, Las Vegas' Daniel Muno reached on a fielding error by Adam Duvall, and Kickham walked Josh Satin. He snuffed the threat by inducing a groundout and a double play.
"I told myself a two-ball would be great right about now," said the 2010 sixth-rounder. "I threw the sinker, and we did a good job fielding ball all night."
Kickham gave up a single to Taylor Teagarden in the next inning, was perfect in the sixth and worked around a hit batsman in the seventh. He threw 96 pitches, 60 of them for strikes.
"I didn't feel tired, but judging by how the ball was coming out of my hand, I probably was a little tired," he said. "When I hit [Kirk] Nieuwenhuis, I just left a slider up. I tried to get a little too cute and flip it in front-side."
Minicozzi was 3-for-4 with a homer and five RBIs and No. 16 Giants prospect Gary Brown was 3-for-6 with a double and three runs scored.
Josh Jackson is a contributor to MiLB.com. This story was not subject to the approval of the National Association of Professional Baseball Leagues or its clubs.
View More