Kickham posts eight zeros for Grizzlies
Giants prospect scatters five hits en route to first victory of season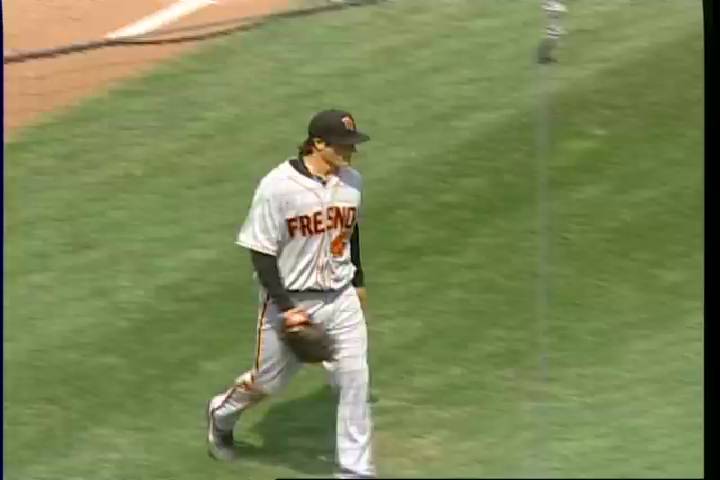 By Josh Jackson / MiLB.com | April 25, 2014 2:15 AM ET
If there's any doubt that a small adjustment to a pitcher's approach can pay big dividends, consider the case of Mike Kickham.
"After the last one, when I had a few walks, I really wanted to come out [Thursday] and pound the zone and challenge guys," he said.
It worked. The Giants' No. 17 prospect scattered five singles and just one walk while striking out five over eight innings in Triple-A Fresno's 5-0 shutout of Albuquerque.
The victory gave Kickham (1-3) his first win of the season while washing away the bad taste of an April 18 start at Sacramento. In that outing, he issued six free passes and allowed six hits to surrender four runs -- three earned -- in just 3 2/3 innings.
"I was pitching on my fastball more [Thursday]," said the 25-year-old southpaw. "I think I threw more fastballs percentage-wise than my previous couple outings. I really wanted to come in and not nibble or throw a bunch of breaking pitches at hitters."
Of the five hits Kickham allowed, two led off an inning -- Chone Figgins in the first and Carlos Triunfel in the third. He took the opportunity to double down on his new approach.
"Especially early on, I wanted to bear down and attack the zone and have just the runner on first and not multiple guys on," he said. "I didn't want any kind of snowball. I wanted to nip it in the bud and give myself the best shot to put up a zero.
"Whether the bases are empty or there are runners on, it's still about attacking the hitter. If you're not the one doing the attacking, it's not going to turn out that well."
The Isotopes threatened with back-to-back two-out singles by Clint Robinson and Miguel Olivo in the seventh, but Kickham's confidence was unscathed.
"I thought I made good pitches [to them]. [Robinson] swung at a first-pitch breaking ball that I thought I could sort of flip in there with two outs," he said. "I wasn't nervous, especially with what I did up to that point in the night. If you're pitching scared, you're in trouble."
The next inning, he shrugged off a two-out infield hit by Trayvon Robinson and completed his longest start of the year. The Missouri State product hadn't previously worked into the sixth this season.
"I owed [the bullpen] a solid, long outing, because I had a couple of early exits this year," he said. "Hopefully I'm able to build this start and give seven or eight next time out."
Kickham was supported by a third-inning home run by 14th-ranked San Francisco prospect Joe Panik. The dinger was Panik's first in the Pacific Coast League, and he ended the night 2-for-3 with a walk.
"That was awesome. It was great for him to get his first one out of the way," said Kickham. "Joe's a solid hitter, man. Even at the next level, I think you're going to get more of what he does here. He's a tough out and adapts well and picks up on things."
Josh Jackson is a contributor to MiLB.com. This story was not subject to the approval of the National Association of Professional Baseball Leagues or its clubs.
View More