Knights' Wilkins continues powerful tear
First baseman goes deep twice, has nine homers in seven games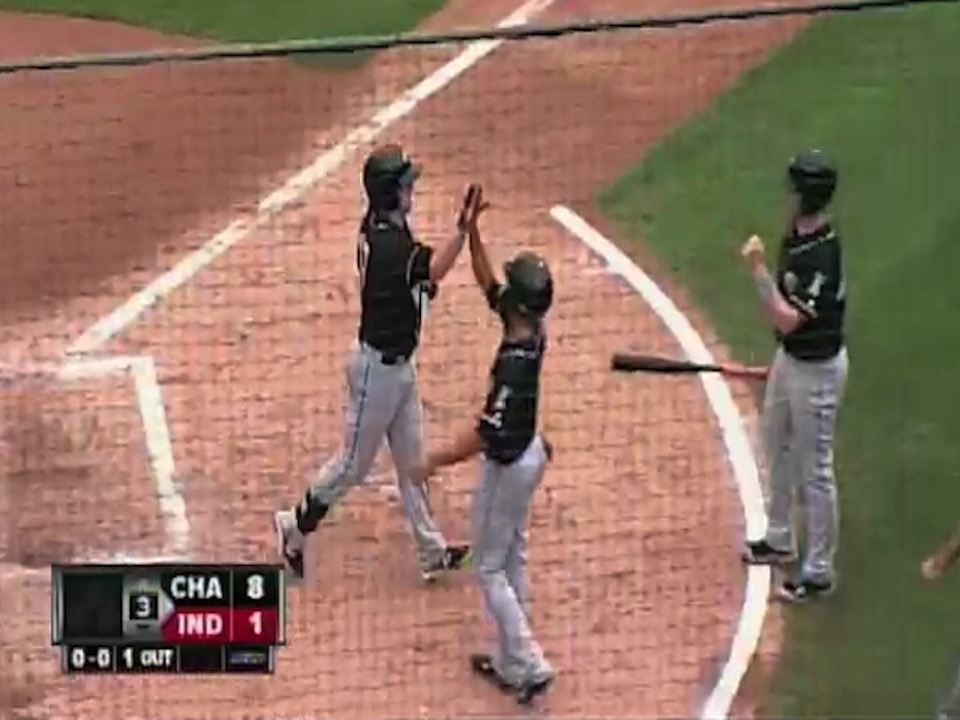 By Sam Dykstra / MiLB.com | July 23, 2014 7:05 PM ET
Andy Wilkins has picked up a few lessons during his five seasons in the Minor Leagues, and this is the one he probably finds himself repeating the most lately.
"I've realized when you try hit home runs, you can't do it," Wilkins said. "So that's not what I've tried to do here. My big goal is staying with the same approach, keep everything the same from at-bat to at-bat. If you try to hit home runs, there's no -- absolutely no way you'll do it."
Well, if Wilkins isn't setting his sights on the fences, the balls he's hitting -- or rather, crushing -- are still finding their way over them anyways.
The White Sox prospect homered twice for the fourth time in seven games and drove in seven runs Wednesday afternoon to lead Triple-A Charlotte to an 8-4 win at Indianapolis. He has gone deep nine times in that seven-game span and has increased his International League-leading to 25 home runs on the season.
The power surge has taken even the slugger producing it aback.
"It's kinda just been overwhelming," said Wilkins, who also homered twice Tuesday night. "I'm not trying to do too much, just get a good pitch and stay up the middle with it. It's just kinda happened that a lot of the balls I've hit have been home runs."
It didn't take long Wednesday for Wilkins to turn the power back on.
In his first at-bat in the first inning, the left-handed slugger took a first-pitch fastball from Indians southpaw starter Adam Wilk for a strike before being offered a hanging slider that he cleaned out to right for a three-run shot.
Two innings later, he stepped in against Wilk with the bases loaded, and the Indianapolis left-hander went to the slider again, this time as his first offering. Wilkins turned on the breaking ball and deposited it over the wall in right for a grand slam.
In just two at-bats, the 24-year-old slugger had already established a career high with seven RBIs. He walked on four pitches in the fifth inning -- "Even if I got an opportunity to hit, I still wasn't looking to homer there," he said -- and ground out to second base to lead off the eighth, finishing 2-for-3 from the sixth spot in the lineup.
The first homer was already a record-breaker in light of Wilkins' five-season Minor League career. After going deep twice Tuesday, his 23 homers on the season, which had come in only 91 games, entering Wednesday had already tied a career best, first achieved in 2011 with Class A Advanced Winston-Salem. Now, thanks to his recent run, which has seen 36 percent of his homers come in a nine-game span, it looks like 30 should be well within reach.
"I've never been on anything like this," said the slugger, who noted the closest he's come was a four-game stretch with the Knights last July during which he blasted five homers. "I'm just enjoying it as much as I can, because I know baseball can be humbling and things can turn around on you pretty quick."
But it's not just the home run numbers that are up. His .281 average, .564 slugging percentage and .877 OPS would all be career bests if he maintained his current pace. Beyond the don't-aim-for-homers approach, Wilkins credits a few mechanical changes -- adjustments he hopes will be the last he ever makes -- for his career year.
"I used to have a little bit of a toe tap, and I've kinda messed around with multiple different approaches," he said. "Now I've been using more of a leg kick, and I think I've figured out my timing a little better and have done a better job of swinging consistently.
"That's been a huge relief to me, personally. I feel like I don't have to worry so much about changing my swing, because now it feels like I've figured it out and I can focus on just having a good at-bat."
Teammates and opponents alike have taken notice and have started to razz the hottest batter in the entire Minor Leagues. Outside of the additional attention, Wilkins is just enjoying the ride his power trip has put him on.
"It's just fun right now," he said. "I'm not a big attention guy, really. In fact, if it was up to me I'd stay off the radar, but there isn't much I can do about that. I'm just going to enjoy this while it lasts."
Sam Dykstra is a contributor to MiLB.com. This story was not subject to the approval of the National Association of Professional Baseball Leagues or its clubs.
View More