Kuhl stays grounded, posts six zeros
Pirates No. 16 prospect induces 12 groundouts, gives up two hits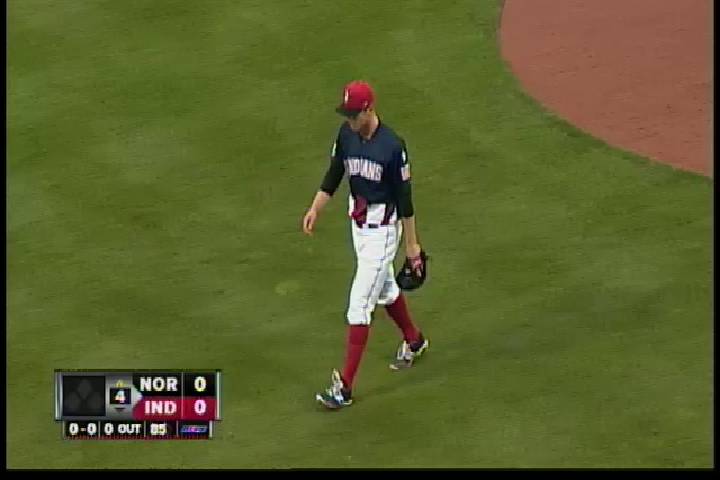 By Michael Peng / MiLB.com | April 30, 2016 9:31 PM ET
In an age in which most pitching prospects are judged by their velocity and strikeout numbers, Chad Kuhl is perfectly content in getting the job done his way -- by letting opponents get themselves out.
"Being a ground-ball pitcher, I'm just pitching to my strength and knowing that I'm not afraid of contact," the Pirates' 16th-ranked prospect said. "Contact for me is a good thing."
Kuhl initiated plenty of harmless contact on Saturday as he gave up two hits over six scoreless innings before Triple-A Indianapolis dropped a 5-1 decision to Norfolk at Victory Field.
The 23-year-old right-hander induced 12 ground-ball outs, fanned three and issued a pair of walks.
"I felt the command was there," Kuhl said. "I had a couple of innings where I fell behind the hitters a little bit, but I tried to stay in attack mode, trying to get ahead on hitters and make things easier on myself."
Kuhl didn't fall behind often as he threw first-pitch strikes to 15 of the 20 hitters he faced, retiring the last 10 in order.
"I was getting ahead using my fastball-changeup combo tonight. It worked a lot better than my slider did," he said. "Being able to throw that changeup, keep the hitters a little bit off the fastball, makes it a lot easier to miss barrels and get weak contact with my two-seam."
Helping Kuhl's cause was his batterymate, Jacob Stallings, who threw out two Tides trying to steal second base.
"I've had the pleasure of working with Stallings -- this will be our third season together -- so it's nice to have him back there," Kuhl said. "There's always that trust of being on the same page and just knowing he's an incredible defensive catcher, and you like his bat in the lineup, too. He always comes up with clutch base hits, clutch RBIs. He's got a great arm, he's a great clubhouse guy and you can't say enough about Jacob -- you just love to have him out there."
Their connection last season helped Kuhl finish third in the Eastern League with a 2.48 ERA before the 2013 ninth-round pick got his first taste of Triple-A by making one start for Indianapolis in the Governors' Cup playoffs.
Now in his first full season in the International League, Kuhl has carried over that success and ranks fifth in the circuit with a 1.31 ERA.
"I'm just not trying to make any game bigger," Kuhl said. "Obviously, it's another level, but I'm just sticking to my strength and not letting the jump kind of get to me. Just going out there, trusting my stuff, knowing that I belong and I have the weapon to do well here."
In addition to Kuhl, Indianapolis has the luxury of sending top prospects Tyler Glasnow and Jameson Taillon to the mound, making up one of the IL's more formidable rotations.
"It's awesome. We all get along and we are all good buddies," Kuhl said. "It's nice to know that you have such a good rotation and you have guys like [Steven] Brault, [Wilfredo] Boscan and Trevor Williams on top of Glasnow and Taillon. It's awesome to have those guys do so well and do well with them. It's nice to be a part of this group here and we have all the confidence in the world in each other to go out there and pitch like a No. 1 starter."
If there was anything left for Kuhl to improve upon after Saturday's start, it would be his arm strength and stamina. On Saturday, he threw 81 pitches, three short of a season high.
"I started off a little slower with my progression," Kuhl said. "I had just some soreness in Spring Training, so I was limited in my Spring Training innings, which kind of held me back a litte bit. I've had to go five innings twice [this season], do two games at six innings to be able to go seven, so I'm just going through the progression.
"I feel awesome right now. [The arm] just keeps getting better and better, just growing and building up. I'm getting used to the longer games and [the team] has done an awesome job with taking care of my arm and letting me build up to the innings I'm at now, and I feel great."
Norfolk prevented Kuhl from improving to 3-0 by rallying for five runs in the ninth. Francisco Pena had the big blow with a two-run double, while Orioles No. 11 prospect Christian Walker and Paul Janish each had two hits.
Pedro Florimon drove in Indianapolis' lone run with a sacrifice fly.
Michael Peng is a contributor to MiLB.com. Follow him on Twitter @MichaelXPeng This story was not subject to the approval of the National Association of Professional Baseball Leagues or its clubs.
View More