L-Kings' Diaz hurls five hitless innings
Mariners No. 7 prospect walks three, then tosses four perfect frames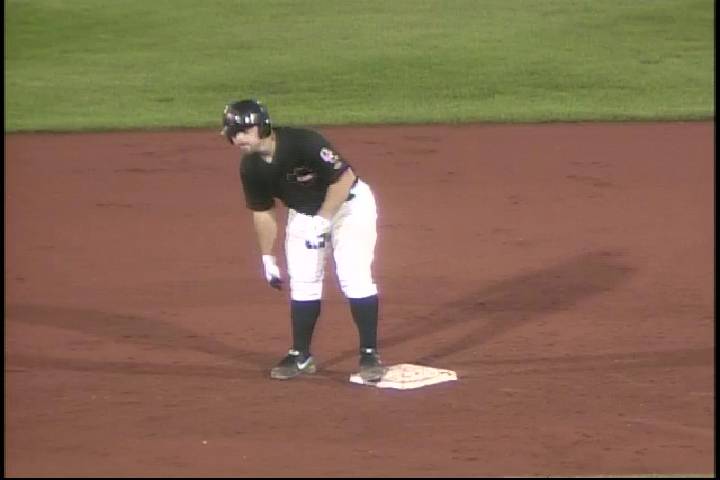 By Kelsie Heneghan / MiLB.com | August 30, 2014 1:39 AM ET
August has been Edwin Diaz's month. On Friday, he capped his hot stretch -- and his season -- with a spectacular start.
The Mariners' No. 7 prospect spun five hitless innings as Class A Clinton blanked Quad Cities, 1-0, in the first game of a doubleheader at Modern Woodmen Park.
"He got ahead with his fastball and then he got his slider down in the zone and they were chasing pitches," LumberKings manager Scott Steinmann said. "After the first, it was basically what he's done all month. He's had a great month."
In the opening frame, Diaz issued walks to Marc Wik, Ryan Bottger and Chase McDonald. But catcher Luke Guarnaccia threw out Wik trying to steal second and Diaz struck out the next two River Bandits to get out of trouble.
"Sometimes guys just don't have a good feel for it right away, but he competes through it," Steinmann said. "Getting out of that first inning without having his best stuff gave him some confidence. By the end of the fifth, it was like he could've gone all night long."
The 20-year-old right-hander was perfect the rest of the way, racking up a career-high nine strikeouts along the way. And while he looked like he could go the distance, Diaz (6-8) was pulled after reaching his season's limit of 111 1/3 innings.
In his final outing, the Puerto Rico native lowered his ERA to 3.33. Though Steinmann said his starter has not yet peaked, he has shown marked improvement since the beginning of the season.
"[In April,] he didn't seem like he had a game plan, he was out there as more of a thrower," the manager said. "He didn't have the ability to slow the game down. And this last month, he's really slowed the game down, steps off the mound [when he gets into trouble]. ... And that's what he did in the first."
Working with pitching coach Cibney Bello and other instructors, Diaz limited Midwest League foes to five runs on 14 hits over 29 innings in his last five starts. He posted a 1.55 ERA in August.
"They've been working all year and [Diaz] kept growing all year, not only as a player but also as a person. He has had a real great month and that's what we like to see, for players to end strong," Steinmann said. "Before tonight, he only gave up one walk in August, and all the credit to him for that."
With one out in the sixth, reliever Paul Fry walked Wik, then lost the no-hit bid on a double by Bottger. Wik tried to score on the play but was nailed at the plate as first baseman Jeff Zimmerman relayed the throw from right fielder -- and Mariners No. 17 prospect -- Tyler O'Neill. Emilio Pagan recorded the final four outs for his 15th save.
Wilton Martinez provided the only offense Diaz and the LumberKings needed with an RBI double in the sixth.
The River Bandits took the nightcap, 6-4, as Chase McDonald went 3-for-3 with two RBIs.
Kelsie Heneghan is a contributor to MiLB.com. Follow her on Twitter @Kelsie_Heneghan. This story was not subject to the approval of the National Association of Professional Baseball Leagues or its clubs.
View More